Taking NAVi's 'fun-DNA' to the next level, Honda India today announced the launch of the first edition of its two wheeler customisation contest #HondaNAVicustomania. This one-of-its-kind activity aims to provide a platform for aspiring youth and budding custom builders to bring to life their imagination on the Honda NAVi.
The contest has received excellent response & going by the entries that keep pouring in everyday, it has become a sort of Youth festival. So far the registrations have reached close to 4,000.
Elaborating on NAVi Customania contest, Mr. Yadvinder Singh Guleria, Senior Vice President – Sales & Marketing, Honda Motorcycle & Scooter India Pvt. Ltd., said: "Urban trendsetting Indian youth is always looking for unique opportunities to display & showcase their creativity & talent in their interest areas. Honda NAVi is hailed as innovation on two wheels bringing uniqueness loaded with FUN. It provides unlimited opportunity to the young riders to modify & customize the bike suiting their style & taste. With the NAVi Customania contest, we are providing a one-of-a-kind platform for Young India to celebrate their love for custom building their FUN two wheels. The mega cash prize and a chance to showcase their talent at the Auto Expo are unparalleled in the industry.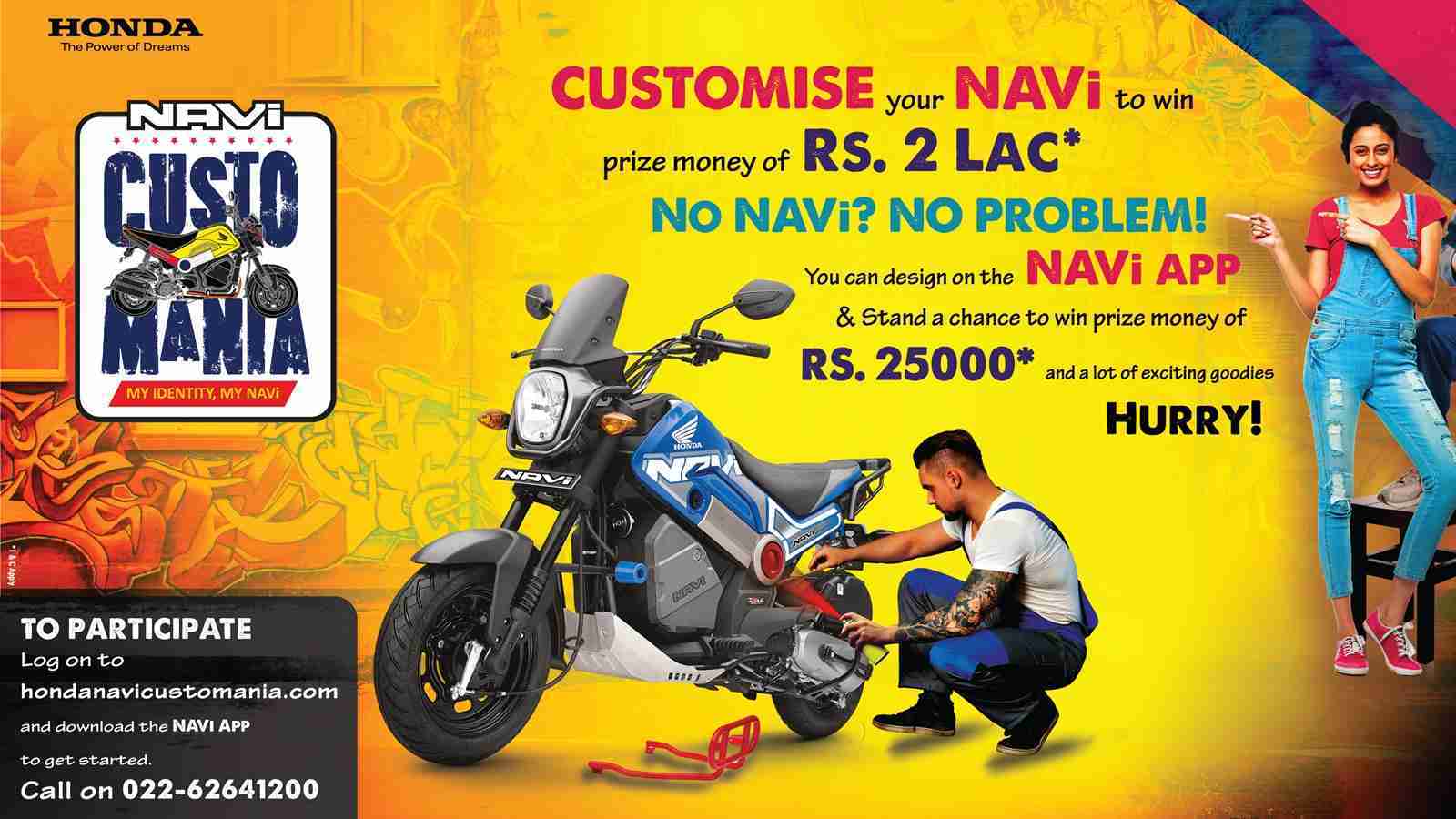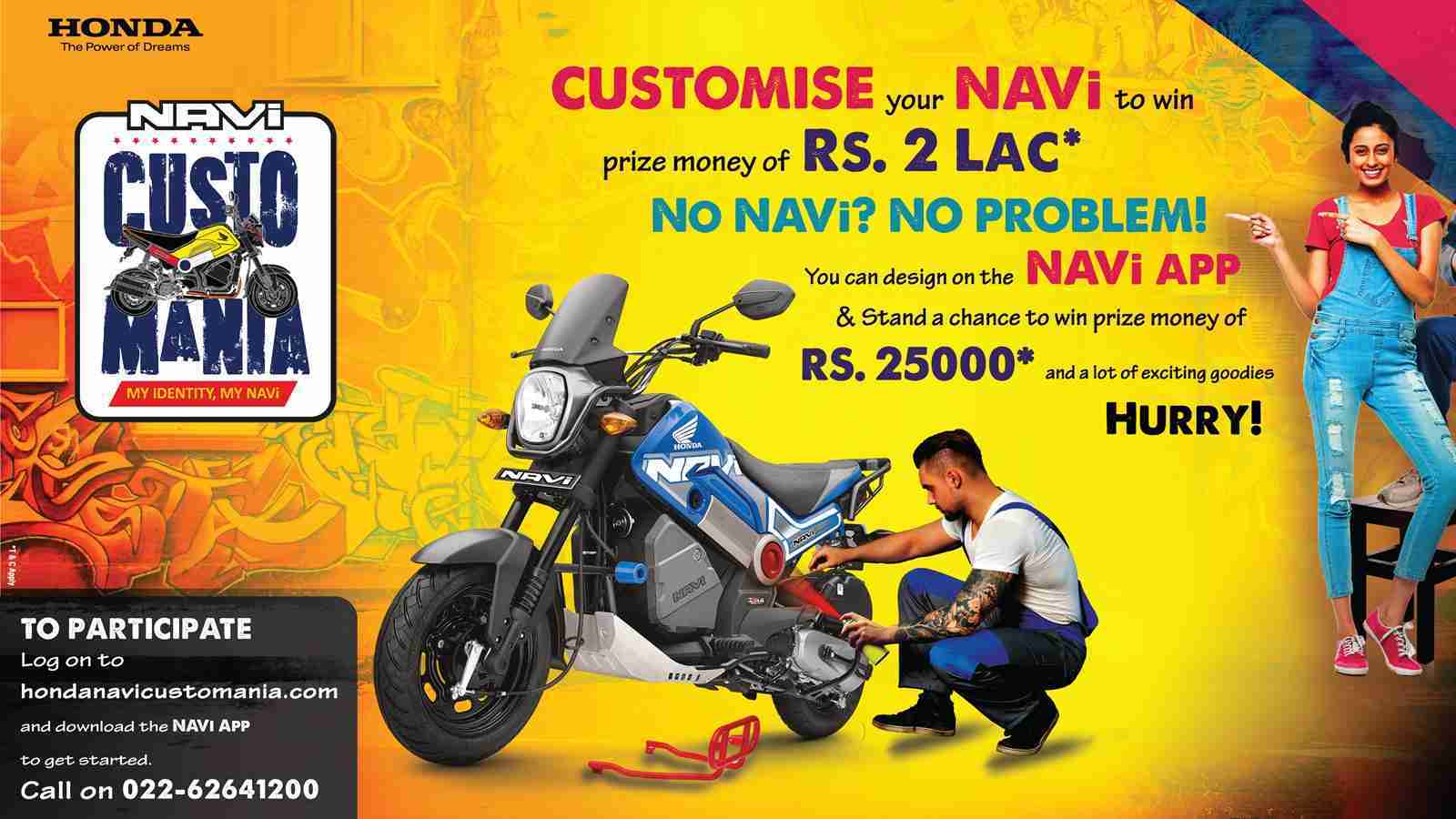 To participate in #HondaNAViCustomania, existing customers can register on the NAVi Customania website and fill the entry form. Participants need to form a team of 1 to 4 members. Only 1 entry will be permitted for each team. Registrations will close on 9th November 2017. Participants may note that the NAVi Customania contest will allow only cosmetic changes and no mechanical spec upgrades.
For Enthusiasts who do not own the NAVi at present can also be a part of this Mega event by participating via the interactive NAVi application or NAVi Customania website. They can build a virtual customized NAVi with the tools available in the app & website.
Unparalleled in scale and grandeur, the Honda Navi Customania contest will be simultaneously held in multiple cities across the country. The participants will get a month's time to customize the Honda NAVi in their own unique way under the guidance of auto experts including pro-custom builders. Honda will also be conducting special mentoring sessions for the participants where they would be able to learn the skills to customize a two-wheeler in the best way.
The finest designs will compete for the "Best Customized Honda NAVi award" which will be announced at Bollywood Music Project 2018 – Asia's largest Bollywood Music Festival on 28th January 2018. The National winner will win a grand prize of Rs 2 lacs.
That's not all, the winner will also get the mega opportunity to showcase their winning customized NAVi at the 2018 Auto Expo. 
Timeline of Honda NAVi Customania
Registration
6th October 2017
9th November 2017
Construction
2nd November 2017
1st December 2017
City Finale
3rd December 2017
14th January 2017
Grand Finale
28th January 2018
---
For latest news in your mail box click HERE to subscribe to our daily newsletter!
or
Click HERE to Download our APP for all the action right on your mobile device!