After blockbuster customer buying of Honda two-wheelers in Ganesh Chaturthi and Onam 2017, Honda 2Wheelers India's retails on auspicious Day 1 of Navratri have broken all past records in Honda's history and breached the 50,000 mark for the first time ever!
With customer demand for Honda 2Wheeler increasing exponentially, Honda's retails have more than doubled on the Day 1 of Navratri itself! Overall, Honda's retails grew by an astronomical 122% from 23,702 units in 2016 to over 52,000 units in 2017.
With 8 more days yet to go, 2017 Navratri is all set to be a bumper bonanza for Honda.
Sharing how from strategic perspective Honda's Utsav preparation started months back, Mr. Yadvinder Singh Guleria, Senior Vice President – Sales & Marketing, Honda Motorcycle & Scooter India Pvt. Ltd., "By strategically advancing the start of the new assembly line (in Karnataka plant), Honda's production has increased by additional 50,000 two-wheelers per month ahead of the auspicious period. This has given our dealers a big advantage of being better prepared to meet festive demand this time. Parallely, Honda's aggressive network expansion, 360 degree marketing campaigns, new model launches and attractive festive schemes before festive season has given us wings to grow at a faster pace and prepare for 2017 festive period like never before. As a trend, we are seeing huge spike in our customer walk-ins and overall retails in every festival, be it Ganesh Chaturthi, Onam or even the beginning of Navratri."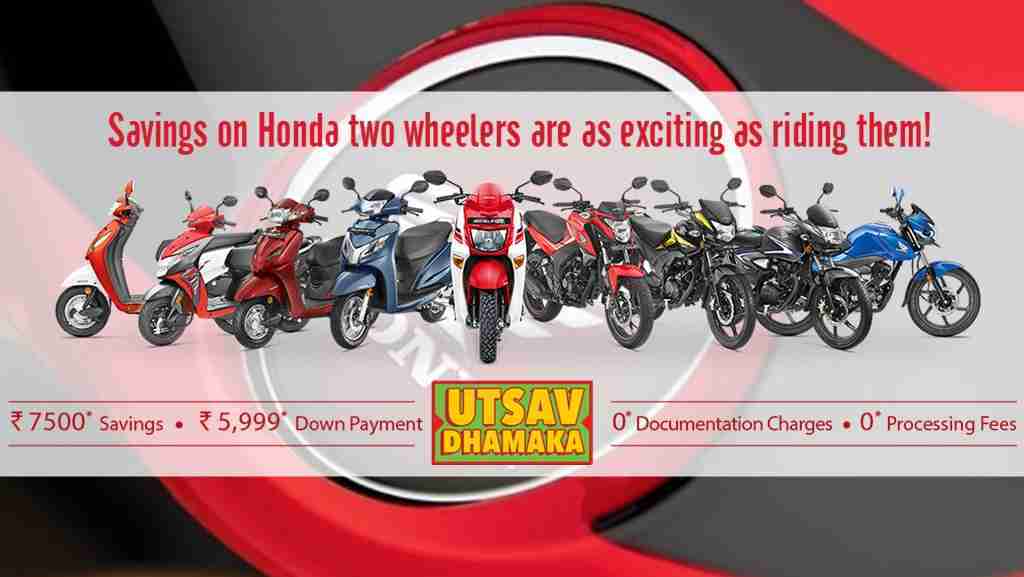 Honda announces big savings upto Rs. 7,500 this festive season
Honda has ensured adequate stock of all its models right up to last mile rural network so that customers can readily buy their Honda 2Wheelers anytime in this festive season.

To further make 2017 festivities even more joyful for its valued customers, Honda 2Wheelers India has announced 3 special festive offers valid till October 31, 2017. These include:

1. Attractive Benefit upto Rs. 7,500 on purchase of any Honda two-wheeler model on retail finance with very low rate of interest, zero processing fee and zero documentation charge.
2. Direct cash benefit of Rs 2,000 exclusively for Government and PSU employees on purchase of any Honda motorcycle and NAVi model.
3. Furthermore, Honda is the only two-wheeler manufacturer in India to sell completely refurbished pre-owned two-wheeler models under its Best Deal outlets. This festive season,
Honda is also giving limited period exchange additional benefit of Rs. 1,000 to pre-owned customers on exchange of existing two-wheeler with any Honda two-wheeler model only at Honda's pre-owned Best Deal outlets across India.