BMW Motorrad expanded its range in the luxury touring segment with the addition of a model designed specifically for comfortable travel. The BMW K 1600 Grand America saw its premiere at the world's biggest motorcycle trade show, the EICMA in Milan. Derived from the BMW K 1600 B, the new model combines the supreme performance of its 6-cylinder engine with exclusive equipment features that make long-distance rides both comfortable and fascinating whether solo or with a passenger.
In addition to the dynamically elongated side line that slopes evenly down to the rear, another clearly recognisable feature is the drop-shaped silhouette created from the visual link between the high-rising windshield and the low positioned side cases.
Chrome-plated rear silencers arranged parallel to the road are harmoniously integrated in the elegant, flowing design. The authentic look of the BMW K 1600 Grand America is rounded off with a topcase complete with integrated passenger backrest. In addition to expanded transport capacity, the BMW Grand America offers significantly enhanced travel suitability due to the additional seating comfort for rider and passenger. The topcase is also an instantly recognisable indication of a vehicle concept developed specifically for extended touring.
The design of the BMW K 1600 Grand America is inspired by US custom bikes, and this is also reflected in other details at the rear. An additional brake light integrated in the topcase gives the rear view a distinctive presence. It also visually harmonised with the lights integrated in the side cases, which act as brake lights and turn indicators. All lighting is produced by means of LED units.
The Style Package specially created for the BMW Grand America ensures even further enhanced exclusivity. It consists of a two-colour paint finish combining Blackstorm metallic with the highly expressive Austin Yellow metallic, as well as chrome applications on the front wheel trim.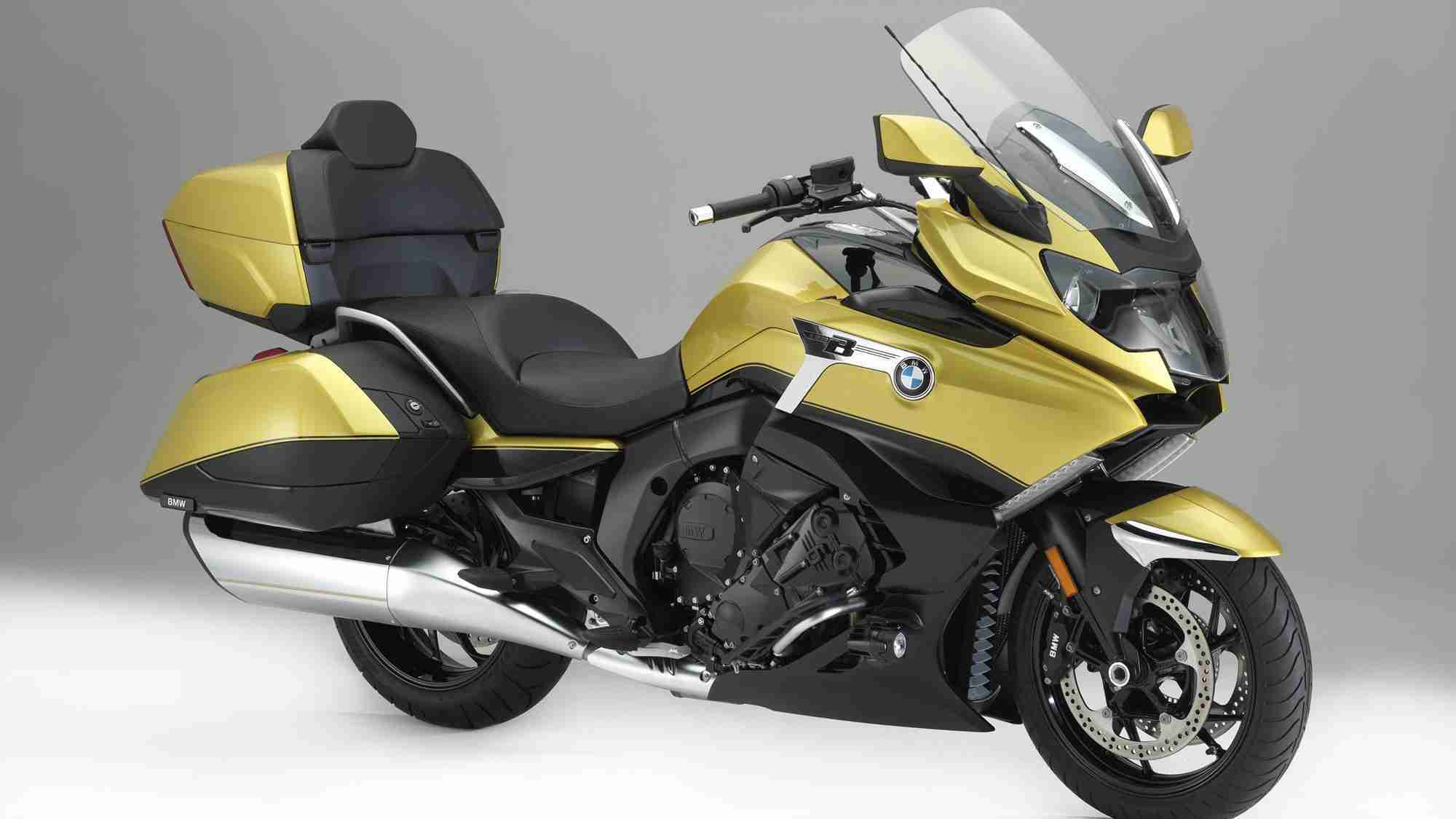 The latest version of the distinctive BMW Motorrad 6-cylinder engine delivers its performance effortlessly in every situation on the road. The most compact 6-cylinder engine of its kind has an output of 118 kW/160 hp at 7750 rpm, generating a maximum torque of 175 Nm at 5250 rpm. In the new BMW Grand America it offers not just the familiar, apparently inexhaustible power reserves but also distinctive performance characteristics. Based on the principle of "The American Way of Riding", the top speed is limited to 162 km/h or 101 mph.
In addition to the engine, the standard electronically controlled suspension Dynamic ESA also contributes to the supreme riding qualities of the new BMW Grand America characterised by dynamic performance, comfort and stability. In the standard setting "Road" it provides fully automated damper adaptation, ensuring the very highest level of comfort and excellent traction on virtually all surfaces. What is more, "Cruise" mode can be activated for a very soft damper set-up and pronounced comfort.
Reverse assist, also a standard feature, facilitates manoeuvring of the new BMW Grand America. It is activated by pressing a button on the left-hand handlebar panel. The rider then uses the start button to set the bike in motion.
The model is fitted as standard with footboards, allowing the rider to adopt a convenient "feet forward" posture. The passenger can also enjoy a comfortable seating position thanks to the low rear frame and a seat height that is reduced by 70 millimetres. Footboards are also available for the passenger as an optional extra.
BMW K 1600 Grand America image gallery
The standard equipment of the new BMW Grand America also includes high-quality engine protection bars, heated grips, seat heating, cruise control and a model-specific windshield that is especially high. The integrated air ducting elements also supply the rider with fresh air as required. An audio system complete with navigation preparation is another feature on board the new BMW K 1600 Grand America as standard.
Meanwhile the selection of optional equipment items available ex works includes Shift Assistant Pro, the eCall system Intelligent Emergency Call available in European markets with ConnectedDrive capability, the Comfort Package, the Safety Package, various seat heights and forged handlebars.
Key features of the new BMW K 1600 Grand America
Ultimate luxury touring motorcycle in American style.
Authentic, harmonious design with dynamically elongated side line that slopes to the rear.
Topcase with integrated passenger backrest and additional transport capacity for particularly long trips.
Side cases and topcase with integrated lighting units.
Optional Style Package with two-colour finish in Blackstorm metallic / Austin Yellow metallic.
6-cylinder in-line engine that meets EU4 requirements with an output of 118 kW/160 hp at 7750 rpm and a maximum torque of 175 Nm at 5250 rpm.
Top speed limited to 162 km/h or 101 mph.
Electronic suspension Dynamic ESA with damping modes " Road " and " Cruise " as standard.
Reverse assist for effortless manoeuvring as standard.
Effective weather protection due to particularly high windshield.
Low rear frame, passenger seat reduced by 70 millimetres and ergonomically adapted footrest position.
Footboards for relaxed "feet forward" rider seating position as standard.
Footboards available for passenger as Original BMW Motorrad Accessory.
Shift Assistant Pro for shifting up and down without clutch activation as an ex works option.
Intelligent Emergency Call as an ex works option for rapid assistance in an accident or emergency (only available in European markets with ConnectedDrive capability).
Standard equipment also includes engine protection bars, ABS Pro, Dynamic Traction Control DTC, xenon headlight, heated grips, seat heating, Multi-Controller, three riding modes (Rain, Road, Dynamic), cruise control, audio system with navigation preparation.
Diverse range of optional equipment items (adaptive turning light, daytime riding light, Keyless Ride, Hill Start Control, central locking etc.).
Wide range of Original BMW Motorrad Accessories (forged wheels, chrome-plated mirror caps, navigation system etc.)
---
For latest news in your mail box click HERE to subscribe to our daily newsletter!
or
Click HERE to Download our APP for all the action right on your mobile device!