The next chapter in one of Honda's most storied narratives began today with the unveiling of the 2018 Honda Gold Wing and 2018 Honda Gold Wing Tour models. Revealed during a special event at Santa Barbara, California's MOXI Museum of Exploration and Innovation, the all-new Gold Wing takes cues from the legendary GL models that came before it while maximising potential through a lighter, more thrilling, and more technologically advanced package with a new engine, chassis, and electronics suite.
Honda's liquid-cooled, horizontally opposed six-cylinder 1.8 litre engine is a key element to the Gold Wing's rich character, and while the general layout lives on, much has been done to make the power-plant more compact, more fuel efficient, and lighter. The engine is now 6.21 kgs and lighter when equipped with Honda's six-speed manual transmission, and 29 mm shorter in the front section, and is placed forward in the chassis for more ideal weight distribution, a key contributor to the 2018 Honda Gold Wing's sporty handling and improved vehicle packaging.
Specific changes for 2018 Honda Gold Wing include a smaller 73 mm cylinder bore, updated crankshaft, and a Unicam valve train layout that has been proven on the award-winning Honda CRF450R motocrosser. Combustion efficiency is improved via the use of four valves per cylinder, while friction is reduced through the application of a new molybdenum coating on the piston skirts. Thanks to a lighter overall package and enhanced vehicle aerodynamics, which led to improved fuel efficiency, engineers were able to reduce the fuel tank capacity by 1.1 gallons while retaining the same great range as before.
The 2018 Honda Gold Wing and Gold Wing Tour are both available with a new six-speed manual transmission or Honda's advanced, next-generation seven-speed automatic Dual Clutch Transmission (DCT), which includes forward/reverse Walking Mode.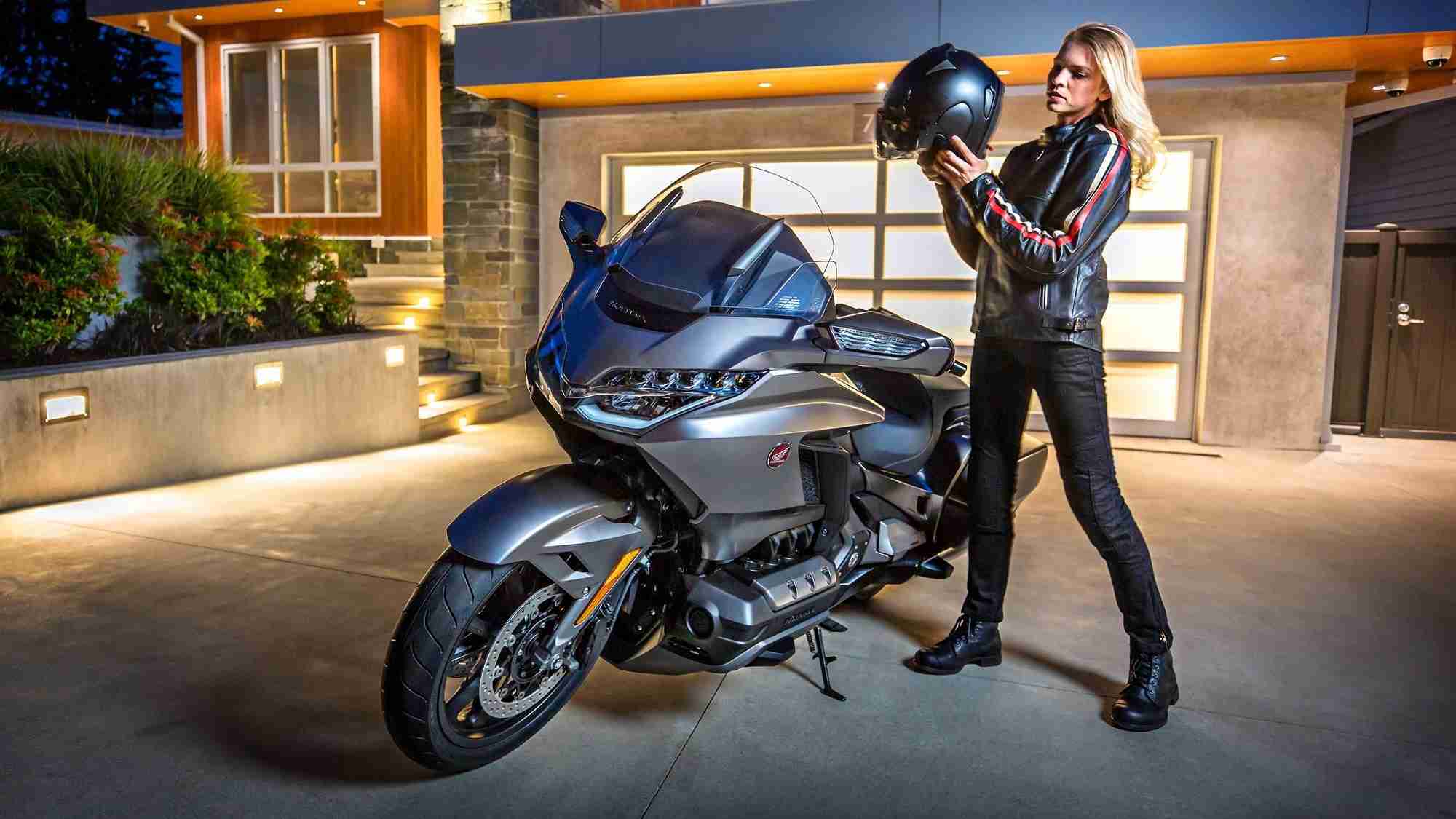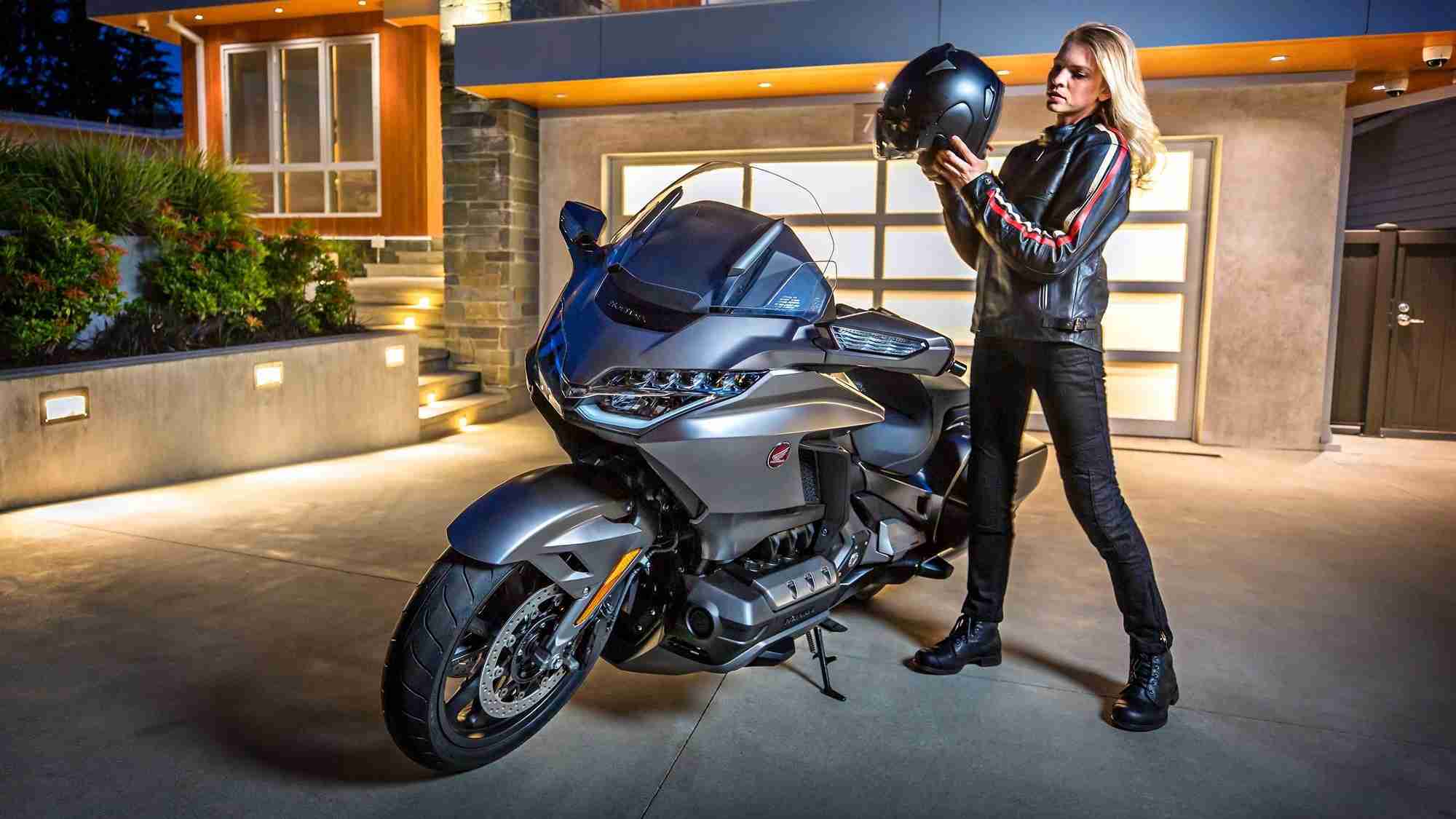 Also for 2018, the Gold Wing chassis has undergone multiple revisions to increase low-speed manoeuvrability and maintain high-speed stability.
Suspension is comprised of a new double-wishbone front-suspension system and Showa shock absorbers front and rear. Designed to offer reduced friction and less inertial mass for the front-end components that are manipulated via the handlebars, the system also leads to more compact vehicle dimensions, as its different stroke trajectory enabled engineers to position the engine closer to the front wheel. For added comfort, the Gold Wing uses a Pro-Link rear-suspension configuration with progressive reaction. On most models, suspension damping and pre-load are electrically adjusted.
Brakes have been upgraded via radially mounted front calipers and larger 320 mm rotors. Electronically controlled combined ABS works to distribute braking force to the front and rear wheels while saving weight through the use of a smaller, lighter circulation-type ABS modulator.
Fully modern, the 2018 Honda Gold Wing features a throttle-by-wire system that has opened the door to four riding modes (Tour, Sport, Econ, and Rain), Honda Selectable Torque Control (HSTC), Hill Start Assist, and a finely tuned cruise-control system. Selecting the riding mode that's best suited for the riding conditions is easily accomplished through the Gold Wing's new controls, and then confirmed via a beautiful, 7-inch full-colour Thin Film Transistor liquid-crystal display—one of the many features that bolster the model's premium feel.
In an industry first, the 2018 Gold Wing also comes equipped with Apple CarPlay, which connects the motorcycle to the user's iPhone to show maps, contacts, and music, all accessed through the motorcycle's display.
The sportier nature of the 2018 Honda Gold Wing and Gold Wing Tour is underlined by the bike's sharper, more performance-minded shape, which also achieves a significant boost in aerodynamic efficiency. Narrower at the front and with added emphasis on such mechanical parts as the exhaust and lower engine, the bike offers the same comfortable ergonomics as before, but with re-imagined airflow for rider and passenger, both of whom sit 36 mm further forward.
LED technology is used throughout, with the multiple-lens front lights forming the new "wing lines" of this latest advanced performance touring model, and the LED turn signals having a convenient auto-cancelling feature. A user-friendly luggage system bolsters on-road convenience while also contributing to the vehicle's compact dimensions, sporty appearance, and lighter weight. Each saddlebag holds 30 litres, while the top case has a 50 litre capacity, and high-quality lid dampers are used throughout.
2018 Honda Gold Wing image gallery
2018 Honda Gold Wing key features
Lighter overall package results in improved handling and manoeuvrability
More compact, lighter engine with four-valve head and Unicam valve train
Available seven-speed DCT with Walking Mode forward/reverse
Six-speed manual transmission
Robotically welded aluminium twin-tube frame with revised plate thicknesses
Radially mounted six-piston dual front braking calipers
Double-wishbone front-suspension system
Electrically controlled suspension
Throttle-by-wire with multiple riding modes
Honda Selectable Torque Control (HSTC)
Hill Start Assist
Smart Key
Apple CarPlay compatibility
LED lighting
Updated design with 11.8 percent improved aerodynamic efficiency
Electric windscreen adjustment
2018 Honda Gold Wing Tour
The three 2018 Gold Wing Tour models—Gold Wing Tour, Gold Wing Tour DCT, and Gold Wing Tour DCT Airbag—are the modern interpretation of the classic Gold Wing, the ultimate long-distance touring machine, but with highly improved performance capabilities. Each of these models features saddlebags and a top case, as well as a tall electrically adjustable windscreen, front and rear speakers, and electrically adjustable suspension.
Colours options for the 2018 Honda Gold Wing Tour
Gold Wing Tour, Gold Wing Tour DCT: Candy Ardent Red, Pearl White, Pearl Hawkseye Blue
Gold Wing Tour DCT Airbag: Candy Ardent Red/Black
Prices for the 2018 Honda Gold Wing Tour
Gold Wing Tour: $26,700 – $27,200
Gold Wing Tour DCT: $27,700 – $28,200
Gold Wing Tour DCT Airbag: $31,500
Availability: February 2018
2018 Honda Gold Wing
Boasting a sporty character, the two Gold Wing models—Gold Wing and Gold Wing DCT—come with saddlebags but no top case or the accompanying rear audio speakers. The electric windscreen is shorter on these models, and pre-load adjustment is manual. HSTC, electric damping-adjust, centre stand, and heated grips are not included.
Colour options for the 2018 Honda Gold Wing
Candy Ardent Red
Matte Majestic Silver
Pearl Stallion Brown
Prices for the 2018 Honda Gold Wing
Gold Wing: $23,500 – $23,800
Gold Wing DCT: $24,700 – $25,000
Availability: February 2018
---
For latest news in your mail box click HERE to subscribe to our daily newsletter!
or
Click HERE to Download our APP for all the action right on your mobile device!