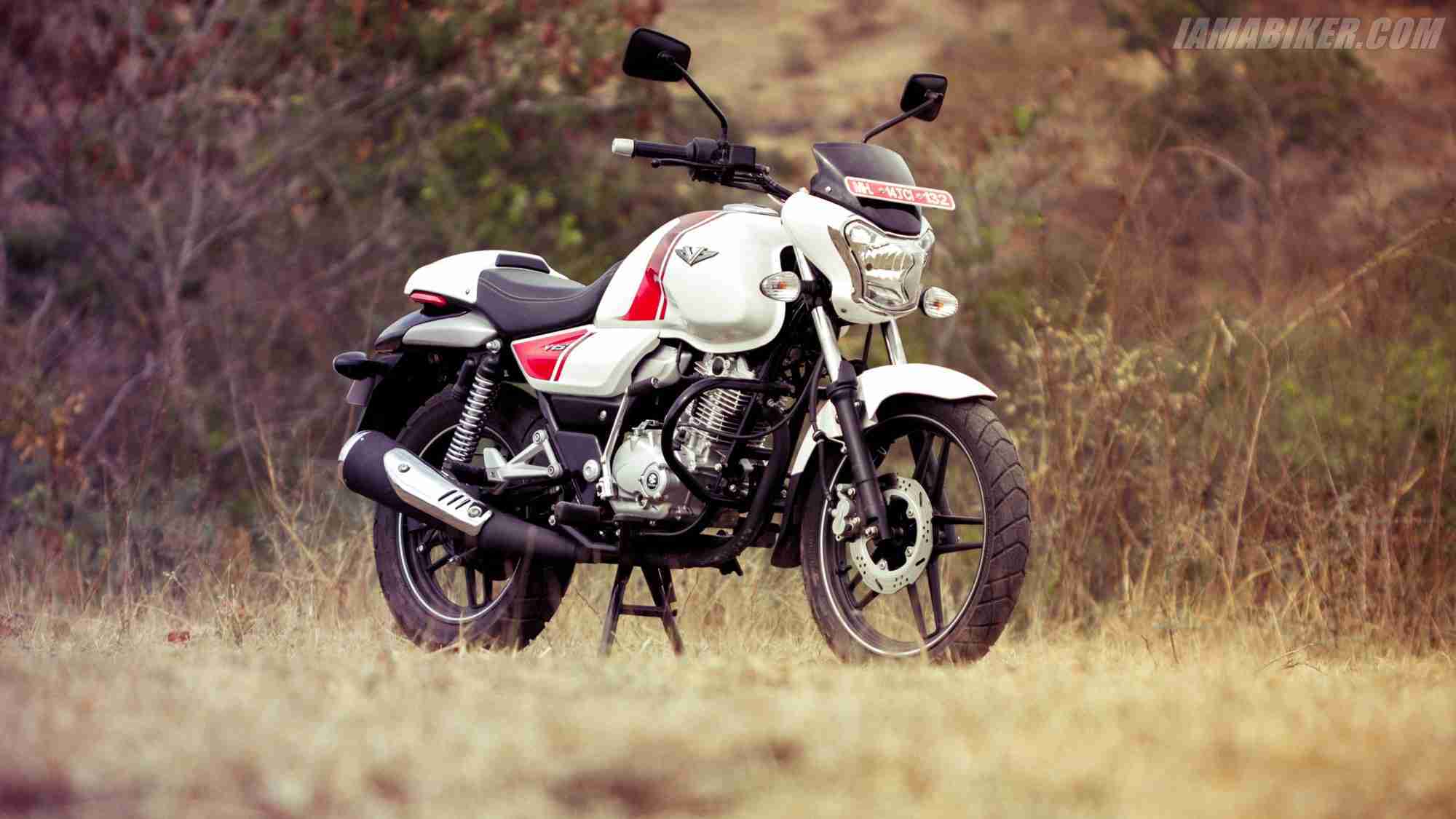 You never really know what to expect when you are presented with a bike that has been marketed as "invincible" and plays the patriotism card to make an impact. Personally for me I would rather if manufacturers kept pure business like motorcycle sales and patriotism in two very separate boxes and kept them light years apart. Anyways, let's move past that, let's take a look at the Bajaj V15 and evaluate the motorcycle for what it is.
First and foremost, we like how it looks. We at IAMABIKER are always happy when manufacturers experiment. It gives us hope that updates need not just be colour and sticker oriented. The Bajaj V15 has a rather exotic road presense and why should it not? It looks good and well built and its mixed styling of a cruiser and a cafe racer is one that will never fail to appeal. On our ride through Pune city and its outskirts we were stopped several times by folks wanting to know more about the bike. So yes, it grabs a lot of attention owing to its unique style and people of all age groups are really interested in knowing more about it.
Even before we were handed over the keys, the folks at Bajaj were keen to point out the fact the Bajaj V15 has been made to a very specific requirement. Words like top speed, cornering and performance were given very less importance while words like fuel efficiency, easy city rideability and comfort took centre stage. And the moment you get going on the bike it becomes very apparent why. The Bajaj V15 has good off the line performance and will chug along cleanly in all gears at pretty much any speed. You can ride it around like a scooter in 5th gear and the engine and gearbox will make sure you never need to shift down. With almost 80 to 90% of the available 13 Nm of torque coming in at a low 3300 RPM the V15 is definitely easy to ride in city conditions even with a pillion. The engine is most comfortable in the 40 to 70 kmph range and anything in excess of that feels stressed. The engine is most refined in this bracket as well. Push it further and it will do speeds of up to 90 kmph without much fuss but it clearly does not want to and thats when you feel the vibes creeping in. We did not have enough time to gauge the fuel efficiency but Bajaj claims it should return above 55 kmpl.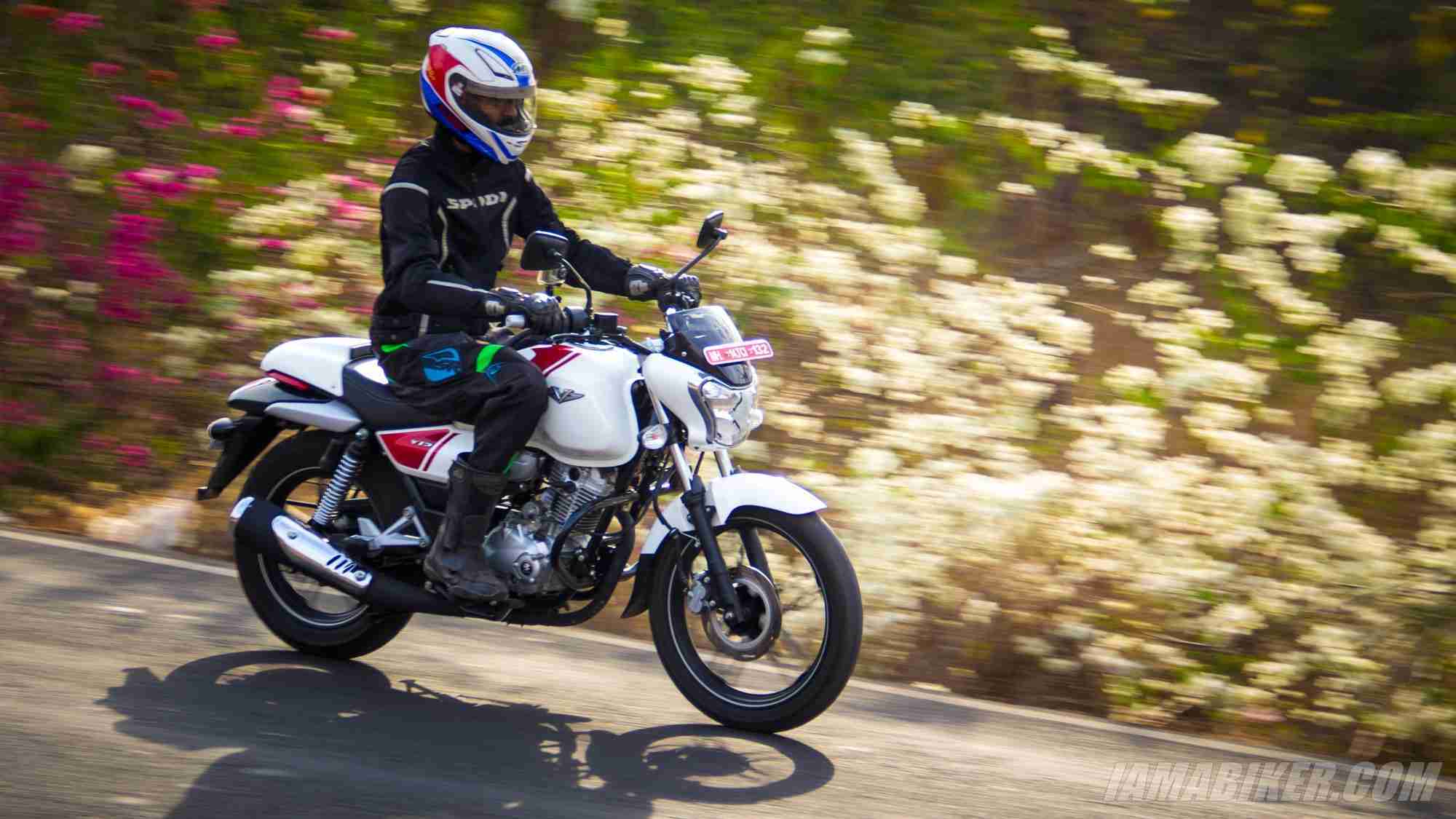 Lets not talk about handling in the usual sense of how it corners and tyres grip etc etc. Instead let's talk about it like a commuter. The suspensions are extremely plush and we were really happy with the way it soaked up all the nutcrackers and the back breakers. Even with a pillion things were really composed and easy to handle. The wide handle bars and the overall relaxed seating position also ensured a very comfortable ride even in slow moving city traffic. Ground clearance too was ample and at 165mm it should be able to handle pretty much any sort of urban challenge. Braking also was good, there is the obvious extra nose dive due to the soft suspensions but nothing too bothersome. Brakes at both ends felt good and had enough and more stopping power for the Bajaj V15.
We really were curious about the 55/60 W headlights but sadly all the riding was during the day, we will report back on that soon. Overall a good motorcycle, that would been perfect with an engine kill switch and maybe a slightly more involving instrument console. But at a price of Rs. 62,000/- ex-showroom, we think that the Bajaj V15 has properly snuck in a winner that should entice a lot of young buyers and make a lot of 125cc buyers think about a switch. We are quite confident the Bajaj V15 will find a lot of takers, but with a motorcycle that looks like this, we really wished it had a more involving engine.