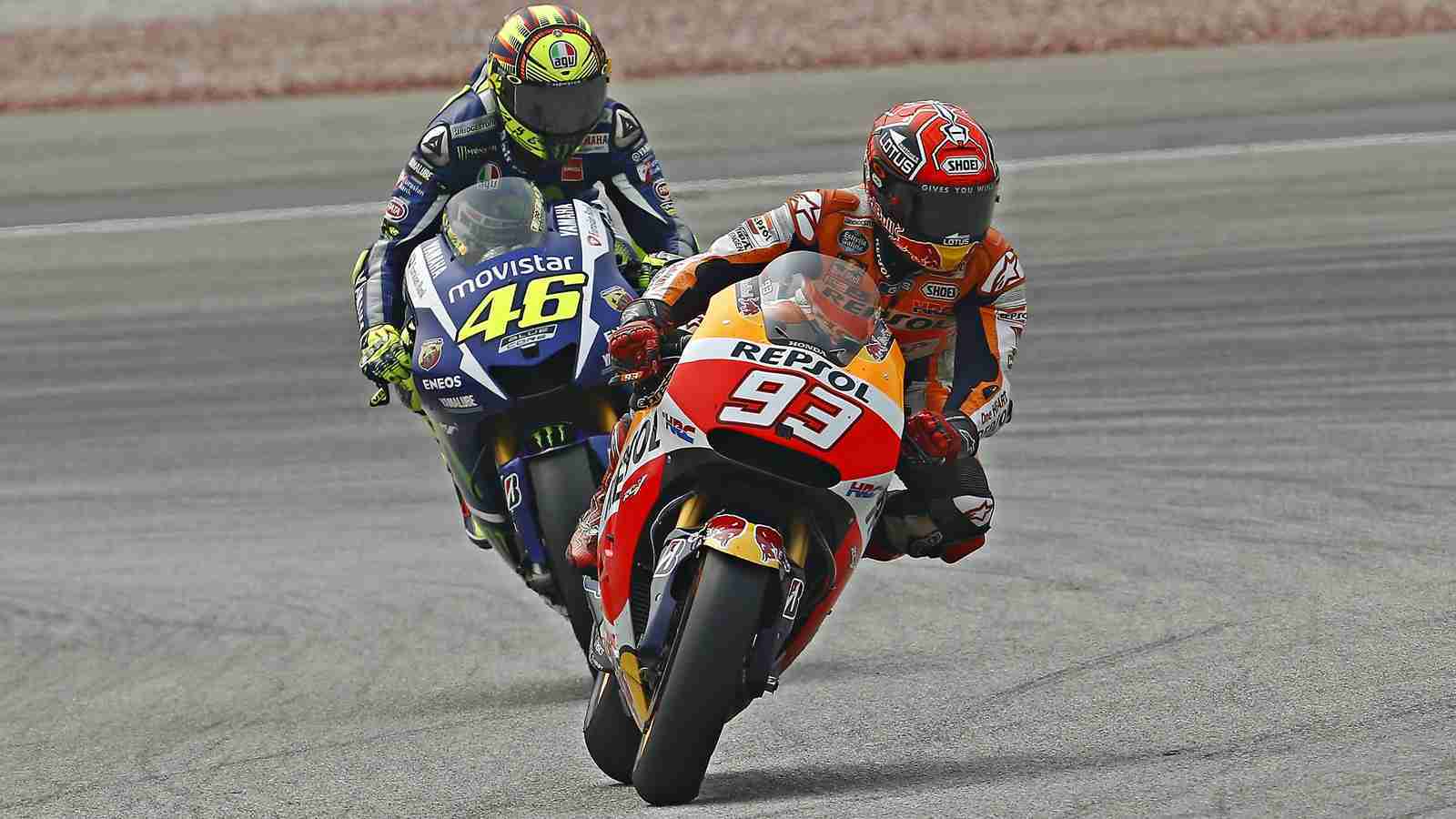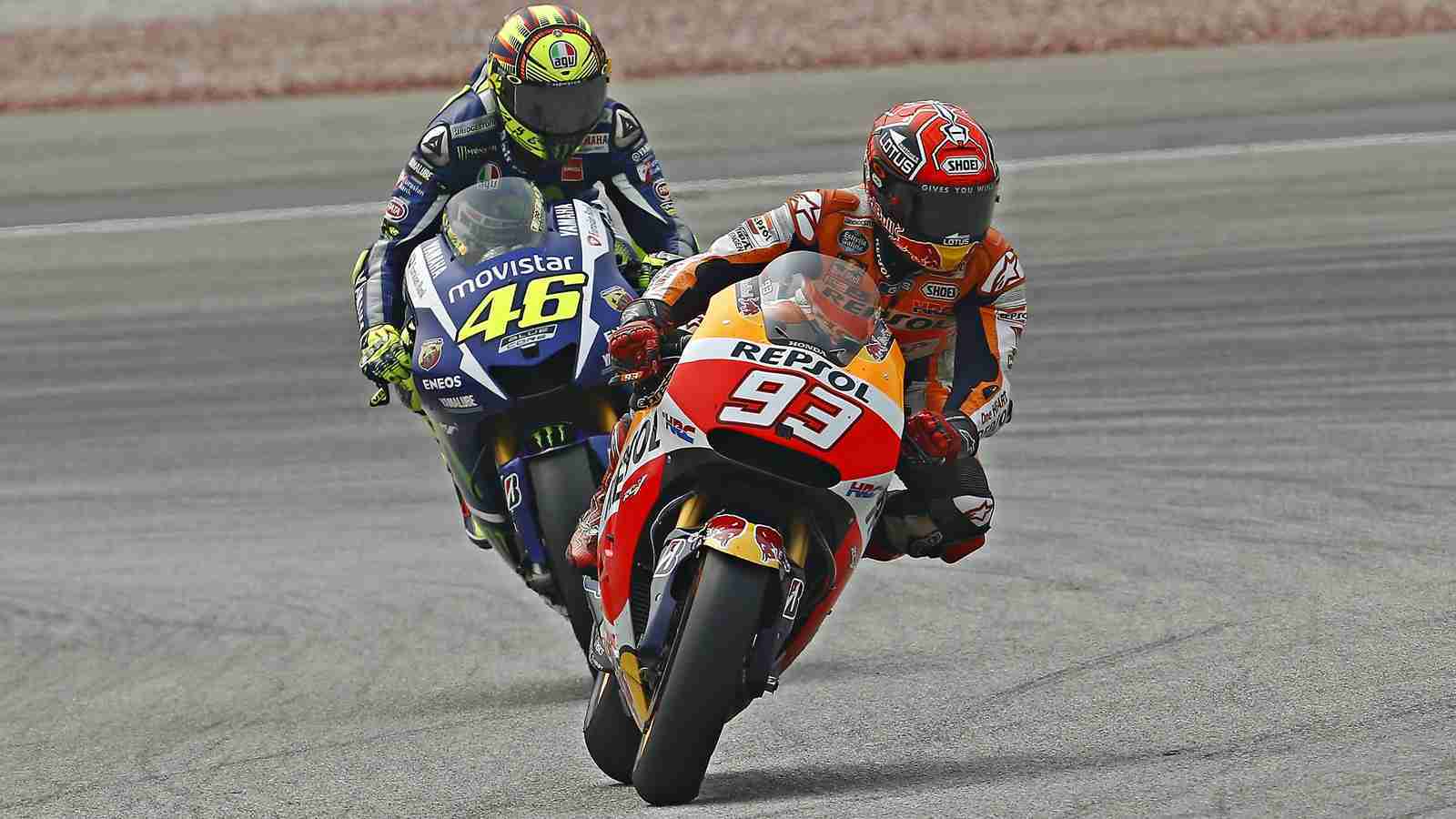 Rossi vs Marquez MotoGP Sepang 2015 – a story that will be told for a long long time.
The championship hangs on the line, this is the probably the tensest we have seen Valentino Rossi in his whole career. There maybe a lot of factors contributing to that, but probably the most significant of it would that be of the realization that this year could be his last realistic chance to grab the title, the elusive 10th title.
The fireworks began on Thursday and although it seemed like an unlikely possibility, there was always that off chance that such a thought would be brewing in the mind of young Marc Marquez. This season has seen Rossi and Marquez come together in race dogfight couple of times and it is possible that Marquez believes that Rossi is responsible for ruining his championship chances. Now Rossi pointing this out was probably an attempt to force Marquez to stay away from the Rossi vs Lorenzo fight, but surely come race day and all it did was spur Marquez along and motivate him to engage Rossi. Now there is an unsaid gentleman's rule around the MotoGP paddock that refrains from messing around with a championship contender. So technically Marquez has not broken any rules, but the hard riding and passes were surely slowing down both. There were a total of 15 passes in the short span, each growing more aggressive than the other building up to "the moment".
With only the gentleman's rule broken so far and probably a lifetime enemy made, Rossi eventually lost his cool. A purposeful wide line to run Marquez wider in a bid to escape from him saw contact being made and Marquez going down. Now tons of footage that came in now clearly shows what has happened. Rossi ran wide on purpose to run Marquez wider or out, Marquez lost his cool and made first contact on Rossi and then things are a blur. There seems to be different versions of what happened. What we think happened after seeing the many videos is that, when Marquez moved in and contact was made, Rossi tried to push him off with his knee. At this point Marquez lost his front and crashed out. Not that it matters but it's not clear why Marquez lost the front. Now who is to blame?
The events leading up to the incident is also definitely important. Marquez as such does not have the best track record for the safety of others. Rossi too is not exactly the perfect example of a sane rider. Back in the day he too has ruffled feathers and leathers with many. From a championship point of view we believe Marquez should not have messed with Rossi at least so early in the race. The timings from the telemetry showed he deliberately slowed down to be with Rossi. That sort of riding would have only lead them both to crash sooner or later. Rossi too lost his cool. While block passes and some amount of tolerance is there for aggressive moves, what he did was clearly not in the spirit of the sport. Yes it sure looks true that Marquez was playing spoil sport and even most probably was trying to extract this very reaction, but there were other ways to deal with it. Not a frustrated move like this one.
Now coming to the penalty. A lot of people feel that the penalty is not enough. But once you see the whole picture and understand the proper sequence of events, it's clear that there is no actual "kick", just a reflex to a contact made. There was aggressive riding and moments that thrilled but at the same time, there was a code of conduct that was violated. Imagine if it was Lorenzo and another rider who has no chance of the championship messing with him like Marquez did. The Spanish rider would have torn into him in the worst way possible. Considering all this, for Marquez to have not gotten any penalty seems a bit unfair but then the rules do not consider "gentlemen's code". Rossi definitely needed a penalty and having seen the actual sequence of events, a start from the back of the grid is a big enough punishment. The championship is surely now Lorenzo's unless something totally unexpected happens at Valencia. But this event and story will surely live on with different versions and interpretations. But as a motorcycle racing fan, this is probably the most pathetic way an epic season in MotoGP can come to an end. A season that promised to be the best that MotoGP has ever seen, now will be known for the wrong reasons.