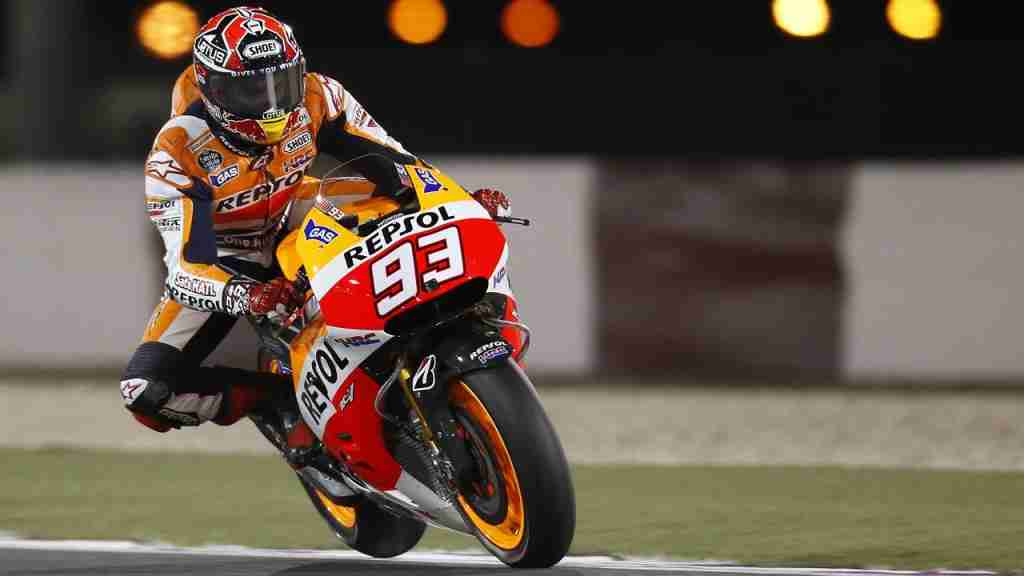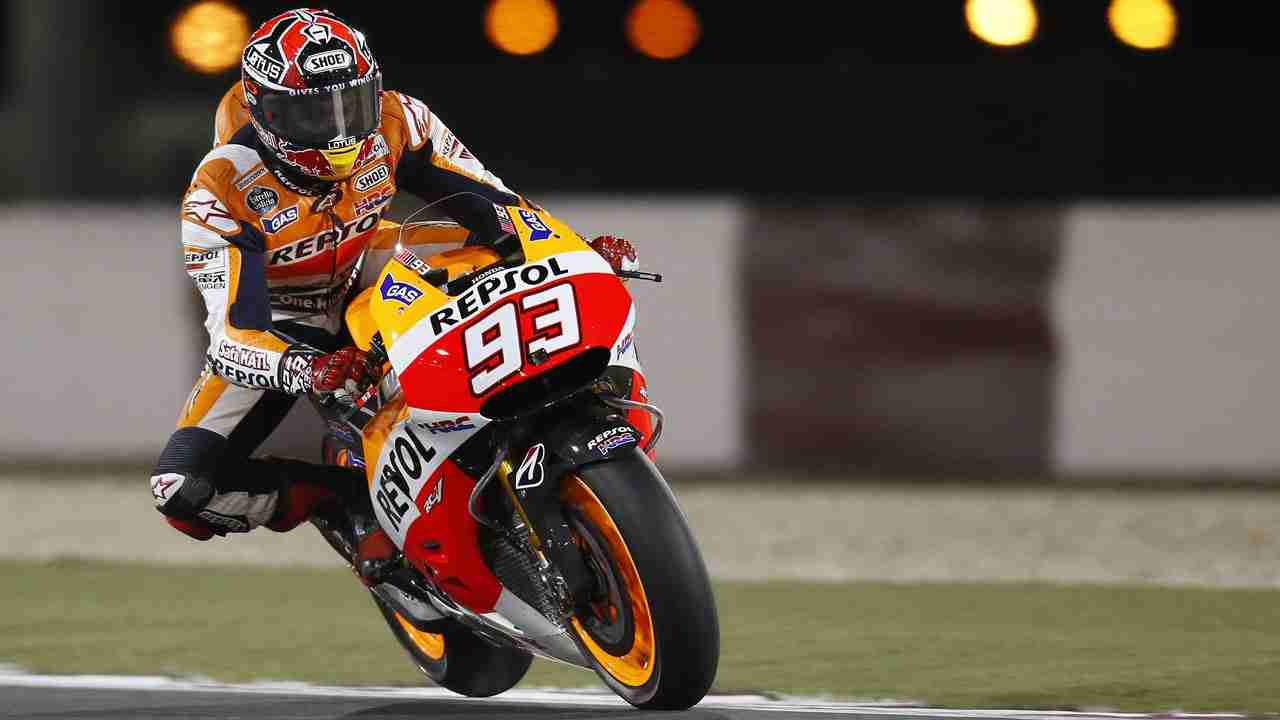 Repsol Honda's Marc Marquez grabbed pole position for the first race of the 2014 MotoGP season in a thrilling Qualifying Practice 2 session that saw the front row split by just 0.094 seconds. After a strong showing in today's FP4 session where he finished second quickest, Marquez went one better in QP2 to set a lap time of 1'54.507 to claim pole position from GO&FUN Honda Gresini's Alvaro Bautista by a mere 0.057 seconds. Rounding out the front row for tomorrow's race is Monster Yamaha Tech 3's Bradley Smith, the British rider's personal best lap time of 1'54.601 good enough to claim his first front row in MotoGP. All riders on the front row set their quick times on the combination of the medium compound rear and hard compound front slick. The first QP2 session of the year was fiercely competitive, with 0.645 seconds separating the twelve riders taking part at the chequered flag.
Overnight rain, strong winds and cooler track temperatures than yesterday threatened to reduce grip levels even further today, but surprisingly, after Free Practice 4 many riders commented that track conditions were the best of the weekend so far. Track temperatures reached a maximum of 22°C in today's sessions, ten degrees cooler than yesterday. In FP4, many riders performed long distance runs to assess their race tyre options, with the most popular front tyre option being the hard compound. For the rear tyre, the Factory Ducati, Honda and Yamaha riders had a preference for the medium compound rear, while some Open-class riders achieved good results on the soft compound rear slick. For qualifying, the need for maximum performance was reflected in the riders selecting the softest rear slick available to them; medium compound for the Factory Honda and Yamaha riders, and the soft compound for the Ducati and Open-class riders.
Marc Marquez
"I'm really happy and this pole position is a special one for me, because after coming back from injury it gives me a boost in confidence. In any case, we know that tomorrow is the day that counts and it's in the race that points are decided, so we have to be very focused. It is going to be a very tough for me physically, because I don't have much strength in my leg and I have to compensate with my right arm. We are happy with how today went and seem to have found a good setup, with just a few details still to refine in tomorrow's warm-up. It will be difficult, because many riders have pace within a tenth of each other, but we shall try to have a good race."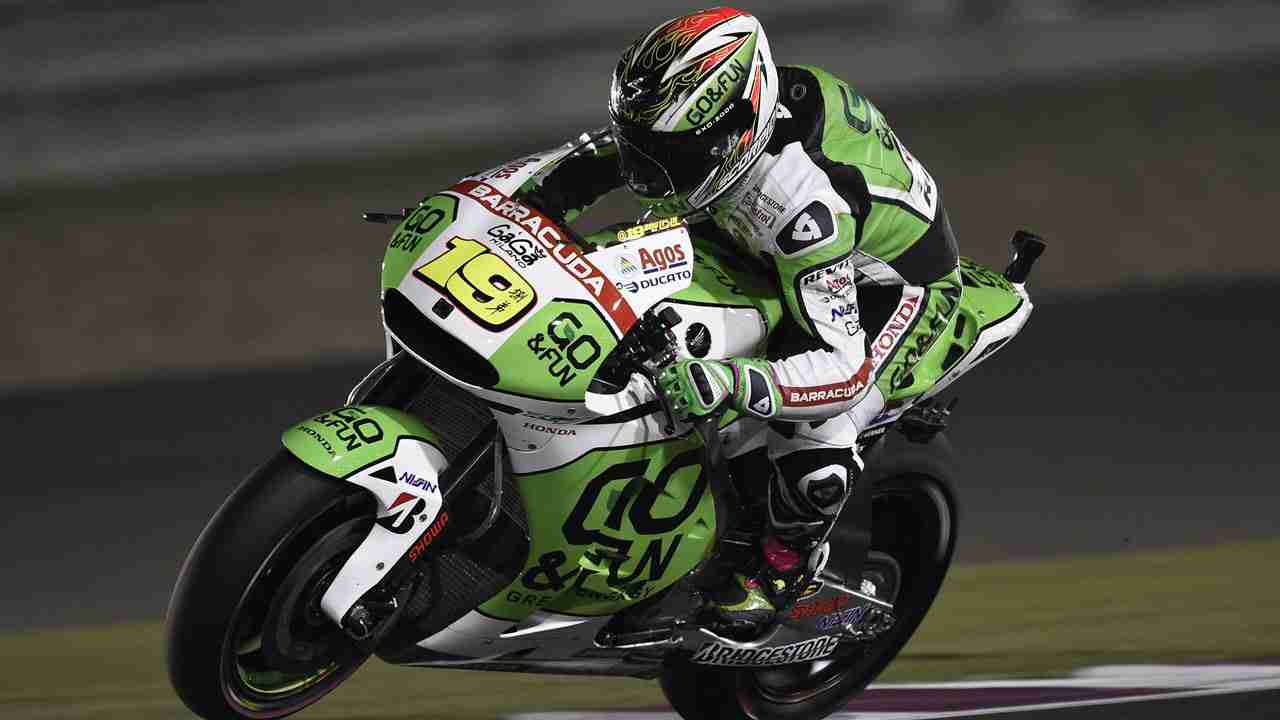 Alvaro Bautista
"For me this second place on the grid feels like a pole position, because in this circuit I've always struggled in the past. During this weekend instead I have always felt comfortable with the bike, closing each practice session in the top positions, which means that we have worked very well in winter testing. Too bad only to have lost the pole position, but in the end Marquez has been capable to overtake us. Tomorrow I expect a very tough race, but definitely interesting, because there are many rides who can keep the same pace. Moreover, it will be important to start from the front row. I hope you continue to enjoy myself like I've been doing so far: I will try to stay in the leading group and trying to achieve a podium finish".
Bradley Smith
"I am really pleased with today, the bike felt great and I'm really satisfied with the setup. The performance during the fourth free practice session was very promising and fortunately I was able to translate that performance to the new tyre. I was slightly disappointed because with the second tyre, Aleix, Marc and I, all waited a bit too long, as nobody wanted to be followed. My tyres got too cold to push again, so I decided to take the bike back to parc fermé instead of taking any more risks, but I felt I still had some margin. However, you don't get points for qualifying, tomorrow is when it really counts and there are 22 laps to battle in. For sure a good start is the key and I know I'm pretty good at them. I also know that I will be strong on the full fuel load as I worked a lot to improve this during the winter. Having said that, there are a lot of strong riders behind me and it won't be easy, but I'll give it my all. Tonight I will rest up, and prepare myself and if the bike feels like it did today, I am confident of getting a good result".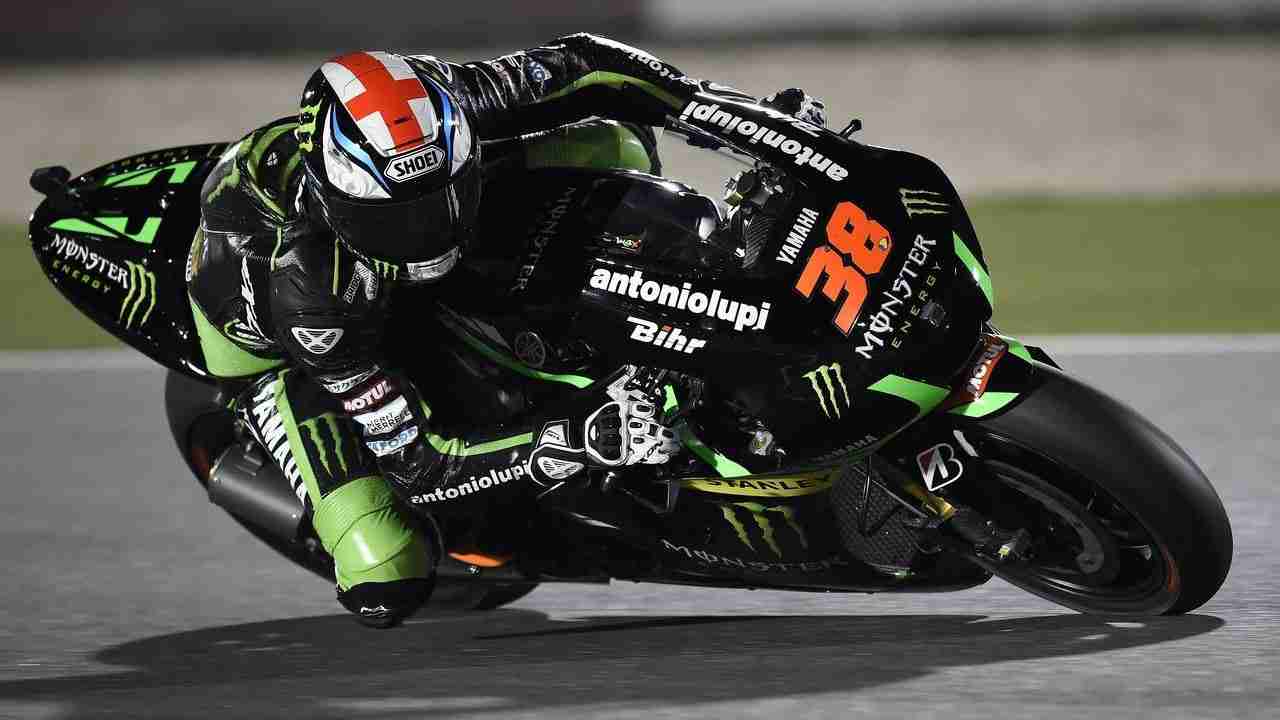 Aleix Espargaro
"I'm really sad because I have been the fastest rider in the first three sessions and also in the FP4 I had a strong pace with hard tyres. When we switched to the soft tyre, I was not so comfortable with the front. I pushed but I lost the front and crashed. I went back on track and in the T4 I was 1 tenth faster then the pole, when I crashed, loosing the front again. It's a pity and I'm so sorry for the team that will have to spend the night in the garage to repair both bikes. It was my mistake, we have lost an opportunity but the season is long and we will have other chances. Tomorrow it will be a more difficult race, as we will have to pass more riders to stay with the front guys but I'm confident."
Dani Pedrosa
"The qualifying session was really closely contested today -especially in the final laps. Looking at things objectively, we have a good pace and were able to set a fast lap in the session, even though in the end we qualified sixth by a really narrow margin. We're going to continue to be positive about things, believe in the work that we have been doing here so far this weekend, and tomorrow we'll give everything that we have to do well at the first race of the season."
Jorge Lorenzo
"We are improving little by little to adapt to the situation. Obviously we are still having problems with the rear grip but we are getting closer to the front top riders. We made a good position for tomorrow; fifth on the grid is good for the start. There are six riders within one tenth of a second and the race will be very long so if we can make one step on the bike we can fight for the podium or even a victory, which would be amazing for the circumstances."
Valentino Rossi
"I'm not very satisfied because I am just in tenth but I am only half a second from pole position and my lap time is not so bad. I have improved a lot. We worked well on the bike and in the end 1'55.0 is not so bad, it's seven tenths faster than last year for me so we made a good step. The problem is that the balance between everybody is very close; we are 12 riders within half a second. Tomorrow we have to be ready for anything as anything could happen. The pace is very similar between everyone except Marquez who was impressive and did a good job. Also the other guys, Pedrosa and Lorenzo are not very far, so we have to be ready for anything and maybe some strong first laps I think!"
Pol Espargaro
"I am happy with how I performed during my first qualifying session today. After yesterday, it took me a little time to rediscover my rhythm, but the most important fact is that I again, have a great feeling with my bike. Of course, tomorrow the race might be different, but after a tough day yesterday I'm really satisfied with my performance during the qualifying. Unfortunately we had to go through Q1 which was not ideal , especially because that meant that we had to maintain an already used front tyre for the final qualifying practice and the grip wasn't the same anymore. I didn't feel that I could push quite as much into the entrance of the corner, which is where the Yamaha is the strongest. Still, I was only 6 tenths of a second from the top lap time, almost half a second from Jorge, and less than a tenth from Valentino. After looking at these statistics, I think I can be satisfied, and also because I believe that my fastest lap time today was very similar to what will be my race pace tomorrow".
Andrea Iannone
"I'm confident! This morning I went well in FP4 did good lap times. In Q2 I was fast from the start , unfortunately I was forced to slow down a couple of times because of traffic, and on the last lap while I was improving I had to stop for a technical problem. The race is tomorrow, I think I can do well. I thank the team and Ducati. "
Yonny Hernandez
"I'm very disappointed, I have crashed too many times this weekend. It is not a good weekend for me, now I hope for the race. I'm happy with the bike, I feel good with the setup. I'll work to improve tomorrow, I have no physical pain. In the race I want to finish in the points. "
Nicky Hayden
"I didn't expect to get down to the 1.55s without a tow, especially with the problems we have had in corner exit in T4, but it still wasn't enough to get into Q2. I would like to be starting the season from a better position on the grid in the first race but considering how new everything is to us we have to be satisfied and now we have to keep working to improve. It will be a tough race, I'll try to get a good start and keep up a fast and consistent pace for 22 laps. I haven't been focused on other riders while riding this bike so the first few laps should be interesting tomorrow night. Hopefully we can learn plenty and gather lots of useful data to help us in future with this bike."
Hiroshi Aoyama
"From yesterday to today we made some set-up changes and I was able to ride more comfortably. Yesterday we knew exactly what we had to change and to be honest it had the desired result. We put a new tyre in at the end of the session that gave us a bit more grip and confidence. I was quite surprised actually, I didn't expect to have such a good feel for the rear end. The last two laps were very positive and we were able to take a big chunk out of the lap time. I felt we could have improved again with another lap but unfortunately we ran out of time. Anyway, I am happy with our improvement and finally now it's time to go racing."
Scott Redding
"I am satisfied with regard to the improvements shown today, but unfortunately I was slowed down by a problem with the electronics just as I was busy in the qualifying session. When I entered the track, I felt that something was wrong: the engine cut power continuously, so I came back to the pits to try to solve the problem, but it was still there in my second exit. Therefore I got on the second bike, with which I set my fastest lap, but unfortunately there was time only for one attempt. However I'm happy because I found myself even better with the bike n.2, which I will ride again tomorrow in the warm up, during which we will also try to figure out which tyre we can use for the race. It would be nice to get some points tomorrow".
Colin Edwards
"During the qualifying I was faster than in the test I have a better feeling with the hard rather then with soft tyres. I'm still struggling to make the bike turn, this remain the main issue. I'm trying to change my style, adapting more to this machine but it's not natural. We will continue working in the warm up and then I will do my best in the race."
MotoGP 2014 Qatar Qualifying timings
FRONT ROW
1. Marc Marquez (SPA) Repsol Honda Team 1'54.507
2. Alvaro Bautista (SPA) Go&Fun Honda Gresini 1'54.564
3. Bradley Smith (GBR) Monster Yamaha Tech3 1'54.601
SECOND ROW
4. Andrea Dovizioso (ITA) Ducati Team 1'54.644
5. Jorge Lorenzo (SPA) Yamaha Factory Racing 1'54.661
6. Dani Pedrosa (SPA) Repsol Honda Team 1'54.703
THIRD ROW
7. Stefan Bradl (GER) LCR Honda MotoGP 1'54.871
8. Cal Crutchlow (GBR) Ducati Team 1'54.888
9. Aleix Espargaro (SPA) NGM Mobile Forward Racing 1'54.986
FOURTH ROW
10. Valentino Rossi (ITA) Yamaha Factory Racing 1'55.096
11. Andrea Iannone (ITA) Pramac Racing 1'55.127
12. Pol Espargarò (SPA) Monster Yamaha Tech3 1'55.152
FIFTH ROW
13. Nicky Hayden (USA) Drive M7 Aspar 1'55.894
14. Colin Edwards (USA) NGM Mobile Forward Racing 1'56.042
15. Hiroshi Aoyama (JPN) Drive M7 Aspar 1'56.479
SIXTH ROW
16. Scott Redding (GBR) Go&Fun Honda Gresini 1'56.555
17. Yonny Hernandez (COL) Energy T.I. Pramac Racing 1'56.648
18. Karel Abraham (CZE) Cardion AB Motoracing 1'56.715
SEVENTH ROW
19. Hector Barbera (SPA) Avintia Racing 1'57.006
20. Danilo Petrucci (ITA) Came Iodaracing Project 1'57.513
21. Brok Parkes (AUS) Paul Bird Motorsport 1'57.574
EIGHTH ROW
22. Mike Di Meglio (FRA) Avintia Racing 1'57.667
23. Michael Laverty (GBR) Paul Bird Motorsport 1'58.254