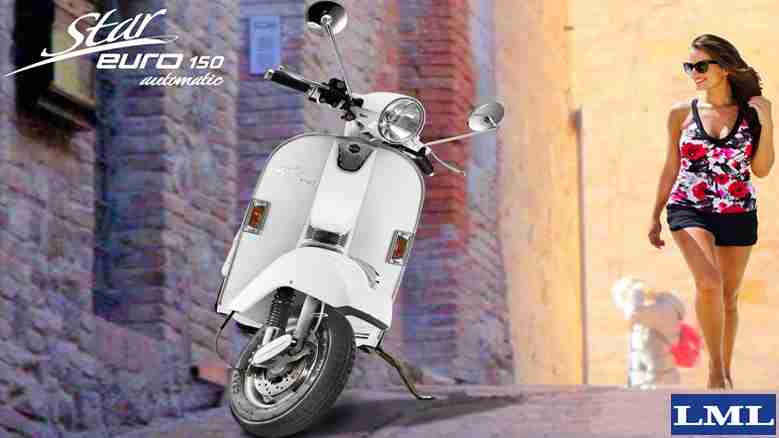 There used to be a time when the LML had a strong hold on the Indian middle class with their 2 stroke scooters mated with the twist gear systems. The Lohia Machinery Limited of UP however did not survive long enough and soon hit rock bottom and hit it hard, and hence, the chariot of Indian middle class was no more in production.
LML recently however decided to make a comeback to the Indian market starting with the LML Freedom 110 motorcycle last year and now more recently with the all new LML Star Euro 150 scooter, with prices that begin from Rs. 52,202.00 ex-showroom Gujrat. The LML Star Euro 150 is an automatic scooter with 150.82 cc, single cylinder, 4-stroke, 2-valves, forced-air cooled engine that promises to produce a maximum of 9.38 HP at 8,200 RPM and will propel it to a maximum speed of 90 kmph. The 760 mm long, 695 mm wide and 820 mm in high LML Star Euro 150 scooter has a wheelbase of 1260 mm and a ground clearance of 160 mm. It is equipped with a CVT gearbox, an engine kill switch and auto start function. The retro looking instrument cluster is stuffed with economy and power mode indicators and more. The suspension is handled by hydraulic dampers and helical springs in front and back, and the braking duties are taken care of by the drums on both wheels with an optional disc in the front. With a 7 litre fuel tank and a marked body fat of 112 kg the LML Star Euro 150 scooter mileage is claimed to be a healthy 55 kmpl.
The company claims that the LML Star Euro 150 is India's first automatic scooter with a complete metal body. That's right if in case you see the current production range. There were however a couple in the past. It uses a semi monocoque structure having pressed sheet metal in front and tubular frame in the rear which is decorated with chrome finishes for the rear view mirrors and in other places which shows the detail given to the two wheeler in terms of style. The LML Star Euro 150 scooter colour options include 7 distinctive ones, namely black gold, cipria red, éclair brown, glicine blue, lilac blue (purple), multi-shade and pearl white. The scooter looks just like the old LML chariot which was missed dearly, but has the essence of modern touch to the reborn version. The scooter is expected to receive a highly positive response from the market, but we have to wait until we can confirm it with full certainty. Also currently LML is going is introducing the LML Star Euro 150 scooter only in select area's of the country, currently only in Gujrat. We will also shortly be seeing their second scooter the LML Star Euro 200 Automatic being launched in the coming days.
LML Star Euro 150 scooter colour, price, mileage and specifications
Overall length: 1760 mm

Overall width: 695 mm

Seat height: 820 mm

Wheel base: 1260 mm

Maximum road clearance: 160 mm

Vehicle kerb weight: 112 Kgs

Engine: Single cylinder, 2 valves, four stroke, forced air cooled, single overhead cam

Displacement: 150.82 cc

Bore: 61 mm

Stroke: 51.9 mm

Compression ratio: 9.0 ± 0.5:1

Idling speed: 1400 ± 100 rpm

Max. output / power: 7.0± 0.25Kw at 8000 ± 200 rpm

Ignition system: Capacitor Discharge Ignition (CDI) Electronic

Starting: Kick start, Auto start

Clutch: Centrifugal clutch

Transmission: CVT (automatic)

Drive system: V -belt drive

Carburettor: KEIHIN FIE – PB18

Spark plug: MICO – UHR3CC

Fuel Petrol: 87 Octane or above

Fuel tank capacity: 7.0 litres.

Chassis: Semi monocoque structure having pressed steel sheet in front and tubular frame in rear. Covered by sheet metal shell assembly.

Steering column and suspension: The steering column is pivoted at the front wheel swinging hub.

Front and rear suspension Front and rear suspension with hydraulic dampers and helical springs.

Front brake: Drum brake, optional disc

Rear brake: Drum brake, mechanical expanding shoe type

Front and rear tyre: 89x251mm (3.50"x10")

Generator system: 12 Volt – 96 Watt

Head lamp bulb: 12 Volt – 35 / 35 Watt – Halogen

Stop light / Tail light Bulb: 12 Volt – 10 / 5 Watt {LED}

Turn signal light bulb: 12 Volt – 21 Watt x 4

Parking lamp: 12 Volt – 5 Watt

Horn: 12 Volt DC

Battery: 12 Volt – 5Ah

Fuse: 8 Amp

Top speed: 90 kmph

Mileage: 54 kmpl (claimed)

Colour options: Black gold, Cipria red, Eclair brown, Glicine blue, Lilac blue (purple), multi-shade and Pearl white.

Electric Start version: Rs. 52,202.00 ex-showroom Gujrat

Electric Start + Disc Brake: Rs.  55,985.00 

ex-showroom Gujrat

Electric Start + Disc Brake + Multi shade: Rs. 57,447.00

 ex-showroom Gujrat