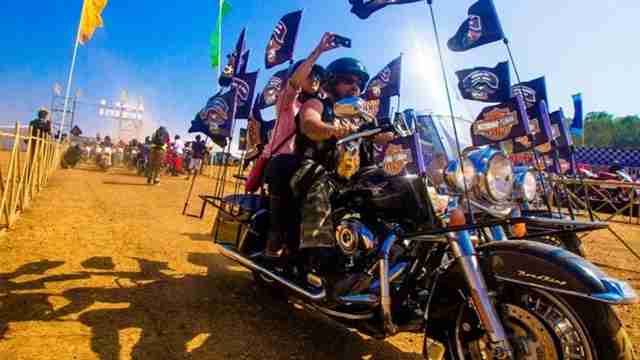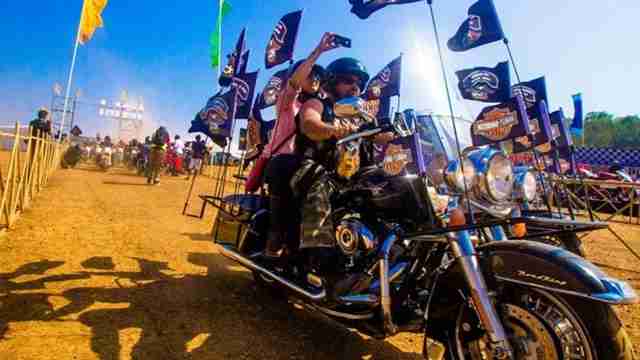 The second edition of India Bike week ended with the party of the year in Vagator this weekend. The Festival was a stunning demonstration of the power of India's Biking Brotherhood. Over 8,000 bikers and bike fans came together to create India's largest Motorbike Festival.
– India's largest Motorbike Festival saw over 8,000 bikers meet over two days of never seen before Motorbikes, FMMX stunts, Music, a Martial Arts Championship, Race Class Bikes and Grand Prix winners, and many, many spectacular machines, stunning customized bikes.
– It has been the largest gathering of the Biking Brotherhood in India's history.
– The big news of the day was the Bike Build off triumph by Reza Hussain Customs in Chopper Class and Moto Exotica's Arjun Raina carried away the Open Class. In the Classic Section of the Festival, a German version of a Triumph — the STM 500 won the Best of Show owned by Col. Sashidhar Bopanna from Hyderabad . The much commented on – an original and India's only Grand Prix run 1955 Norton Manx 350 — was fired up in public for the first time.
– India Bike Week 2014 also saw the all India Launch of Nisttarkya, India's first Electric Bike concept, built by Santosh from Mysore.
– From 5 participating stunt teams, the IBW Stunt Team of the year was Team from Mumbai.
– The Festival ended with Amsterdam based Dub Vision rocking the Festival.
Day 2 of the event was action-packed- the Vintage Bike Parade & Ride for Safety Ride followed by breath-taking stunts by MRF's FMMX riders, Callum Shaw and Luke Smith. The super talented bikers participating in the festival were awarded under the MOD bike competition, Biker Build-off and loudest biking competition. Some stunning attractions of the festival included Bikini Bike Bar, Beerambulance, The Howling Dog Bar, IBW skills challenge and Motorcycle Travelers Meet.