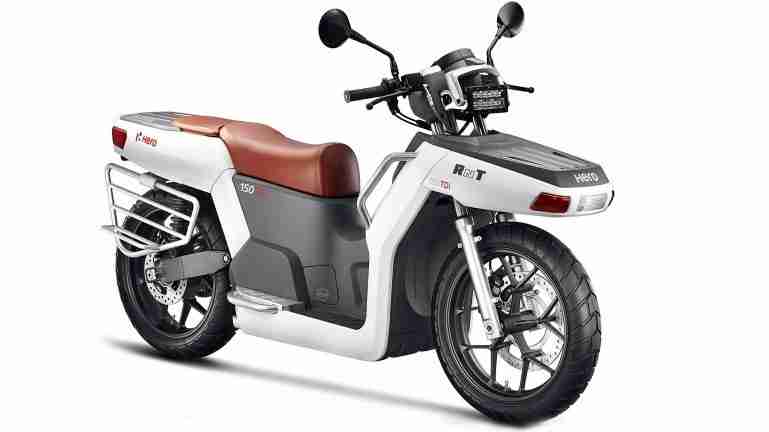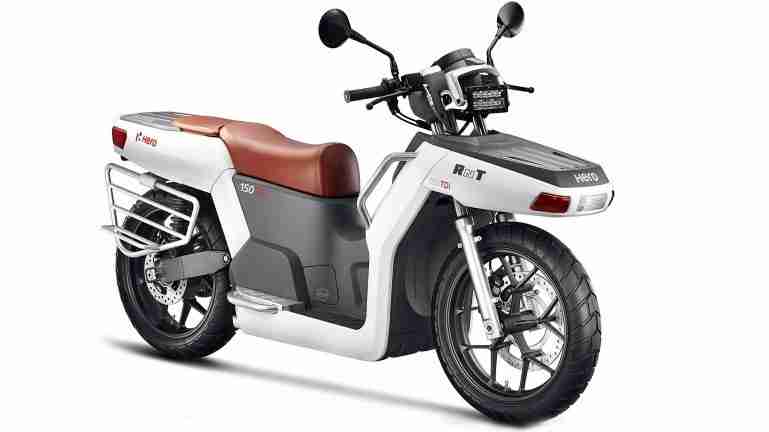 Hero Motocorp recently unveiled a diesel motorcycle, a one of a kind and a first for an Indian manufacturer. The Hero RNT Diesel motorcycle is crafted to look like a futuristic two wheeler with a heart to serve and a body to comfort the rider and the pillion. The motorcycle is still in its concept stage and is expected to be rolling out in 2015. Unlike most other manufacturers who unveil their prototypes, Hero MotoCorp did not keep the technical specifications of the RNT Diesel motorcycle in the dark.
The RNT Diesel motorcycle runs on a 4 stroke liquid-cooled engine with direct injection diesel technology and an optional turbocharger. The engine revving with a 6 speed gearbox can produce up to 13.5 BHP of power at 4000 RPM and 35 Nm of torque at 1600 RPM. The RNT Diesel motorcycle is said to hit naught to 60 in 5 seconds and can reach a maximum speed of 70 kmph. The performance can be attributed to its weight which is marked at just 136 kgs and also the massive amount of torque a diesel engine brings. Another surprising detail about the RNT Diesel motorcycle is that it gets an optional two wheel drive. Yes, you heard it right. The RNT Diesel motorcycle uses an optional electric hub motor powered with an electric battery pack that provides 1.34 BHP of power to the front wheels. This can be handled using a secondary throttle which can work independently, or with the primary chain drive.
The front suspension is a 37 mm telescopic one and the rear is an adjustable hydraulic shock absorber. The front disc brake is a 300 mm disc with a multi-piston rotor and in the rear, a 220 mm disc with a single piston calliper. The RNT Diesel motorcycle has a decent ground clearance of 168 mm, which on reading together with the engine capacity and the suspension make the bike a well reliable companion for varied road types.
Hero describes the RNT as a 'rugged, utilitarian and practical' design and Mr. Pawan Munjal M.D. of Hero MotoCorp goes on to say that the wide, flat-loading surfaces, as well as multi-use folding side racks, a large comfortable seat and spacious footboards are novelties never seen on a motorcycle before. The bike is also equipped with two independent LED headlamps, where the primary is placed in such a way that it offers full visibility even when the front rack is fully loaded, while the secondary headlamp is a removable LED light with an internal lithium-ion battery. Hero Motocorp is looking forward to create a bigger space in the Indian two wheeler market with the RNT Diesel motorcycle, as well as its petrol-electric hybrid scooter called the Leap which is to be launched later in 2014 itself.