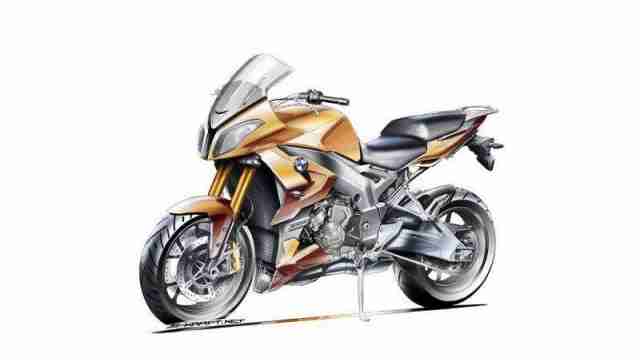 The German magazine 'Motorrad' recently published a sketch signed and designed by Stefan Kraft of 'S. Kraft Design and Illustration' of a possible tourer bike from the Bavarian house that might be readying to go head on head with the Ducati Multistrada 1200 and Suzuki V-Strom. The all new BMW S1000F is expected to come to life by the end of this year with a hope to be seeing the asphalt in the start of next year.
The new BMW S1000F sports-tourer is said to inherit its genes from the S1000R which is known to be the cousin of their flagship superbike – the S1000RR. The S1000R has a mill reduced to 160 HP from the original 193 HP of S1000RR, and the new tentatively named S1000F might possess a further detuned engine. The 4 cylinder inline engine and changes made to the ergonomics of the bike calls for a low to mid-range performance of the machine as well as making the new beemer a long-range tourer which guarantees much more comfort to the rider. The German manufacturer always fills their machines with the most sophisticated technology that has somehow become their tradition. Hence, a mandatory ABS, a DDC (Dynamic Damping Control) system, traction control, a different fuel mapping and a ride-by-wire throttle can be expected to feature on the bike without the need for a second guessing.
There are no official statement by BMW Motorrad yet about the Motorrad's claim of the sports tourer. The design however seems more likely to become a reality than staying as a mere concept model. In fact, the design featuring the symmetrical headlights and aggressive looks portrayed in the sketch reminds the existence of Kawasaki Z1000SX which is real and running successfully. The possibility, hence, of the new BMW S1000F turning to be a soon coming reality is something that no one can readily rule out. The German magazine did not forget to make another exciting claim that the new beemer can be expected to be seen at the Cologne Intermot – International Motorcycle, Scooter and E-Bike Fair in October. The motoring world however, will have to wait.