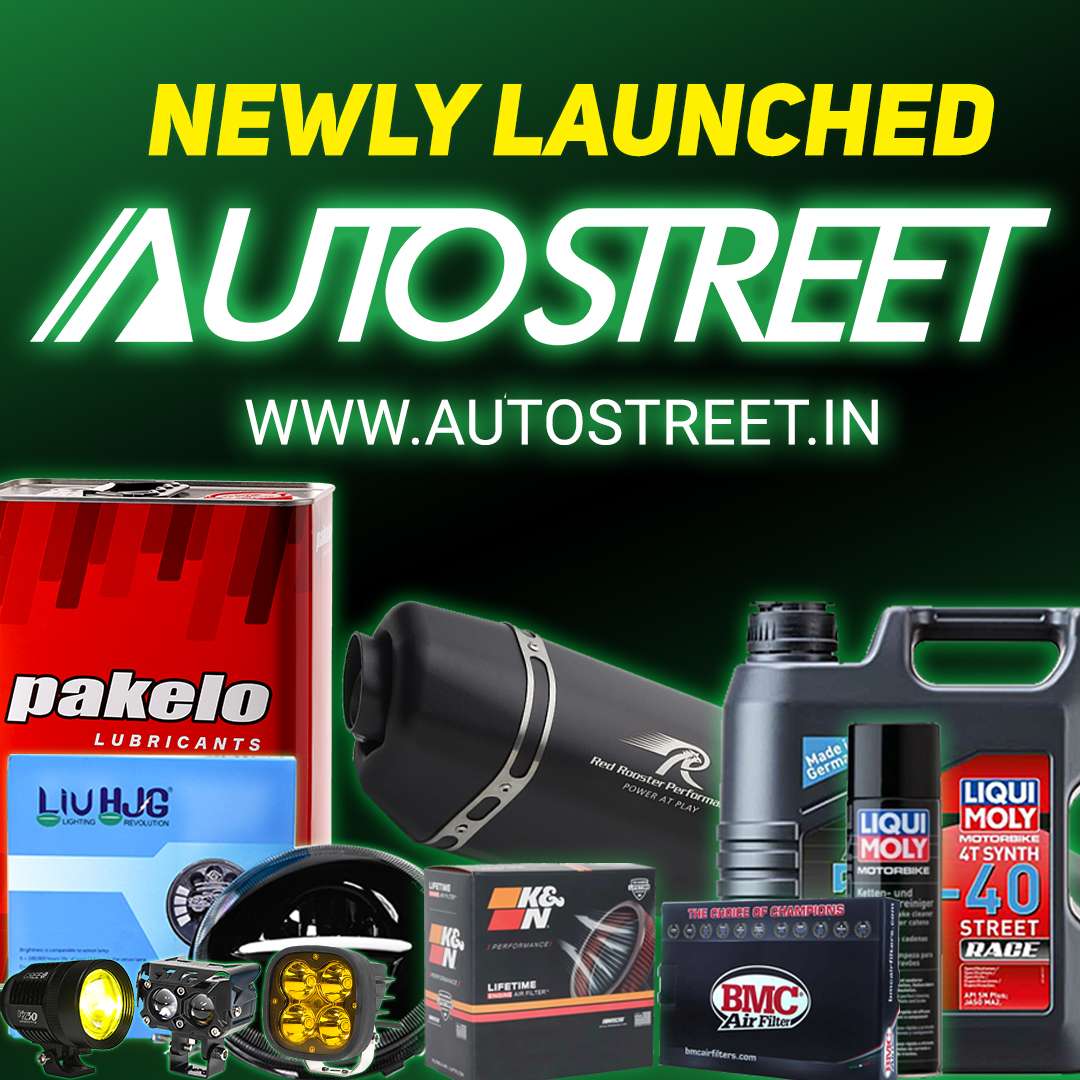 Race day at Silverstone definitely started with a frowned eyebrow for many due to weather and ended up being red flagged in the first lap itself. David Johnson and Norino Brignola tumbled over the fallen Kawasaki and things got from bad to worse with it starting to rain and the race was red flagged and this was when a slowing down took down his team mate Jakub Smirz and pushed Davide Guigliano off track. After all the initial drama one would think that everybody was going to take it a bit easy on the wet, but thinks got even more exciting once the race was restarted.
With the section 1 and 5 declared wet, the tire choice was going to be a touch one for the riders. Except Smrz, Guintoli and Hopkins everyone wet for the slicks, but they had a tough time keeping up with the rest and eventually got lapped. The race was just thrilling to watch, tight overtakes, confusion in wet sectors and no clear winner in mind till the last few laps and it was Kawasaki's Loris Baz that took race 1, his maiden victory at the WSBK.
"A very special victory " said Loris Baz. " I never imagined being able to win after so few races in Superbike, but since my first experience with the Kawasaki Superbike I was fine as can be seen from the podium at Brno To win here at Silverstone is my first win in Superbike is special because in the United Kingdom had run in the British Superbike Championship last year, is a little my second home. I owe a lot to Kawasaki who believed in me and I want to dedicate this win to Joan Lascorz, all run in the team for him. In Race 1 I decided to go with the slick, we were very fast and, when it began to abate grip, I pushed hard, taking me also some risk. I saw an opportunity to win, I would not have made it go!
In the wet Race 2 I was fine, I had a good feeling and when I found myself in the head fell. There was oil on the track, it was really a shame because there was a chance to repeat after Race 1. However I can not but be pleased with, was an incredible day. "
19 year old Baz won a very challenging race and he had to battle Michel Fabrizio and Aryton Badovini of Goldbet Italia on the final corner to take victory. Fabrizio took second followed by Badovini who lost traction and slid down only to hit by a close following Jonathan Rea who eventually somersaulted over him with the bike.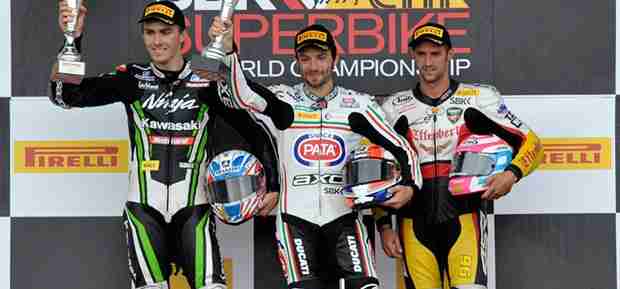 Race 2 was declared dry but ironically sectors 2 and 5 received rain in the warm up lap and the race was halted. The race restarted with it being declared wet and shortened to 17 laps. All riders moved to their complete wet set up and Carlos Checa, Marco Melandri, Max Biaggi and Jonathan Rea where given the responsibility to indicate the dangerous sections in case of further rain.
The race began with Sylvain Guintoli taking the holeshot from Jakub Smrz. Sykes had to start from the pit as he had to change the suspension settings post the warm up lap. After the first lap Guintoli and Smrz had over a five second lead over the rest of the riders and by lap two they were ahead by almost ten seconds.
It was only by lap five that Loriz Baz and Davide Giugliano began closing in on the front runners but it started raining again and the Althea rider lost control in lap 7 and crashed out. Baz eventually caught up Smrz and made a pass at him but failed but in the upcoming straight got ahead easily.
The wet lap eventually started taking riders down. Jonathan Rea crashed out on lap 9, Smrz followed and then it was Carlos Checa's turn. Loriz Baz in the meanwhile took the lead from Guintoli in lap 10 but almost immediately crashed out. Finally it was only when Tom Sykes crashed out and signalled to race control about the track conditions that the race was red flagged. This left Guintoli at the number one spot this being the first victory for his team. As the results are taken from the previous lap before the red flag, Baz got the second spot and Smrz took third. Half points were awarded to the top 15 riders. Maxime Berger took the 5th spot and Checa took 6th. Melandri came in 8th behind Chaz Davies followed by Rea. Maz Biaggi came in behind John Hopkins at 11th and now has a championship lead of just 10.5 points ahead of Marco Melandri.
"After the bad times lived in the last period, it is unbelievable to win on debut with my new team " he exclaimed Sylvain Guintoli. " In Race 2 I was fine on the bike, I tried not to lose concentration while avoiding unnecessary risks. Even when Loris (Baz) attacked me, I have not lost your temper: with so much rain and the oil left by a bike path in the middle, was a second mistake.
Luckily everything went well and I could not be happier than that. I am only sorry for what happened in Game 1, was a gamble, but at least we have redone in the second round. Now for us the goal is to riconfermarci of these levels even in the forthcoming races this weekend we have demonstrated our potential. "
WSBK Silverstone Race 1 results
1. Loris Baz (Kawasaki Racing Team) Kawasaki ZX-10R 40'46.128
2. Michel Fabrizio (BMW Motorrad Italia GoldBet) BMW S1000 RR 40'46.511
3. Ayrton Badovini (BMW Motorrad Italia GoldBet) BMW S1000 RR 40'46.587
5. Carlos Checa (Althea Racing) Ducati 1098R 40'47.140
6. Leon Haslam (BMW Motorrad Motorsport) BMW S1000 RR 40'48.747
7. Marco Melandri (BMW Motorrad Motorsport) BMW S1000 RR 40'52.251
8. Tom Sykes (Kawasaki Racing Team) Kawasaki ZX-10R 40'55.298
9. Davide Giugliano (Althea Racing) Ducati 1098R 41'05.150
11. Maxime Berger (Team Effenbert Liberty Racing) Ducati 1098R 41'15.968
12. Lorenzo Zanetti (PATA Racing Team) Ducati 1098R 41'16.286
13. Hiroshi Aoyama (Honda World Superbike Team) Honda CBR1000RR 41'30.350
14. Chaz Davies (ParkinGO MTC Racing) Aprilia RSV4 Factory 42'06.515
15. David Salom (Team Pedercini) Kawasaki ZX-10R 42'28.826
16. Sylvain Guintoli (PATA Racing Team) Ducati 1098R 41'27.489
17. Jakub Smrz (Liberty Racing Team Effenbert) Ducati 1098R 41'53.544
RT. Max Biaggi (Aprilia Racing Team) Aprilia RSV4 Factory 38'23.341
RT. Niccolò Canepa (Red Devils Roma) Ducati 1098R 31'11.647
RT. John Hopkins (FIXI Crescent Suzuki) Suzuki GSX-R1000 21'57.027
NS. Norino Brignola (Grillini Progea Superbike Team) BMW S1000 RR
NS. David Johnson (Team Pedercini) Kawasaki ZX-10R
WSBK Silverstone Race 2 results
01. Sylvain Guintoli — PATA Racing Team — Ducati 1198 — 8 laps in 19'42.051
02. Loris Baz — Kawasaki Racing Team — Kawasaki ZX-10R — + 0.881
03. Jakub Smrz — Team Effenbert Liberty Racing — Ducati 1198 — + 1.671
04. Eugene Laverty — Aprilia Racing Team — Aprilia RSV4 Factory — + 19.045
05. Maxime Berger — Team Effenbert Liberty Racing — Ducati 1198 — + 22.116
06. Carlos Checa — Althea Racing — Ducati 1198 — + 23.736
07. Chaz Davies — ParkinGO MTC Racing — Aprilia RSV4 Factory — + 24.690
08. Marco Melandri — BMW Motorrad Motorsport — BMW S1000RR — + 26.197
09. Jonathan Rea — Honda World Superbike Team — Honda CBR 1000RR — + 26.861
10. John Hopkins — FIXI Crescent Suzuki — Suzuki GSX-R 1000 — + 27.194
11. Max Biaggi — Aprilia Racing Team — Aprilia RSV4 Factory — + 29.243
12. Tom Sykes — Kawasaki Racing Team — Kawasaki ZX-10R — + 30.328
13. Michel Fabrizio — BMW Motorrad Italia GoldBet — BMW S1000RR — + 32.746
14. Hiroshi Aoyama — Honda World Superbike Team — Honda CBR 1000RR — + 34.905
15. Niccolò Canepa — Red Devils Roma — Ducati 1198 — + 35.849
16. Lorenzo Zanetti — PATA Racing Team — Ducati 1198 — + 40.091
17. Leon Haslam — BMW Motorrad Motorsport — BMW S1000RR — + 58.530