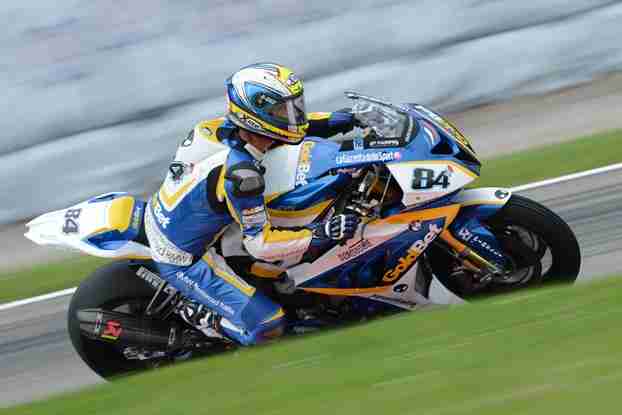 The BMW Motorrad Italia GoldBet Superbike Team has tackled the second day of practice and qualifying for the fourth round at Monza. The day ended this afternoon with the Superpole that defined the starting order for the two races scheduled for tomorrow. Michel Fabrizio claimed the 11th spot on the grid, third row, while Ayrton Badovini will move off from the fourth row, 13th grid slot.
Michel Fabrizio and Ayrton Badovini accessed Superpole with the first and fifth places achieved at the end of Friday's qualifying. The SBK rules, in case of a non-dry track, set the Superpole to two sessions of 20 minutes each. The extremely variable weather made the two riders' mission much more complicated, and neither managed to finish in the top eight in the first session and so could not take part in the Superpole 2. Michel Fabrizio, during his last quick lap attempt, was forced to slow down due to a rider who was slower ahead of him at "Variante Ascari". The rider from Rome lost his chance to improve his position and had to settle for the 11th place, achieved with a lap-time of 1'59.681.
Ayrton Badovini, thanks to a 1'59.987 lap time, took the 13th slot on the grid, despite which he is still confident for the races, as he felt comfortable with the bike on both wet and dry track in all the practice sessions prior to the Superpole.
Sylvain Barrier maintained his pole position in the FIM Superstock 1000 Cup thanks to the lap time set on Friday's qualifying. The French rider will start tomorrow's races far from perfect fitness due to the left shoulder dislocation he sustained in qualifying yesterday.Lorenzo Baroni will start the race from third position.
Serafino Foti, BMW Motorrad Italia GoldBet Superbike Team Sporting Director, said:
"It hasn't been an easy day. We're disappointed because these were not the results we expected but, with such uncertain weather and changeable conditions, the situation was obviously more complex. It's a pity. I hope that tomorrow the track conditions will stay the same; it's always better to compete on a fully wet or dry track instead of racing with intermediate conditions like today. In Superstock the classification stayed the same as it was after yesterday's qualifying session. Sylvain will try to race if his condition allows him to do so".
Michel Fabrizio #84 – Superpole 11th (1'59.681)
"During my fast lap attempt I was slowed by a rider who was getting into "Variante Ascari" at slow speed. That cost me some time and meant I didn't manage to qualify for Superpole 2. I was trying to get the best out of the new tyre I'd had fitted. It's a shame because I felt I could have done well."
Ayrton Badovini #86 – Superpole 13th (1'59.978)
"I feel sorry for how Superpole ended up because we were fast in the wet, but I wasn't comfortable with the front and so I could not brake the way I like. Anyway I'm positive for tomorrow. I hope to bounce back and to get two good results."