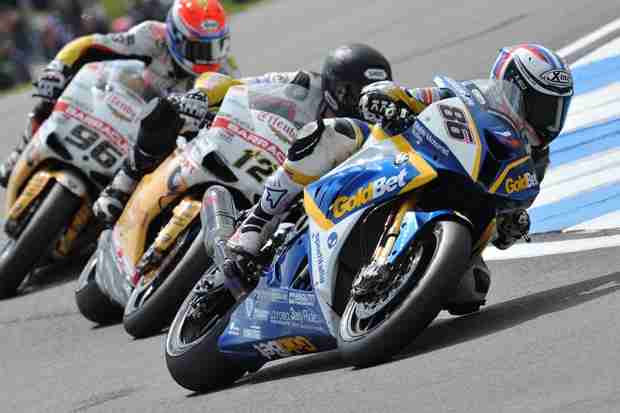 BMW Motorrad Italia GoldBet Superbike Team completed the fifth round of 2012 World Superbike season. Michel Fabrizio and Ayrton Badovini finished race 1 with a 10th and 11th place, while in the second race they crossed the line in 13th and 6th respectively. Sunday's first SBK race started at noon on a dry track. Michel Fabrizio, who started from 11th on the grid was 12th at the end of lap one, maintained a consistent race pace during the first half of the race before the pain in his right limited his performance for the remaining laps. He was the 10th rider to take the chequered.
Ayrton Badovini, had a small collision with Jakub Smrz at turn 1 and consequently lost positions and found himself 18th at the end of the first lap. Once "Speedy" got back into his rhythm, he managed to make a comeback to an eleventh final place. The race was won by Marco Melandri, BMW Motorrad Motorsport Team rider, which brought the first podium top step for the BMW S 1000 RR. Melandri finished ahead of his team mate Leon Haslam in second, therefore bringing not just the maiden victory for the German manufacturer in the Superbike World Championship but also a '1-2' finish.
Michel Fabrizio jump-started race 2 and therefore the "Gladiator" was awarded a ride-through penalty. Michel rode through the pit-lane at the end of lap 4, getting back on track in twentieth position and finishing the race with a thirteenth place.
Ayrton Badovini, who made a fairly good start from the third row, kept his race pace and, despite suffering from early wear of the soft front tyre, finished sixth.
Andrea Buzzoni – BMW Motorrad Italia General Manager
"It was an historical day for BMW Motorrad. I would like to truly congratulate our colleagues at the BMW Motorrad Motorsport Team and Bernhard Gobmeier for the well deserved success and the reward for the amazing work they have done. This victory shows that the BMW is highly competitive, which was already evident, and finally has been recorded in results despite the incredible end to race 2. I'm happy that Marco Melandri set a milestone in our history. Our team, for various reasons, is still not getting the competitiveness from our package, apart from the sixth place. In racing you need patience, determination and enthusiasm, always. We will continue to work hard and with a lot of oomph to get back where we belong. The team is strong".
Serafino Foti – BMW Motorrad Italia GoldBet Superbike Team Sporting Director
"Personally I'm not happy with this weekend. I feel we deserve more than this. The team has done an amazing job, as always, but it looks as though a series of ever changing circumstances meant we haven't been able to get the results we expect. We're working very hard. We need to stay focused to give our best in order to put an end to this spell at Miller Motorsports Park. I wish to congratulate BMW Motorrad Motorsport for the outstanding result obtained today."
Michel Fabrizio #84 – Race 1 10th – Race 2 13th
 "In race 2 my start was quick, maybe too quick as I got a ride-through. While I was riding into the pit-lane there was a misunderstanding with a marshal. I thought that they wanted me to stop but it was not so, and I lost 5 more useful seconds. It's a shame about the jump-start. Without that I would have had the chance of a good race. I'm not demoralised. I will be more charged up than ever for the US round."
Ayrton Badovini #86 – Race 1 11th – Race 2 6th
 "Race 1 started uphill after the collision at the start. That cost me a lot of time and forced me into a catch-up race. For race 2 we tried a soft front tyre but it wore out as soon as we got into the second part of the race, so I raced conservatively to get the best result possible. We come out of this weekend with a clear view of what we have to work on for Miller".