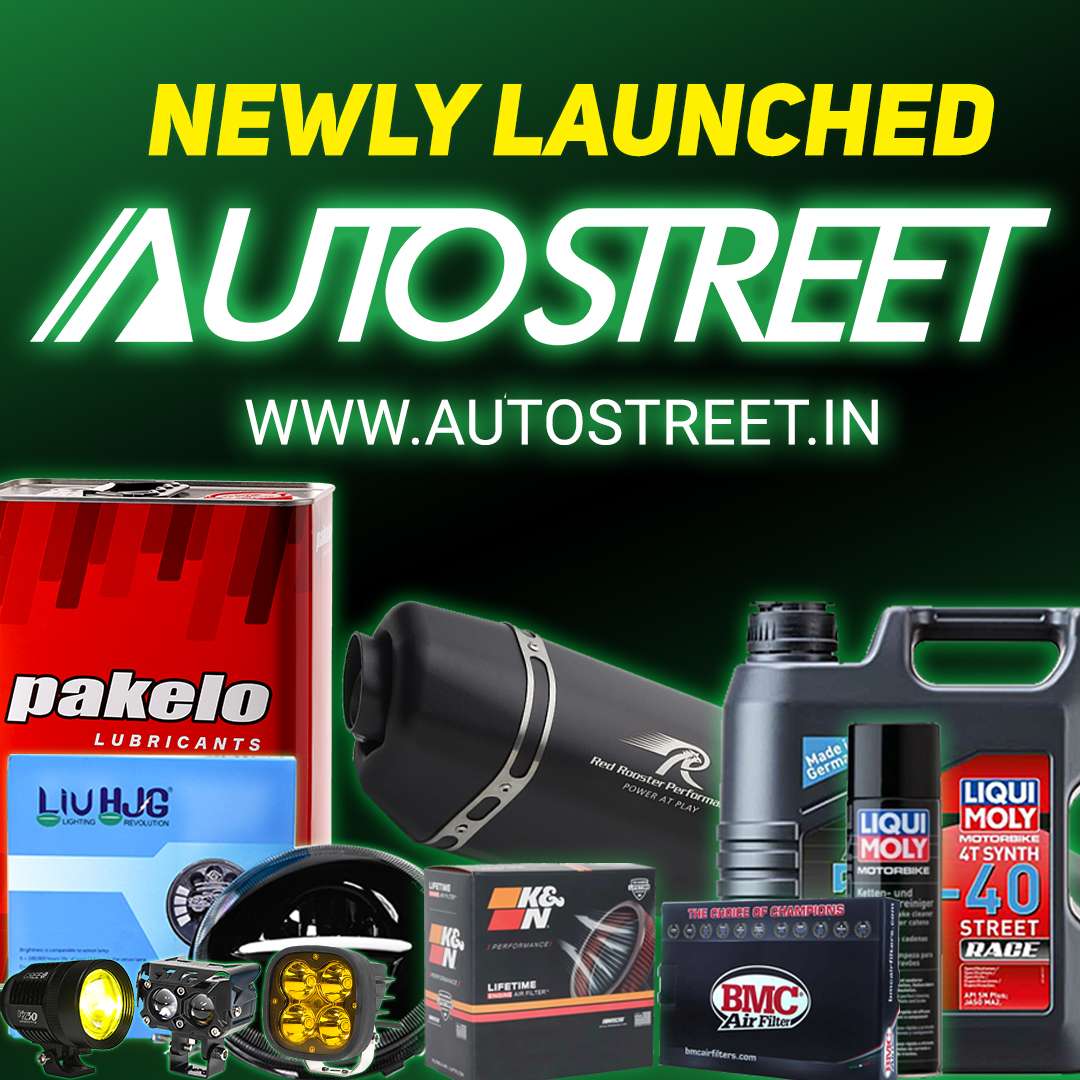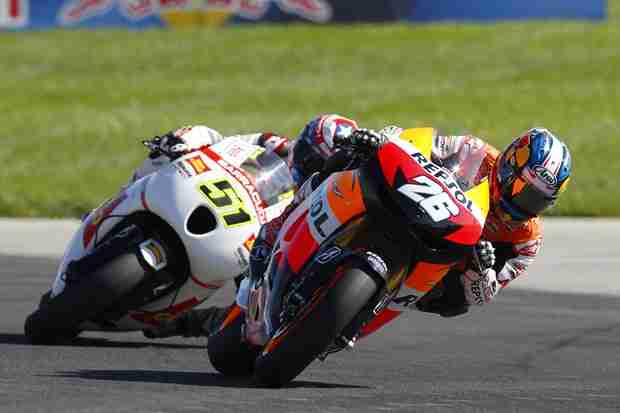 Pedrosa was looking good and fast right from day one at the Indi weekend and it is this pace he kept on race day and almost blew away the track record, he finished the race more than ten seconds ahead of the rest of the pack and now is almost within reaching distance of current championship leader Jorge Lorenzo. Lorenzo had a tricky start and a tight couple of laps with Dovizioso followed by Steve Rapp the wildcard rider who did not make way for him when he was being lapped.
Ben Spies seems to be in a alternate time zone, one where he seems to be followed by bad luck. He had a swing arm failure in Laguna Seca and this weekend it was his engine that gave up on him. What is more disheartening is that he was very good the entire weekend, he was faster than team mate Lorenzo and even with an injury he had a great start on race day. He took the lead in lap one right from turn three and although he lost his lead to a fast Pedrosa in lap seven he was poised for a comfortable second.
Andrea Dovizioso came in third after overtaking Stoner. The former world number one was riding with a ligament damage and bit of a bone chipping on his right ankle and showed us again why he is champion. He almost had a podium finish if not for his injury and finished the race with a collective applause from fans and critics. He was followed by Alvaro Bautista and then by Stefan Bradl who was almost ten seconds behind Bautista. Rossi was almost 57 seconds from the top runner and finished seventh and quite honestly must be waiting for this season to end. The CRT riders had a tough time, almost all of them did not have a comfortable race and were plagued by technical issues.
The race weekend way not a perfect one though as there was a lot of high sides and a mixture incidents that raised a lot of questions about the track quality and the tyres. Either ways lets not add more fuel to the already existing rumours around the Indi track, it was a weekend where riders pushed through pain and technical issues to give us a great race.
Dani Pedrosa
"I'm extremely happy with this win and I really want to congratulate the whole team for the great job they've done this weekend, the bike worked perfectly. It was difficult at the beginning of the race because the pace was very strong from the start. I got past Ben Spies, but I kept calm because I knew I had the pace today to fight for the victory. When I took the lead, I put in some very strong laps to build up a gap and then I made a mistake in turn 2 going into neutral and Jorge reduced the gap by 1 second.
But I was able to get back on my pace and ride comfortably to the end, where I think Jorge struggled a little with the soft rear tyre. We managed to take our second win of the season and every point is important. I want to also congratulate Casey for his result; he did a superb race in his condition and I am sure he will be strong again in Brno."
Jorge Lorenzo
"We thought that the soft tyre could finish the race well so we took a risk with it. At the beginning it wasn't so bad and I could follow Ben and Dani. Then Ben had his engine failure which was lucky for my position but I am so sorry for him. Dani was a little step forward today and had a tyre advantage in the end. Anyway, second was the best we could do today which is very good for the Championship."
Casey Stoner
"I'm definitely disappointed with how the weekend went. We had a strong start on Friday morning and then had a few issues Friday afternoon in FP2. We showed that we certainly had the pace for pole position and fight for the win but unfortunately I had a huge crash in qualifying. The injuries I sustained from the crash made things very difficult for us and we lost precious track time to work on the set up. This morning in warm up I was just getting comfortable on the bike and trying to get a feel for everything rather than working on set up.
The race was equally as difficult, we had a rough start and got pushed back some positions and had to fight our way back through. As soon as we did, unluckily Ben had a bike failure and I found myself in the middle of the smoke, unsure where I was going and what I might hit and we lost positions again. At the end of the race it was almost impossible to maintain the pace. The painkillers I took to dull the pain gradually wore off at around the half way point and as I was compensating for my injury with the other side of my body, I simply had no energy left. It was frustrating to give up the podium position to Andrea but we did everything we could and at least I was able to ride and take some points."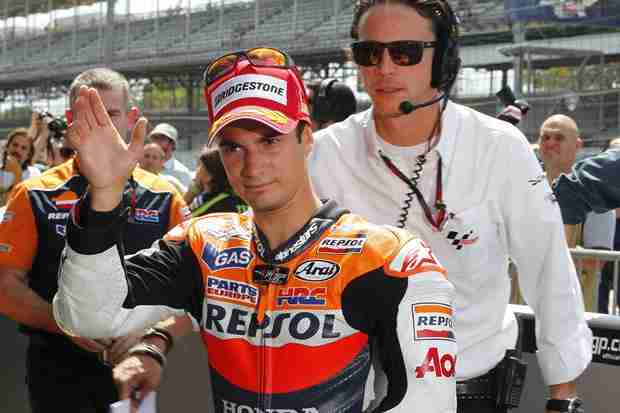 MotoGP Indianapolis Race Results
03. Andrea Dovizioso — Monster Yamaha Tech 3 — Yamaha YZR M1 — + 17.310
04. Casey Stoner — Repsol Honda Team — Honda RC213V — + 19.803
05. Alvaro Bautista — San Carlo Honda Gresini — Honda RC213V — + 22.556
06. Stefan Bradl — LCR Honda MotoGP — Honda RC213V — + 30.072
08. Karel Abraham — Cardion AB Motoracing — Ducati Desmosedici GP12 — + 1'08.442
09. Yonny Hernandez — Avintia Blusens — BQR FTR — + 1'11.106
10. Aleix Espargaro — Power Electronics Aspar — ART GP12 — + 1'14.079
11. Toni Elias — Pramac Racing Team — Ducati Desmosedici GP12 — + 1'26.305
12. Ivan Silva — Avintia Blusens — BQR FTR — + 1'40.274
13. Colin Edwards — NGM Mobile Forward Racing — Suter BMW — 1 lap
14. James Ellison — Paul Bird Motorsport — ART GP12 — 1 lap
15. Steve Rapp — Attack Performance — Attack Performance APR — 1 lap
16. Aaron Yates — GPTech — BCL GP212 — 1 lap
Championship standings post Indianapolis race weekend
| Pos. | Rider | Bike | Nation | Points |
| --- | --- | --- | --- | --- |
| 1 | Jorge LORENZO | Yamaha | SPA | 225 |
| 2 | Dani PEDROSA | Honda | SPA | 207 |
| 3 | Casey STONER | Honda | AUS | 186 |
| 4 | Andrea DOVIZIOSO | Yamaha | ITA | 137 |
| 5 | Cal CRUTCHLOW | Yamaha | GBR | 106 |
| 6 | Stefan BRADL | Honda | GER | 94 |
| 7 | Alvaro BAUTISTA | Honda | SPA | 92 |
| 8 | Valentino ROSSI | Ducati | ITA | 91 |
| 9 | Nicky HAYDEN | Ducati | USA | 84 |
| 10 | Ben SPIES | Yamaha | USA | 66 |
| 11 | Hector BARBERA | Ducati | SPA | 60 |
| 12 | Aleix ESPARGARO | ART | SPA | 39 |
| 13 | Randy DE PUNIET | ART | FRA | 33 |
| 14 | Karel ABRAHAM | Ducati | CZE | 18 |
| 15 | Yonny HERNANDEZ | BQR | COL | 17 |
| 16 | Michele PIRRO | FTR | ITA | 16 |
| 17 | Colin EDWARDS | Suter | USA | 14 |
| 18 | Mattia PASINI | ART | ITA | 13 |
| 19 | James ELLISON | ART | GBR | 13 |
| 20 | Ivan SILVA | BQR | SPA | 11 |
| 21 | Danilo PETRUCCI | Ioda | ITA | 9 |
| 22 | Toni ELIAS | Ducati | SPA | 5 |
| 23 | Steve RAPP | APR | USA | 2 |