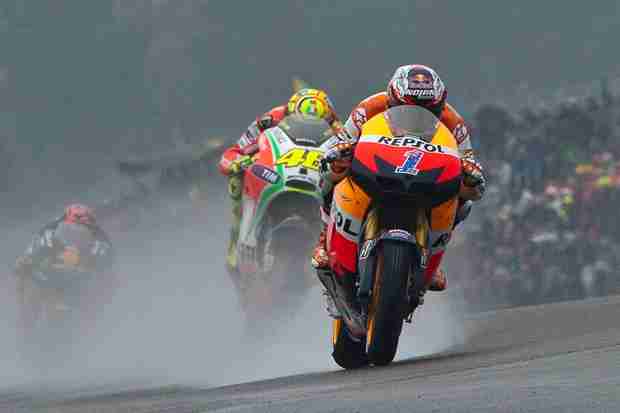 The French GP provided a difficult challenge for the Repsol Honda Team riders today, following on from a combined 45 crashes in the Moto2 and Moto3 support class races. The track remained completely wet and the rain continued to pour down throughout the premier class contest. A battle for second place was settled on the last lap in Valentino Rossi's favour, as Casey Stoner settled for another podium finish in third place. Teammate Dani Pedrosa was fourth.
The Repsol Honda Team riders had been in a prime position at the start line. Dani Pedrosa was taking off from pole position and remained in the lead on the opening corner, closely followed by Casey Stoner. However, Jorge Lorenzo took the lead by the end of the first lap. Stoner left his teammate behind in pursuit of Lorenzo, whilst Pedrosa was experiencing grip problems and dropped down to sixth. The rain eased off afterwards, creating problems for Stoner with his tyres. Sliding around lost him ground on Lorenzo, whilst Rossi, Dovizioso and Crutchlow began to gain on him. The latter two crashed when pushing too hard, which left Stoner and Rossi together and Pedrosa moving up to fourth.
Stoner was over seven seconds down on Lorenzo with four laps remaining, when Rossi latched onto him. Both riders participated in a thrilling battle, which Rossi eventually won with the definitive overtake. Stoner claimed his fourth rostrum of the season, maintaining a perfect podium record. Lorenzo leads the championship with 90 points, with Stoner 8 points off him and Pedrosa 25 behind his fellow Spaniard.
Dani Pedrosa
4th at 29.361 sec.
"I had no traction out of the corners, especially in first and second gear, and I wasn't able to advance. We made a few changes to the configuration of the bike after warm up hoping to improve it a bit, in the end it was other way around, but these things can happen. In the race I immediately realised it was not my day, not a day to take any risk and it was important to simply reach the best position. I was lucky, after the crashes of both Tech 3 Yamaha's I finished fourth. Wet races can be like this and today was just not our day.
We lost many points to Lorenzo but the Championship is very long and we will have our time. This race is over and we must now think towards Catalunya. I'm really looking forward to going there, it's a circuit that motivates me a lot and I have all my family and friends with me. The team is working very well, we have a good bike and we've been fast in every race, but we need to be determined. Let's see if we can speed up a little and take our first win of the season in Catalunya".
Casey Stoner
3rd at 11.298 sec.
"I was pretty happy to hold on for a podium today. In the early stages Cal [Crutchlow], Valentino [Rossi] and Dovizioso were behind me putting on a lot of pressure, but we managed to pull a small gap on them as I was chasing Jorge [Lorenzo]. Then as soon as the rain stopped and the track was less wet, our tyre temperatures got too high, we started spinning and there wasn't anything I could do about it.
I thought the three of them would catch up and perhaps overtake me but we managed to hold on for third. I enjoyed the battle with Valentino at the end, there was clean overtaking and we swapped positions a few times but in the end we knew that Valentino had better pace than us and after he passed there was no way I could stay with him. We did everything we could today and to come away with a podium is a good result".