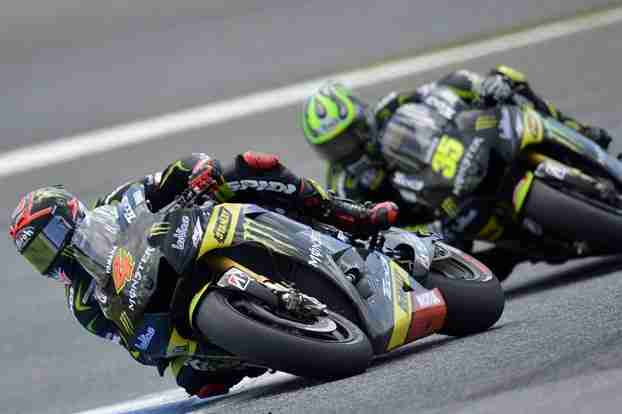 Andrea Dovizioso secured his best Yamaha result so far in today's Estoril MotoGP round, the Italian leading home Cal Crutchlow to help the Monster Yamaha Tech 3 Team celebrate a third consecutive double top five finish in 2012. For the third race in a row in the new 1000cc MotoGP World Championship category, fans were thrilled by an exciting inter-team duel between Dovizioso and Crutchlow for fourth position.
The pair were barely split by more than just a couple of tenths throughout the 28-lap race, with British rider Crutchlow holding the early advantage going in search of his third straight fourth place finish. But it was Dovizioso who prevailed with a display full of determination and skill once he seized fourth place from Crutchlow with a clinical overtake at the first corner on lap five.
Crutchlow shadowed the former 125cc World Champion for the remainder of the race but despite exerting intense pressure, Dovizioso rode a faultless race to ensure he finished top non-factory rider to collect 13 valuable World Championship points. Today's result means Crutchlow remains in fourth place in the overall rankings on 37-points, with Dovizioso just two-points further back in fifth. Dovizioso and Crutchlow's brilliant consistency also helped the Monster Yamaha Tech 3 Team strengthen its positi on in third place in the Team World Championship standings heading to the squad's vital home race in Le Mans on May 20.
Andrea Dovizioso 4th — 35 points
"I am very satisfied with my performance in today's race and particularly with the pace I could run because I was very fast and consistent throughout. It is a good way to end the weekend because a few small problems on Friday and Saturday meant we could not work as much as we would have liked to improve the bike. I am happy because the target this weekend was to reduce the gap to the fastest and we managed to achieve that. But the fact I could keep the speed for 28-laps that I was not able to find in practice is a very positive point. It is a good fourth place but there's no doubt starting from third on the grid hampered me at the beginning of the race because I couldn 't even try to stay with the leading group. Maybe it would have been closer or maybe we could have even been with Pedrosa, but we will never know. Now I am looking forward to racing in Le Mans because it is the home race of the Tech 3 Team and it is also a raced sponsored by Monster Energy, so everybody has a lot of motivation to do well."
Cal Crutchlow 5th — 37 points
"I'm pretty happy with fifth place but I would like to have been a bit closer to the top three like I was in Jerez. Fair play to Andrea because he rode a great race once he passed me early on and it didn't matter how much pressure I put on him, he never cracked. I certainly couldn't have done anything else to try and pass him but it is another top five finish and I am still fourth in the points. I had a couple of issues, which didn't help me. I knew rear grip was going to be an issue in the race and that's how it turned out. I'm not really sure why so we will have to have a close look at the data to understand this. Stopping the bike was also a bit of a problem and it felt like I was having to push a lot harder than the four in front of me to run the times. But it was a good race with Andrea and we have carried on the momentum from the first two races and now we can look forward to Le Mans. That's a massive weekend for Monster and Tech 3 Yamaha, so I'll be determined to be back fighting for the podium again."
Herve Poncharal — Team Manager
"That's three races now in 2012 that have been exciting but also nerve-wracking to watch as the manager of the Monster Yamaha Tech 3 Team. On one hand I want to see all the races like t his with Andrea and Cal battling inside the top five, but it is always tense when they are fighting so hard together. But credit to both of them because they delivered another fantastic double result for Tech 3 and today confirmed how strong our line-up is in 2012 and how competitive the Yamaha YZR-M1 package is. I'm really happy for Andrea because I think a few times this season he has been quite unlucky but he needed to be riding at his best to keep Cal at bay today. We knew that Cal was never going to give him a moment to relax but he dealt with that pressure extremely well. It was another great ride by Cal today and a measure of how far he has come to be battling again comfortably inside the top five. Clearly I think for the whole team it's very exciting to see us being so competitive. We are fighting at the front in every session and every race and keeping Yamaha and our sponsors happy, which is vitally important. Now we look forward to our home race in France where we will arrive higher in the Championship than we have ever been going to Le Mans. We are excited and hoping to perform for the French fans as we have in the first three races."