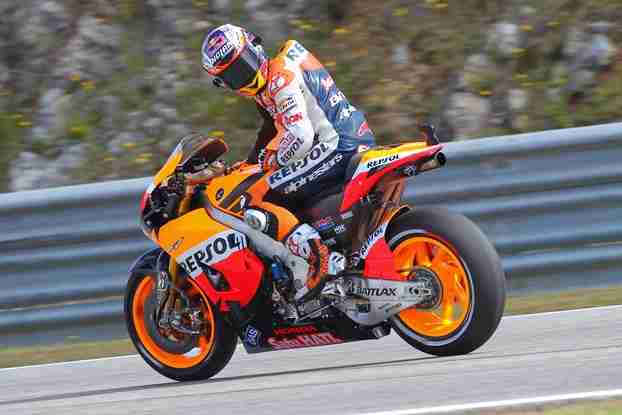 Casey Stoner and Dani Pedrosa were the two fastest riders in qualifying at the Autódromo de Estoril. In a close sessions, the Australian clocked a fastest lap of 1'37.188, just 13 thousandths of a second faster than teammate Dani Pedrosa. It was an almost identical difference to to that of the morning session, in which it was the Spaniard was 12 thousandths of a second faster than Stoner. Marc Márquez completed a highly successful day for Repsol riders at the Portuguese GP, taking another Moto2 pole position.
The morning session was dominated by the Repsol duo of Stoner and Pedrosa, who alternated spells in the lead at the top of the timesheet at the Portuguese track. It was Pedrosa who eventually clocked the quickest time, on his penultimate lap, of 1'23.326. Stoner was second, 12 thousandths of a second down.
The pair were once again the main protagonists in qualifying -part of a group of competitors battling for pole position. Jorge Lorenzo and Cal Crutchlow both presented a challenge over the course of the hour for the Repsol riders, but it was Stoner and Pedrosa who reigned supreme in the end, with fast laps that were near-identical. 13 thousandths of a second separated the two, as Stoner took pole from Pedrosa with a time of 1'37.188.
Dani Pedrosa
FP3 – 1:37.326, 17 laps, 71 km.
QP – 1:37.201, 24 laps, 100 km.
"I think we did a good job in qualifying and to be on the front row here after all the issues we had is a great thing. I couldn't put too many good laps together because I had some problems on the bike, first with the brakes, then with the electronics and by the end I was feeling good but we had to stop again due to the red flag.
I honestly think that in the last minutes of the session I could have taken the pole but there was a lot of traffic and I missed it by just 0.013. The race will be very tough tomorrow because the track conditions are poor, the grip is low and it makes the tyres spin a lot. We will try to set up our bike a little better for tomorrow to do our best in the race".
Casey Stoner
FP3 – 1:37.338, 18 laps, 75 km.
QP – 1:37.188, 24 laps, 100 km.
"In general it's been a good day for us and I'm really happy to get pole. FP3 was positive and we made progress on the bike, we had the bike turning well with good front feeling. Unfortunately in qualifying we tried to improve it further but managed to lose the good points! We did find a little better feeling in the rear but we couldn't get the bike to turn and do what we wanted it to. We didn't really feel we had the pace to be on pole today, but after the red flag came out with 10 minutes remaining we were able to get out there and put together a good enough lap to take pole.
We've been pretty fast in every session and our race pace gives us confidence but we'll have to have a think about which set up direction we go for in warm up and hope this is the best for the race. I was sorry to see Colin [Edwards] has broken his collar bone again and I send him by best wishes".