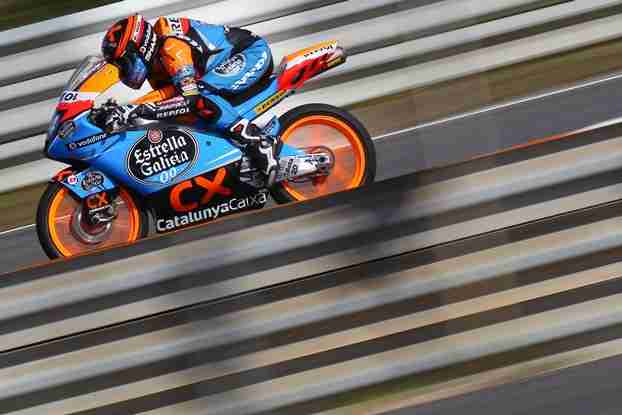 Finally a rain free World Championship Friday, allowing the Moto3 riders two practice sessions on dry asphalt. Repsol riders Maverick Viñales and Miguel Oliveira were fighting for pole position for the Portuguese GP in today's qualifying run, alongside eventual poleman Sandro Cortese. They will be on the front row, whilst Álex Márquez and Álex Rins will take off from nineteenth and twenty-second, respectively.
Tomorrow's schedule allows for a warmup in the morning, with everything set for the Portuguese Grand Prix at Estoril. The Moto2 and MotoGP races will be first up, in a traditional switch in lineup owing to the time difference in Portugal. Moto3 will be up at 14.30 local time, with Maverick Viñales and Miguel Oliveira two of the favourites for the win. They will share the front row of the grid with Sandro Cortese, poleman for this round. The trio were the dominant riders in the third free practice session –Viñales the fastest.
At the head of the seventh and eighth row, respectively, are Álex Márquez and Álex Rins, who were unable to improve upon their times in qualifying despite a step forward in free practice. Márquez was eleventh in the morning and will start from nineteenth tomorrow, whilst Rins was fifteenth in FP3 and twenty-second in qualifying.
Maverick Viñales
FP3 – 1:47.492, 18 laps, 75 km.
QP – 1:47.460, 19 laps, 79 km.
"Today we had a good feeling, above all because we were working with the race in mind. We were riding with a very good pace and we are strong. I think that tomorrow will be a race in which we ride in a group, and tyres will be decisive. We have a good setting and, even though we will make a few more tests with tyres in the warmup, we are clear about things ahead of the race. We are very confident and have the pace to be fighting with Cortese and Oliveira".
Miguel Oliveira
FP3 – 1:48.029, 20 laps, 84 km.
QP – 1:47.916, 17 laps, 71 km.
 "I am happy. In the morning we were fast and we remained so in the afternoon. We have a consistent pace, although we needed a little more improvement on our hot lap. Starting from the front row is pretty good at my home GP. I hope that tomorrow everything goes well in the race, as we have a strong pace and are consistent. However, the rest of the riders are very strong and the aim has to be to get off the line well and lead from the front. We are good in the dry, but we are prepared for anything".
Álex Rins
FP3 – 1:49.129, 19 laps, 79 km.
QP – 1:49.447, 19 laps, 79 km.
 "That was not a positive practice session for us, as we needed to find more pace right from the start. We have to work on the bike quite a bit in order to be able to get off to a good start tomorrow and finish as high up as possible. I am losing a lot of time on the second and third sectors when I open the throttle and I am not feeling at ease with the bike.
We will work on that this afternoon and will try to improve. Tomorrow is going to be a hard race and, although we aren't getting good times, I will try for a good start and to finish as best I can".
 Álex Márquez
FP3 – 1:48.894, 18 laps, 75 km.
QP – 1:49.374, 19 laps, 79 km.
"Things went well in the morning —better than yesterday. I had a fast pace and, even though it was tougher for me to ride by myself, I was much faster with someone in front of me. We finished in eleventh in the end, which wasn't bad. I ran off track this afternoon and it was a lot tougher than I expected. We placed nineteenth in qualifying, which is a little far back, but tomorrow we will have to come up through the field and see if we can place between tenth and fifteenth.
I want to claim points. We improved by nearly three seconds this morning and the bike was performing a lot better. We shall see if we can have a good warmup and come back in the race".