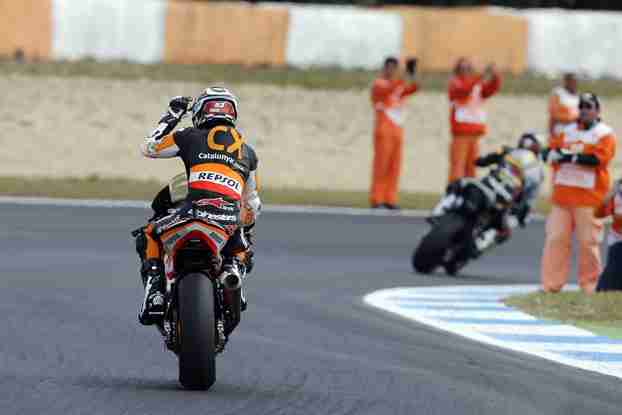 Excitement levels couldn't have been higher in the opening race of the 2012 Portuguese Grand Prix. Marc Márquez and Pol Espargaró were embroiled in a thrilling duel in the Moto2 contest, which went right down to the final lap. Espargaró made continual attacks at his rival in the latter stages of the race, but Márquez stood firm and showed perfect pass defence. In the end, the Repsol rider made the most of a mistake from his rival on the entry to the chicane to créate sufficient breathing space, taking his second win of the season and extending his World Championship lead in the Moto2 standings.
The Moto2 category opened the day at what will likely be the last Portuguese Grand Prix –the round does not feature on next year's calendar. Marc Márquez had a good start and was able to keep up with the pace at the head of the race. From the midway point onwards, the three favourites for the win broke free: Thomas Luthi, Pol Espargaró and Marc Márquez were the podium contenders, and it was the latter who decided to take the initiative.
Only Espargaró was capable of sticking with the 2011 World Championship runner-up, as Luthi faded towards the end. The victory would not be settled until the final lap, in which both Spaniards were tussling in a series of enthralling overtakes. Espargaró made the definitive error on entry to the chicane, giving Márquez his second win of 2012.
With these latest 25 points, the Repsol rider continues to lead the way in the overall standings. He has now extended his advantage to nine points over nearest rival Espargaró.
Marc Márquez
1st – 44:04.086
"It was a difficult race, because Luthi pushed very hard at the start to try and break free from the chasing pack. I knew that we would get to the end of the race with the tyres very worn down, so I took things calmly. There was a moment in which Zarco got past me, as did Pol and it looked as if I was going to lose touch, but I was able to keep my head and get back through because I knew that I had the pace.
When we got to ten laps to go I decided to wait for the next five behind them, in order to recover and then put myself in front for a final push. Pol reacted very well and we put it all on the line on the last lap, which was like a 125cc race with passes on every corner. I knew that he would brake late and I had to make the most of my strong points, which made it a fantastic final lap. Either one of us could have won, but in the end we planned it correctly."