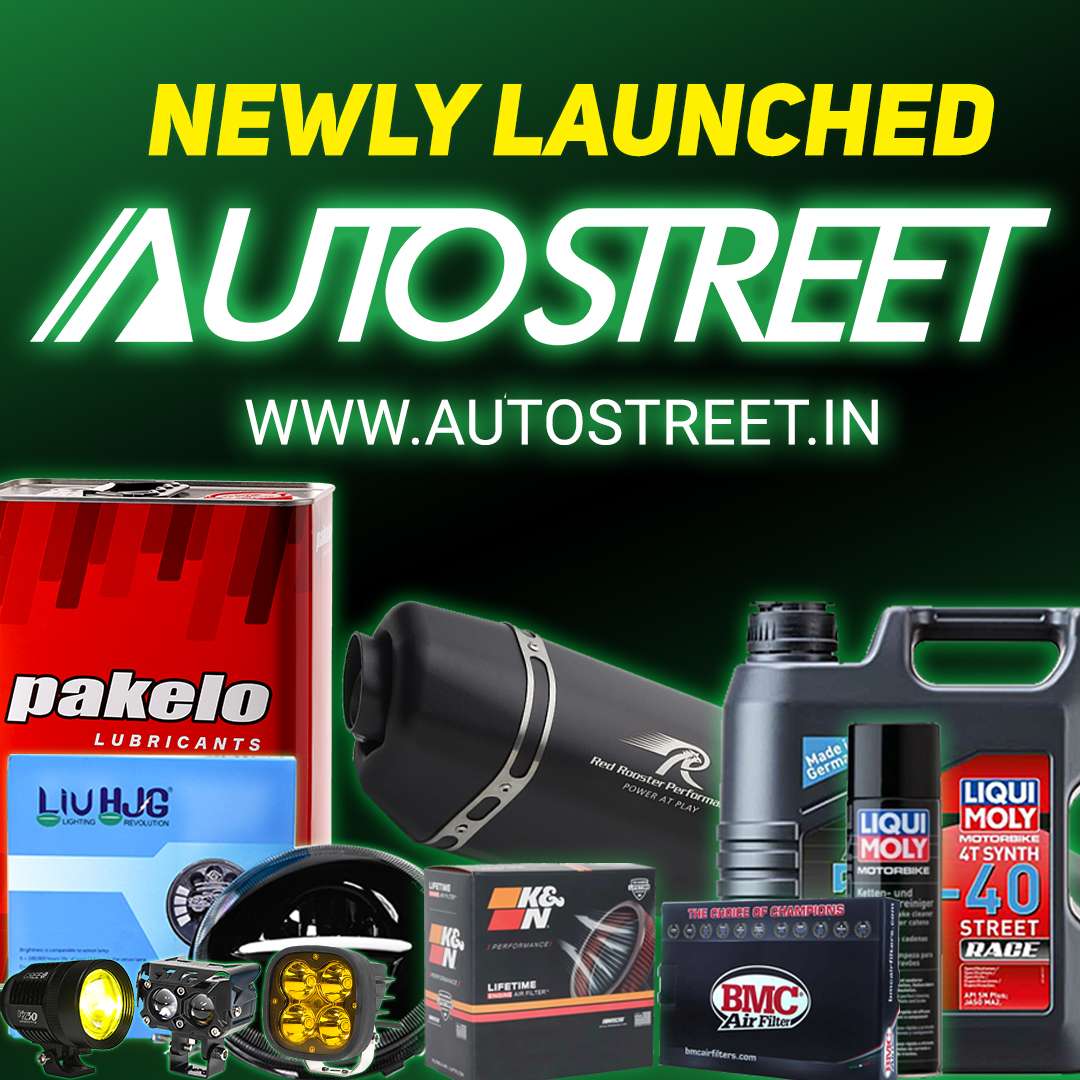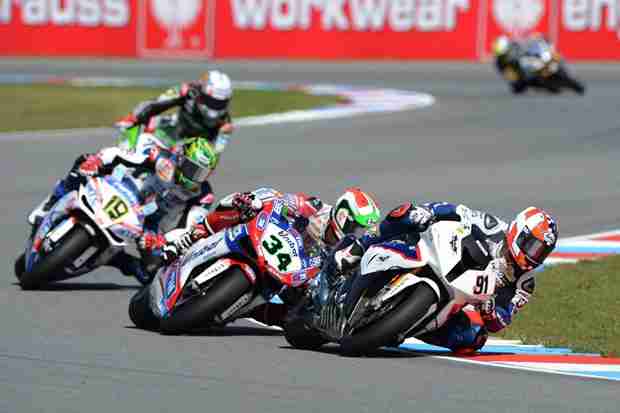 Race 1 at Brno had a wet track and was not until the first few laps that certain areas started drying up. Quite understandably all riders made a very cautious start and even the Race 1 winner had couple of braking errors. That said Tom Sykes was in a race of his own and the wet track did not make any difference to him. He had his own tight lines and went at it hard.
Sykes passed Berger for the lead in lap 8 with Jonathan Rea and Baz fighting for third. Melandri was still quite far behind and a aggressive Checa passed him on the 9th lap. It was not until the end of the race with just two laps to go that Melandri finally took the lead with a whole lot of action happening between him, Baz, Checa and Laverty. Sykes kept a tight move from Rea at bay and Rea lost control and hit the tarmac. Carlos Checa had a narrow escape and in all the confusion Baz slipped ahead of Checa who finished fourth ahead of Eugene Laverty and Max Biaggi who rode to a lonely sixth after disposing of Leon Haslam and Michel Fabrizio.
Race 2 was the exciting one at Brno. The battle between Tom Sykes and Marco Melandri in the final laps was one that you should not have missed. Sykes was ahead almost the entire race and Melandri pulled ahead on the final lap winning both races of the day.
By the time race 2 began, unlike race 1 the track was almost dry. Sykes aggressive style put him ahead of the pack almost immediately, but an attacking Eugene Laverty took the lead from him for two corners after which Sykes shot ahead and put some disctance between him and the rest of the pack. Melandri made a very tight questionable pass on Leon Haslam to take the third position, but that pushed Haslam down to seventh from which he never recovered.
Melandri caught up with Sykes who had a healthy 1.4 seconds lead and made his first move in the 14th lap. Sykes was quick take his position back but only to be passed again on the next lap. Melandri almost lost his rear further down in the same lap and Sykes was in the lead again and again put in a half second lead. Melandri again caught up with him on the second last lap again with a pass that did not stick and it was not until the last lap that he out braked Sykes and went on the defensive and won race 2 ahead by only 0.140 seconds.
Marco Melandri
"I am living my dream today. Securing my first double victory here in Brno on this race track is something special for me. I am so happy because I already have five victories this season and nobody expected that. Race one was already amazing. At the beginning the conditions were very difficult as it was wet. As we were riding with slicks we just tried not to lose too many positions, but in the first few laps I struggled a lot. While I was trying to improve my position I made two mistakes because I still was not feeling comfortable. When I saw I was eighth I said to myself I needed to be quiet and keep my rhythm to catch the front guys. It was not easy to overtake them, but when I took the lead with one lap to go I knew I just needed to keep pushing as much as I could. I knew I was faster than the others.
"Race two was even more difficult, as Tom was having a great race and I had to spend a lot of energy trying to catch him. The tyre was working very well today, and I was able to keep the gap very small. Every time I tried to pass Tom he was braking so hard that it was nearly impossible. Once I finally passed him, I made a mistake and Tom passed me back. It was really tough to catch him again. Actually I did not expect to win, but doing that here twice today is just amazing. Seeing BMW leading the manufacturers' championship is unbelievable and it makes me proud. I was also able to close the gap to Max in the riders' championship. But the season is still long, and we plan race by race. I want to thank everybody at BMW Motorrad and in the race team who work so hard every day and put so much effort in the project. It was so unbelievable and emotional to see them smiling and happy. Now I just want to celebrate this result."
WSBK Brno Race 1 Results
1. Marco Melandri (BMW Motorrad Motorsport) BMW S1000 RR 41'59.808
3. Loris Baz (Kawasaki Racing Team) Kawasaki ZX-10R 42'01.756
4. Carlos Checa (Althea Racing) Ducati 1098R 42'02.302
6. Max Biaggi (Aprilia Racing Team) Aprilia RSV4 Factory 42'06.947
7. Leon Haslam (BMW Motorrad Motorsport) BMW S1000 RR 42'11.101
8. Michel Fabrizio (BMW Motorrad Italia GoldBet) BMW S1000 RR 42'11.753
9. Maxime Berger (Team Effenbert Liberty Racing) Ducati 1098R 42'18.796
10. Jakub Smrz (Liberty Racing Team Effenbert) Ducati 1098R 42'18.925
11. Chaz Davies (ParkinGO MTC Racing) Aprilia RSV4 Factory 42'22.746
12. Alessandro Polita (Red Devils Roma) Ducati 1098R 43'05.454
13. Norino Brignola (Grillini Progea Superbike Team) BMW S1000 RR 43'05.541
15. John Hopkins (FIXI Crescent Suzuki) Suzuki GSX-R1000 43'11.928
16. Lorenzo Zanetti (PATA Racing Team) Ducati 1098R 43'12.865
17. Viktor Kispataki (Prop-tech ltd) Honda CBR1000RR 42'58.319
18. David Salom (Team Pedercini) Kawasaki ZX-10R 43'25.422
RT. Jonathan Rea (Honda World Superbike Team) Honda CBR1000RR 37'58.877
RT. Leandro Mercado (Team Pedercini) Kawasaki ZX-10R 22'40.739
RT. Hiroshi Aoyama (Honda World Superbike Team) Honda CBR1000RR 22'40.853
RT. Davide Giugliano (Althea Racing) Ducati 1098R 10'28.947
RT. Ayrton Badovini (BMW Motorrad Italia GoldBet) BMW S1000 RR
WSBK Brno Race 2 Results
1. Marco Melandri (BMW Motorrad Motorsport) BMW S1000 RR 40'12.837
2. Tom Sykes (Kawasaki Racing Team) Kawasaki ZX-10R 40'12.977
3. Carlos Checa (Althea Racing) Ducati 1098R 40'19.638
4. Max Biaggi (Aprilia Racing Team) Aprilia RSV4 Factory 40'22.677
5. Eugene Laverty (Aprilia Racing Team) Aprilia RSV4 Factory 40'24.612
6. Chaz Davies (ParkinGO MTC Racing) Aprilia RSV4 Factory 40'24.787
7. Leon Haslam (BMW Motorrad Motorsport) BMW S1000 RR 40'25.384
8. Loris Baz (Kawasaki Racing Team) Kawasaki ZX-10R 40'25.925
9. Leon Camier (FIXI Crescent Suzuki) Suzuki GSX-R1000 40'30.978
10. Michel Fabrizio (BMW Motorrad Italia GoldBet) BMW S1000 RR 40'38.169
11. Davide Giugliano (Althea Racing) Ducati 1098R 40'41.295
12. Jonathan Rea (Honda World Superbike Team) Honda CBR1000RR 40'42.091
13. Jakub Smrz (Liberty Racing Team Effenbert) Ducati 1098R 40'42.350
14. John Hopkins (FIXI Crescent Suzuki) Suzuki GSX-R1000 40'47.712
15. Maxime Berger (Team Effenbert Liberty Racing) Ducati 1098R 40'54.698
16. Lorenzo Zanetti (PATA Racing Team) Ducati 1098R 40'54.976
17. Norino Brignola (Grillini Progea Superbike Team) BMW S1000 RR 41'28.580
18. Viktor Kispataki (Prop-tech ltd) Honda CBR1000RR 41'54.162
RT. Alessandro Polita (Red Devils Roma) Ducati 1098R 20'44.657
RT. Ayrton Badovini (BMW Motorrad Italia GoldBet) BMW S1000 RR 18'36.585
RT. David Salom (Team Pedercini) Kawasaki ZX-10R 20'44.359
RT. Hiroshi Aoyama (Honda World Superbike Team) Honda CBR1000RR 8'14.204