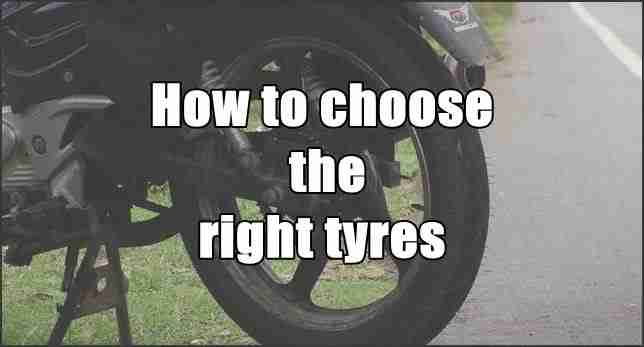 People are fascinated by big tyres and a lot of us out there judge the beauty of a motorcycle by its tyre size. Do not believe us? One look at the new YZF R15 version 2.0 and you will realize what we are talking about. The new R15 comes with a 130 mm tyre, in comparison, the Ninja 250R also sports the same size of tyres. Yamaha claims that the change to a bigger tyre was due to the immense customer feedback requesting one.
While changing your tyres you have a choice to move on to different profiles and compounds of tyres than what the motorcycle manufacturer recommends. If done right, the benefits include enhanced performance and improved stability to give you more control over your motorcycle, and of course the added visual appeal which people care the most about. If you are unsure on how or what your tyre profile is, you can read this article on basics of tyre profiles and different tyre compounds.
Purpose oriented tyre changes are where you choose a particular type of tyre that would suit the type of terrain that you are about to tackle. For example, while heading off road, button tyres with a good profile will prove more helpful for traction and control, than normal city tyres that most motorcycles come with. These would in general be hard compound tyres. While hitting the racetrack the tyre of choice would be the racing slicks that give you good traction once warm and are soft compound tyres. Standard tyres are a mix of both worlds and they come with either high or low profiles and have treads on them for water clearance and can be of soft or hard compound or a mix of both.
Once your stock tyres are worn out and need replacing you are always up with the dilemma of what tyre to choose. A major factor to consider while upsizing is horsepower. If your bike is on low horsepower, then there will be no significant improvement in the performance. On the contrary, it will increase fuel consumption on account of increased weight and more rolling traction. So an important point to consider during a tyre change is that to make sure you deviate as little as possible from the stock profile or pretty much stick to the stock profile.
An advantage of a higher profile or specifically the tyre height, is that since the side walls are of longer in length they provide a more comfortable ride by providing better cushioning and in turn protect your wheels from that odd pothole, a good point considering our road conditions.
Now that you have a fixed idea of what profile of tyre that you are looking for you would find that there are several manufacturers that provide you with the same size options. A list of things to consider while buying your next tyre is as follows.
– Tyre life: A soft compound tyre would provide you with superior grip on tarmac and good control over the motorcycle, but drawbacks include a lower tyre life. At the same time a hard compound tyre might give you the extra miles but at the compromise of road grip. There are tyres with the central patch having hard compound and the curved parts having soft compound, these are good multi-purpose tyres.
– Tube/ Tubeless: Most motorcycles are now coming standard with tubeless tyres these days, make sure that the tyre you buy is compatible with the rim that you have and it is meant to be used as a tubeless tyre. The tubeless tyres give you the advantage of fix anywhere and primarily that you can still ride with no instant deflation with a puncture if its a small one.
– The profile of the tyre: Although a higher profile might be tempting, as discussed above there are drawbacks to it as well. Plus the swing arm and seat height would have been decided for a particular profile, a change in it might result constant rubbing of the tyre on these parts and making changes to these parts of the motorcycle is not advisable.
There are no gains apart from the visual appeal that bigger tyres provide unless they are purpose oriented. There is always a compromise involved. Since the bikes produced in our country do not have significantly high horsepower, it is advised not to upsize. Most motorcycle manufactures provide tyres on their motorcycles that are pretty much meant to be 'jack of all trades but master at none', so a wise decision could help you have a better tyre suitable to your needs.