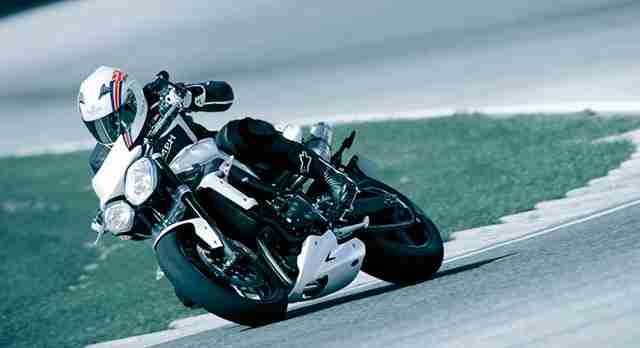 Triumph is firing on all cylinders in bringing out updated models one after the other. Here we have the first look at the new Triumph Speed ​​Triple R 2012. This bike will be equipped with Öhlins suspensions, Brembo brakes, lighter wheels and carbon fiber shell elements. While some speculate the same engine as the new 1200 Explorer, it is unlikely, and would probably stick to the well-known configuration of 1050 cc engines. 
While the new Triumph Street Triple is a cosmetic upgrade to the British naked line, Triumph has apparently gone out of its way to attend to the details of the new Street Triple, polishing off some of the less refined edges on the bike's design. The new Street Triples will make 106hp and 50 lbs ft of torque,
Along with the Speed Triple's headlights, the Street Triple will also borrow the Street Triple R's aluminum handlebars. Otherwise we're having a hard time seeing other changes in these images from the earlier model, besides the noticeably new engine case cover. Shout out anything else you notice in the comments section.
Of note is the new stylized Triumph logo on the tank (same as was seen on the 2011 Triumph Daytona 675R), while color choices will be white, black, and purple for the Street Triple, and red, white, or black with gold wheels for the Street Triple R.  With confirmed news of Triumphs India foray in the next year, we could very well be seeing these beauties on road not far from now.
Here is a look at a selection of photographs of the New Triumph Speed Triple for 2012.