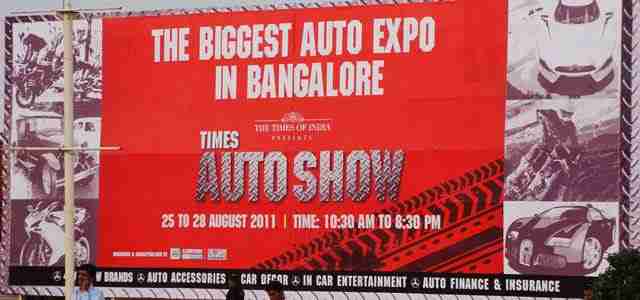 Times of India is back with the Auto show at Bangalore. The 2011 Auto show has participation mainly from dealerships, of manufacturers like Honda, Yamaha and BMW in the motorcycle segment and the Mahindra, Maruti, Honda, Nissan and Volkswagen in the 4 wheeler segment. The highlight for auto enthusiasts expecting to see some high end machines is the presence of the BMW 1200GS, the BMW S1000RR and the Nissan 370Z. Also note worthy are the custom paint job's done by the group Motormind on the BMW 5 series, a C class Mercedes and a Chevrolet Cruze. A positive addition to this years Auto show are the stall's presented by students of various colleges across Bangalore with concept machines that surely have potential given the right opportunity. The stunt team Ghost Ryderz also perform on the hour from 1 pm, and they definitely are a talented bunch.
Sadly though, most of the exhibit other than these show-stealers were repeats from previous years and the Times Auto Show definitely needs a lot of work to be done to maintain viewer interest, as quite evidently the crowd was far less than previous years.
The Times Autoshow 2011 which started on the 25th will go on till the 28th of August. The venue is at Palace grounds (Tripura Vasini entrance) and operating hours are from 10:30 A.M to 8:30 PM. The entry fee to the hall is 100INR.
Event Highlights
4W & 2W Brands
Auto Accessories
Car Decor
In Car Entertainment
Auto finance & Insurance
Here are the selected few photographs from the Times Auto Show, you can check out the entire album on our
Facebook page
.