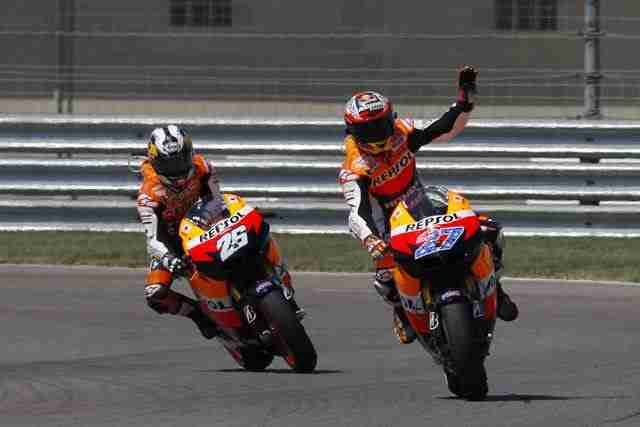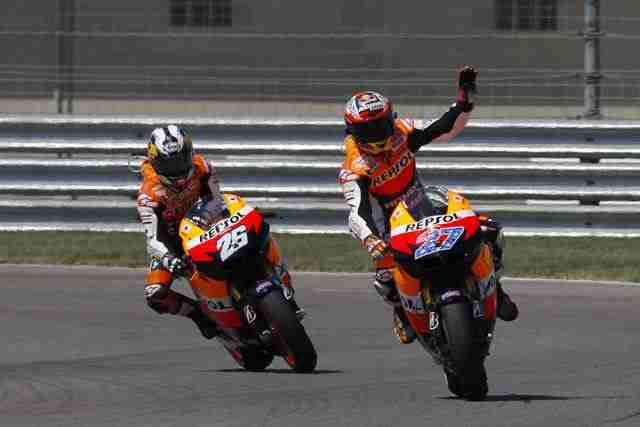 Casey Stoner achieved at the United States his seventh victory of the season –third consecutive– after dominating the race from the sixth lap, when he overtook Dani Pedrosa. The Spaniard was with him on the podium, confirming the fourth 1-2 of the season after the ones achieved in France, England and the Czech Republic. Fifth was Andrea Dovizioso, who after a race where he kept improving, crossed the finish line half a second behind the fourth placed.
Casey Stoner had never achieved a good result in Indianapolis, but this season he is showing a high level of competitiveness that allows him, after the American race, to lead the Championship with an advantage of 44 points. The Repsol rider saw Pedrosa having a fantastic start and was even overtaken by Lorenzo. The Australian recovered the second place in the third lap, although a lap later he was about to fall with no television camera registering it. The front tyre of his Honda RC212V slid in a corner, the steering was blocked and thanks to his left elbow, that connected with the asphalt, he was saved from crashing. After that he was able to catch Pedrosa and, in the sixth lap, he took the lead of the race.
From that moment on, Stoner left no chance for his rivals. Increasing his advantage tenth after tenth, the Repsol rider rode at record pace, and he broke the record in lap 20, when he set the fastest lap of the race. Behind him, Dani Pedrosa also secured the second position of the race, with a wide margin over the third, that was finally Ben Spies, more than ten seconds behind the Repsol Honda Team rider.
The race was much closer for Andrea Dovizioso, who crossed the start/finish line in sixth at the end of the first lap and fought with Nicky Hayden during the first five laps. As laps went by, the American was able to gain some advantage, but keeping a consistent pace, the Repsol rider could reduce the difference and overtake Hayden in the tenth lap. Nevertheless, in that same lap he was overtaken by Ben Spies and found himself again sixth. Riding consistently on 1 minute and 40 seconds, Dovizioso was able to catch Marco Simoncelli, passing him in lap thirteen, and lap after lap he could get closer to Jorge Lorenzo. Faster than the Yamaha rider, Dovizioso reached the finish at his wheel, but was not able to overtake him.
With very little time to rest, the Motorcycling World Championship will return to Europe next weekend for the Grand Prix of San Marino and Rivera di Rímini.
Grand Prix Results of Indianapolis:
| | Driver | Country | Team | Motorcycle  |  km  / h  |  Winning Time   |  Gap |
| --- | --- | --- | --- | --- | --- | --- | --- |
| 1 | Casey Stoner | AUS | Repsol Honda Team | Honda | 151.1 | 46'52 .786 | |
| 2 | Dani Pedrosa | ESP | Repsol Honda Team | Honda | 150.8 | | +4.828 |
| 3 | Ben Spies | U.S. | Yamaha Factory Racing | Yamaha | 150.5 | | +10.603 |
| 4 | Jorge Lorenzo | ESP | Yamaha Factory Racing | Yamaha | 150.2 | | +16.576 |
| 5 | Andrea Dovizioso | ITA | Repsol Honda Team | Honda | 150.2 | | +17.202 |
| 6 | Alvaro Bautista | ESP | Rizla Suzuki MotoGP | Suzuki | 149.5 | | +30.447 |
| 7 | Colin Edwards | U.S. | Monster Yamaha Tech 3 | Yamaha | 149.0 | | +39.690 |
| 8 | Randy de Puniet | FRA | Pramac Racing Team | Ducati | 148.3 | | +53.416 |
| 9 | Hiroshi Aoyama | JAP | San Carlo Honda Gresini | Honda | 148.3 | | +53.790 |
| 10 | Valentino Rossi | ITA | Ducati Marlboro Team | Ducati | 148.2 | | +55.345 |
| 11 | Cal Crutchlow | VBR | Monster Yamaha Tech 3 | Yamaha | 148.1 | | +57.184 |
| 12 | Marco Simoncelli | ITA | San Carlo Honda Gresini | Honda | 147.9 | | +1'00 .141 |
| 13 | Toni Elias | ESP | LCR Honda MotoGP | Honda | 147.8 | | +1'02 .169 |
| 14 | Nicky Hayden | U.S. | Ducati Marlboro Team | Ducati | 138.0 | | 2 laps |
Overall standings after twelve races:
| | Driver | Country | Motorcycle | Points |
| --- | --- | --- | --- | --- |
| 1 | Casey Stoner | AUS | Honda | 243 |
| 2 | Jorge Lorenzo | ESP | Yamaha | 199 |
| 3 | Andrea Dovisiozo | ITA | Honda | 174 |
| 4 | Dani Pedrosa | ESP | Honda | 130 |
| 5 | Ben Spies | U.S. | Yamaha | 125 |
| 6 | Valentino Rossi | ITA | Ducati | 124 |
| 7 | Nicky Hayden | U.S. | Ducati | 105 |
| 8 | Clin Edwards | U.S. | Yamaha | 84 |
| 9 | Marco Simoncelli | ITA | Honda | 80 |
| 10 | Hiroshi Aoyama | JAP | Honda | 77 |
| 11 | Hector Barbera | ESP | Ducati | 62 |
| 12 | Alvaro Bautista | ESP | Suzuki | 49 |
| 13 | Karel Abraham | CZE | Ducati | 46 |
| 14 | Toni Elias | ESP | Honda | 46 |
| 15 | Cal Crutchlow | VBR | Yamaha | 39 |
| 16 | Loris Capirossi | ITA | Ducati | 29 |
| 17 | Randy de Puniet | FRA | Ducati | 27 |
| 18 | John Hopkins | U.S. | Suzuki | 6 |
| 19 | Kousuke Akiyoshi | JAP | Honda | 3 |