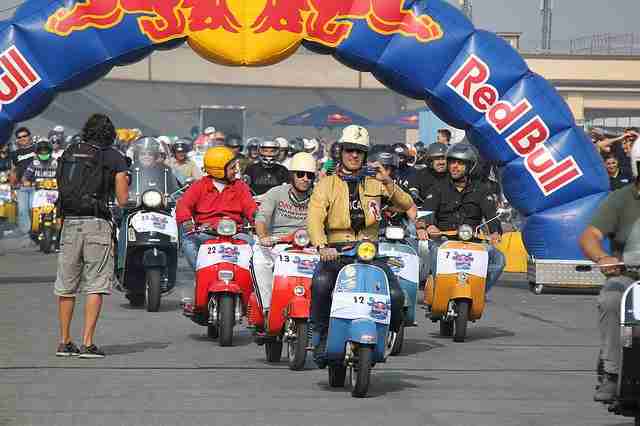 You will find Red Bull where ever there is a small afterthought to the smell of gasoline. Motorbike racing, rally, Formula 1 and other various high octane sports are ideal training grounds for the advertising of its energy drinks. When Red Bull got to know of the meeting of retro scooters which was organized by an Italian motorcycle club there was no way it would simply miss out on the chance, even when such a meeting is held within the old Fiat factory in Turin. Factory Ligotto shut in the early 80-ies of the last century. The roof top test track has seen more than 60 different Fiat-branded cars made. The Fiat structure is located at the center of Turin, and is an integral part of the culture & heritage.
The rules of the meet was simple. You had to be dressed in Italian style to enter the factory and then you had to pass a series of tests  The first test was the search for the most creative costume, the motto of this party was "Italian Style". The jury had a good look at each scooter before casting their vote. The jury consisted of the winner of Italian Big Brother version Grande Fratello and other b-list celebrities that were unknown to us. We were already able to get an impression of the quality level of Italian television Friday night when we were sitting in the hotel bar.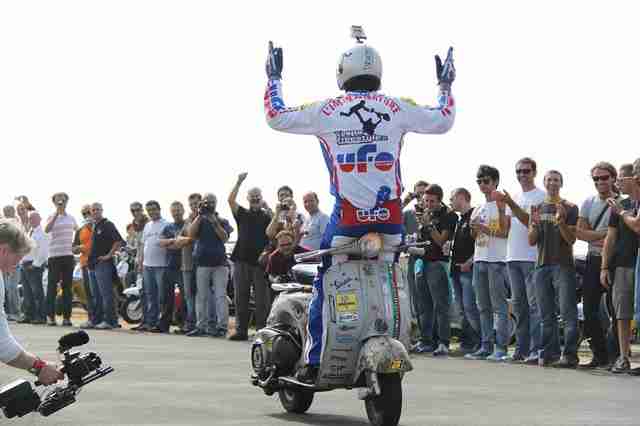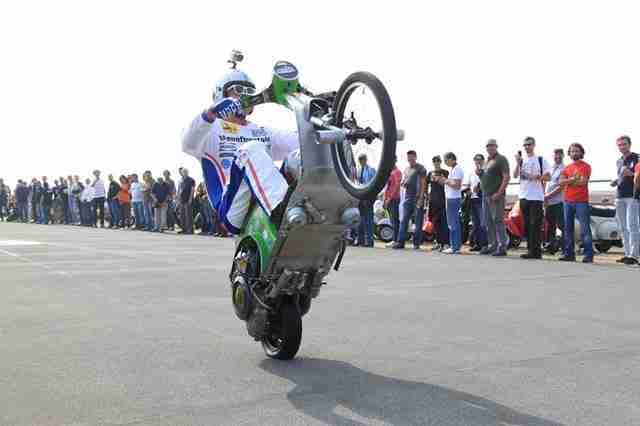 After the costume show it was time for the second test: every participant had to dis- and reassemble the front wheel as quickly as possible. If you stayed below the time limit, you got bonus points, otherwise penalty points. Finally the tests got more suspenseful: we had to ride the 600m long ramp to the roof of the Lingotto in exactly 90 seconds.
We have seen a couple of interesting special constructions of stop watches which were meant to help to reach this timeframe as closely as possible. However, most riders simply enjoyed the unique ride to the top as well as the approach to the race track on the roof — breathtaking! Once the rider had arrived there, Red Bull offered a tasty "Pranzo" including, of course, the sweet fizzy drink that lent its name to this event.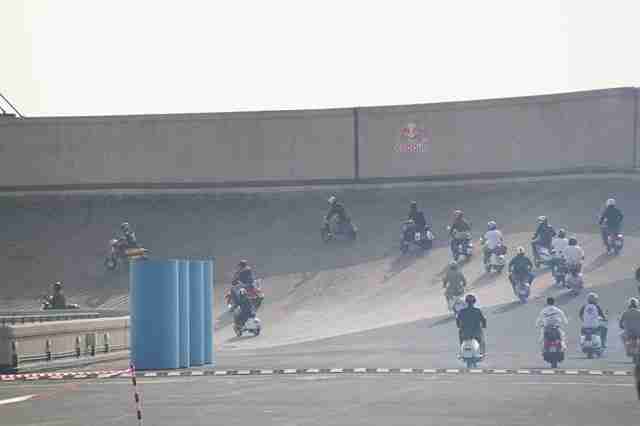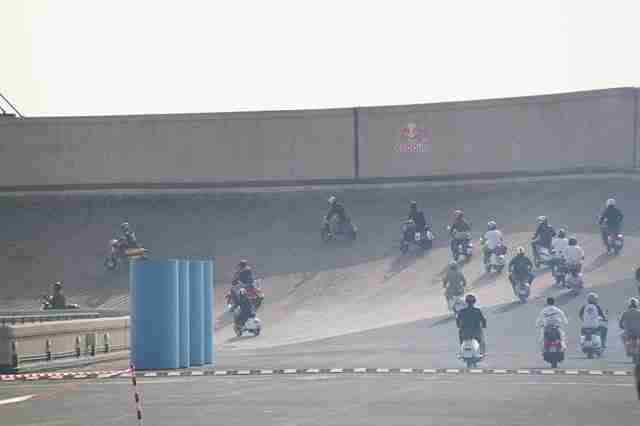 All riders thus entered the last test well-prepared. Meanwhile, wheelie king Nicola Campobasso performed an awesome show which entralled the crowd. Check out the video for some fun Vespa action.