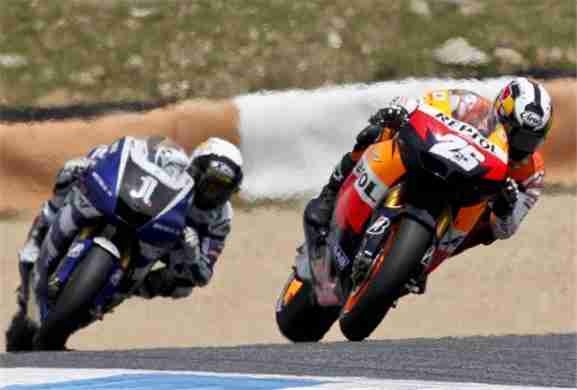 Repsol Honda's Dani Pedrosa snatched victory from Jorge Lorenzo in the third round of the MotoGP 2011 season held May 1st.
Lorenzo had won three races on the trot in Portugal and led from pole again until four laps from the end, when Pedrosa slipstreamed him and opened up a lead to the chequered flag. The race was welcomed by dry weather and bright sun shines which helped the Honda stay on track. In the dry conditions, the Ducati team was not helped as their power plant was not sufficient enough to compete with the other top squads.
The last card by Pedrosa was played by over taking at the straight stretch and gaining the gap from the first corner to the chequered line. At the finish line of the bwin Grande Premio de Portugal, Pedrosa had opened the gap to three seconds from Lorenzo, who came second on the podium. Now Lorenzo, the defending World Champion is just four points ahead on the 2011 season's points table. Many riders were finding it hard to handle the dead speed corners and keep the traction while exiting the bends. Marco Simoncelli and Stoner faced a rear end tail out between the first and second turn, but Simoncelli was not lucky to continue the race and had a fall in the following bend.
Here are the total times and points:
2011 MotoGP Estoril Results:
1. Dani Pedrosa (Honda)
2. Jorge Lorenzo (Yamaha) +3.051
3. Casey Stoner (Honda) +7.658
4. Andrea Dovizioso (Honda) +16.53
5. Valentino Rossi (Ducati) +16.555
6. Colin Edwards (Yamaha) +32.575
7. Hiroshi Aoyama (Honda) +38.749
8. Cal Crutchlow (Yamaha +40.912
9. Nicky Hayden (Ducati) +54.887
10. Randy de Puniet (Ducati) +59.697
11. Toni Elias (Honda) +1'00.374
12. Loris Capirossi (Ducati) +1'01.793
13. Alvaro Bautista (Suzuki) +1'24.370
DNF Ben Spies (Yamaha) +16 Laps
DNF Karel Abraham (Ducati) +27 Laps
DNF Marco Simoncelli (Honda) +28 Laps
DNF Hector Barbera (Ducati) +28 Laps
2011 MotoGP Points:
1. Jorge Lorenzo, 65
2. Dani Pedrosa, 61
3. Casey Stoner, 41
4. Valentino Rossi, 31
5. Nicky Hayden, 30
6. Andrea Dovizioso, 30
7. Hiroshi Aoyama, 28
8. Cal Crutchlow, 21
9. Colin Edwards, 18
10. Hector Barbera, 14