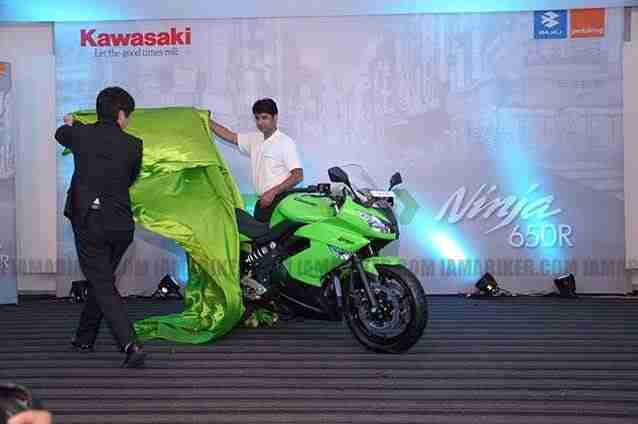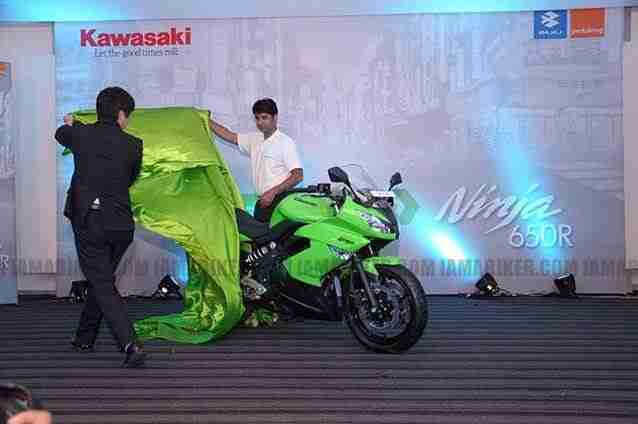 Yes! the day has arrived and the machine that has captured a lot of hearts of bikers all over the world, has been launched today in India! We had shown you the website teaser count down by Bajaj here and its time! The Kawasaki Ninja 650R will be added to the official line up of Kawasaki bikes available in India via Bajaj which includes the Ninja 250R.  The launch eventwas at Pune and participation included Mr Eric Vas, President — New Projects, Bajaj Auto Ltd, Mr Yoshiro Segawa, Managing Director, India Kawasaki Motors, and Mr Rajiv Bajaj.
Here is the video launched by Bajaj of the Kawasaki Ninja 650R:

Expectations were running high on the pricing, with Hyosung having placed its GT650 at the 4.75L. Again both the bikes having a totally different market and purpose. The GT650r being a sports bike and has the typical sports bike appeal and looks while the 650R has a established reputation as a tourer. The assembling for the Kawasaki Ninja 650r CKD units will be carried out at the Bajaj Auto Chakan plant. Localization and its manufacturing unit in Thailand has definitely helped lower the Kawasaki Ninja 650R prices and the market credibility the Kawasaki brand compared to that of the Hyosung's, which is more of a unheard brand as their last stint here with Kinetic was not exaclty successful, this will definitely help the Ninja have a edge over it competitor in sales.
The Ninja 650r non-ABS version will cost:
Mumbai-5.13L,
New Delhi-5.03L,
B'lore-5.31L,
Kolkata-4.76L,
Hyderabad-5.16L,
Ahmedabad-5.01L,
Chennai-5.03L,
Pune-5.00L
Bajaj-Kawasaki are targeting a monthly sales of 30-35 Ninja 650r motorcycles.
Will be available in Green only as of now.
Needs 91 octane fuel (As per spec sheet provided )
And will only be available at the already wide network of Bajaj Probiking showrooms across India.
Bike has a service interval of 6000km.
Booking amount is Rs 50,000.
Estimated delivery time: 90 days.
Bajaj have also suggested that there are bigger Kawasak's on the cards.
Today is a good day and in true Kawasaki spirit, Let the good times roll! Expect a full fledged review of the Ninja 650r in the coming days from IAMABIKER. One must agree this is a killer pricing for the Ninja 650r, what do you think ?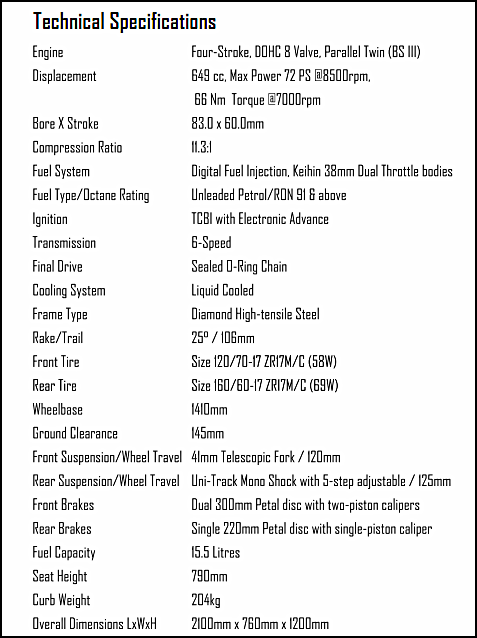 Here are some snaps from the launch: