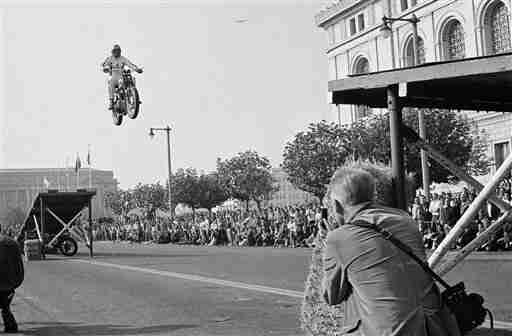 Former Hollywood stuntman Ric Roman Waugh, now a writer and director, is planning a new Evel Knievel movie with production company Exclusive Media Group.
Based on Leigh Montville's Knievel biography, 'The High Flyling Life of Evel Knievel American Showman, Daredevil and Legend' the project is in its early stages, but is intended to cover Knievel's entire career rather than focussing on just one or two jumps.
Speaking to the Hollywood Reporter, Waugh said: "This is how I walk the line, Instead of concerts and songs, you're doing a daredevil guy. But it's less about the stunts and more about an exploration of a man who let nothing stand in the way of his quest for fame and glory, including his own mortality."
He plans to make the film using modern bikes modified to look like the originals and by actually replicating the key stunts, with computer-generated-images only being used to recreate accurate period backdrops.