MotoGP – Stoner wins thrilling Laguna Seca race to extend his championship lead before the short summer break. Jorge Lorenzo looked dominant at the start and lead for most of the race but post-qualifying changes made on Stoner's bike meant that he could keep tabs on Dani Pedrosa and Lorenzo. With nearly 15 laps left in the race, Stoner quickened his pace to under 1:21 and Lorenzo's lap times bogged down to the 1:22s. Lorenzo took second on the podium and Pedrosa got a hard fought third place with a recovering collarbone injury.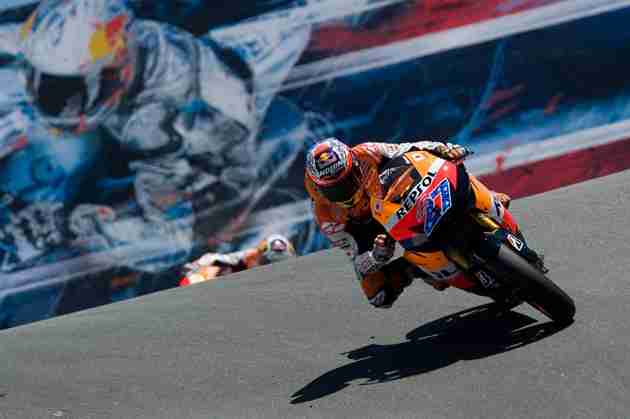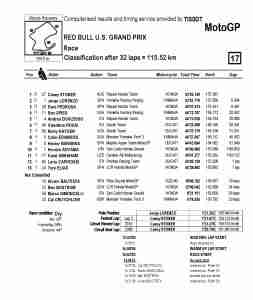 Post race quotes from the podium finishers.
Casey Stoner:
"All weekend we've been struggling a little so we weren't too confident that we could run with Jorge and Dani in the race. However, this morning in warm up we found something I was a little happier with. Before the race I felt relaxed, confident and generally calm, we started a little slower to get the tyres warm gently but also with a full tank of fuel, the bike didn't feel that great. So I was patient and took my time, staying with Jorge and Dani to control the gap and make sure they didn't get too far away. I felt I had more speed but decided to wait and watch. I saw Dani struggling a bit and he started to drop back from Jorge so I had to attack at this point. Once I caught up to Jorge, I watched to see if he made a mistake and kept the pressure on him, then chose my moment to make the move and was able to slowly open up a gap and bring the race home. It's really fantastic to come from such a difficult weekend and get a great win and I'm very thankful to all my team".
Dani Pedrosa:
"I'm very happy with another podium, the second after my come back from injury. I could have predicted this result before coming to Laguna because I knew it would be physically very tough for me and it has been great to keep up with the pace of Casey and Jorge in these past two races. Today, by the middle of the race, I was very tired, almost finished, I couldn't get my left arm strong enough and here at this track you don't rest for a moment, so I had to drop. It's been quite difficult to set up the bike this weekend, I had a lack of grip generally, but the team worked very well. Now we have some holidays and it will be good for me to have some days off to rest and relax my muscles and be back training to arrive fully fit in Brno".
Jorge Lorenzo:
"Well first of all I'm lucky to be in the second position, after the crash yesterday I thought it wasn't possible to race for a little while. After qualifying I hoped I might be able to fight till the end for victory but sometimes expectations are not reality. Casey was faster today, I couldn't match his pace at the end. My physical condition is not so perfect which makes us a bit slow as well. Second is ok, we are only 20 points behind Casey and we'll try again next time."