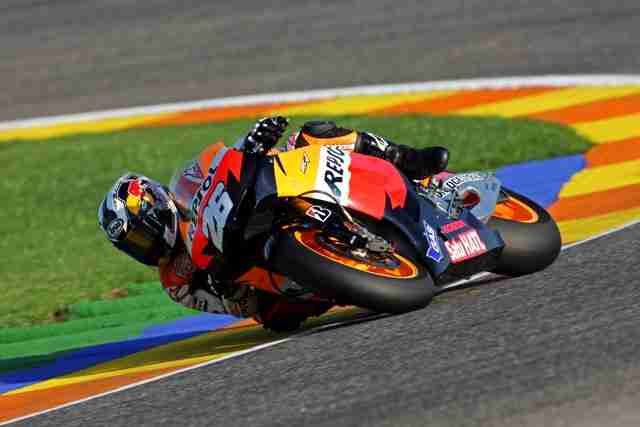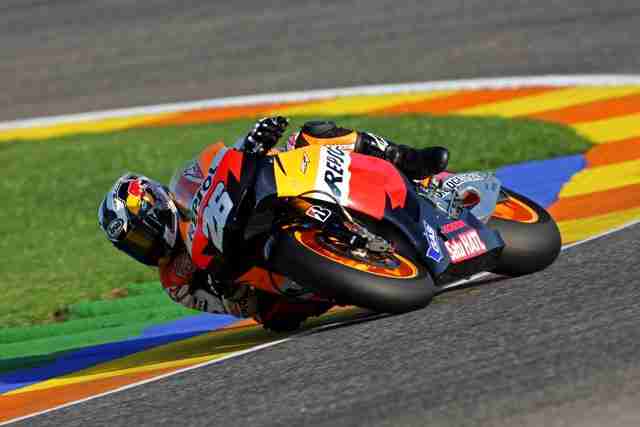 The clouds finally cleared in Valencia today, allowing the MotoGP riders to take full advantage of the seven-hour-long first of two days of testing. Repsol Honda riders Casey Stoner and Dani Pedrosa were back in action at Valencia circuit today on the new RC213V. Dani Pedrosa set the fastest lap time with 1'32.186 on his final lap of 40 and Casey Stoner who did 42 laps, finished closely behind him with a 1'32.322, recorded on lap 34. Valentino Rossi started the important work of collecting information in preparation for the 2012 winter test season, trying out a long list of setups with the team, under the supervision of Technical Director Filippo Preziosi. Yamaha Factory Racing rider Ben Spies completed the first of two days of testing this afternoon of the 1000cc YZR-M1 at Valencia. The first day of testing focused on two different engine specifications, tomorrow's test will focus on two differing frame and geometry settings. Spies ended the day third fastest with a best time of 1'33.226 after completing 73 laps.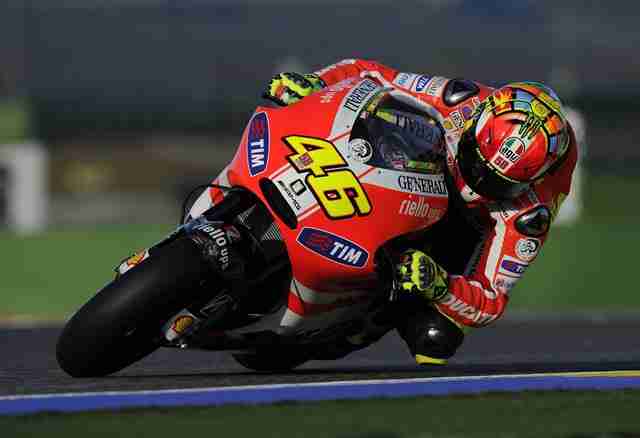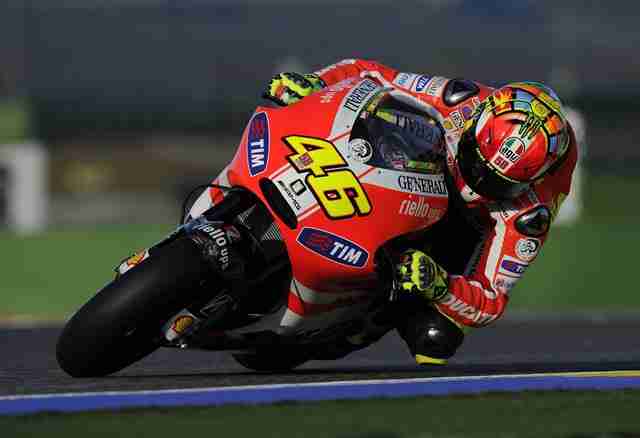 The 1000cc prototype included some new parts after feedback from both factory riders when they tested the bike in Brno in August. HRC test rider Kosuke Akiyoshi also joined the Repsol Honda riders in a perfect day for testing, with temperatures reaching 20 degrees and no wind.
And while in Cheste the track test take place with the 1000cc, the engineers of the Repsol Technology Centre and Honda HRC keep developing an intense job from many months ago to develop the fuel and lubricant of the 2012 Honda RC213V de 2012. This development, both of the 1000cc engine and of the fuel and lubricant, will be done jointly by Honda HRC and Repsol. In that way the maximum performance from both elements will be obtained.
The new Repsol fuel aims to take from the new 1000cc engine the maximum power, top speed and usability with the proper power output for each situation that can be found in a circuit: straights, corners, acceleration… While working on that objective, consumption is also taken into account. It is a very important parameter because the tank has a limited capacity of 21 litres, as per the International Motorcycling Federation (FIM) rules.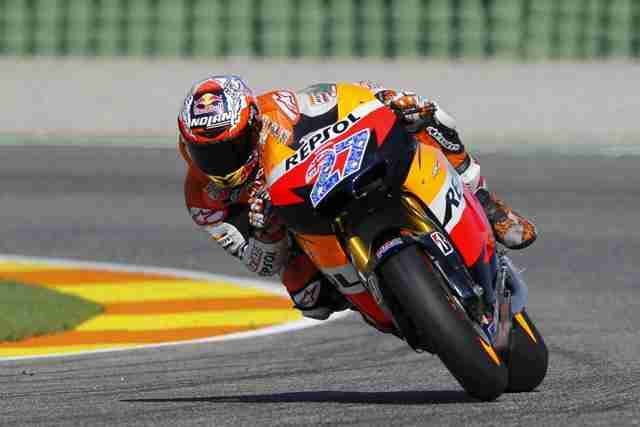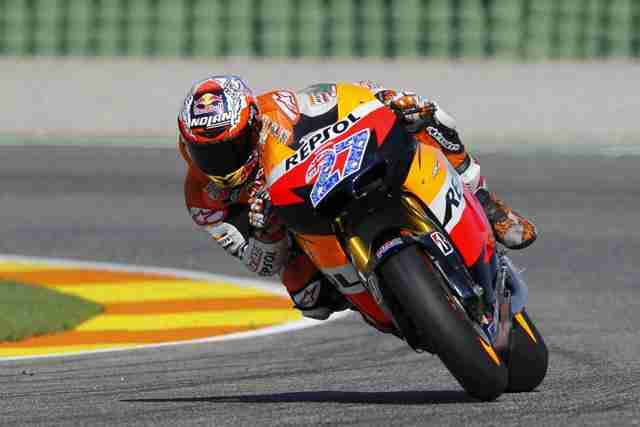 Here is what the riders had to say about test day 1:
Valentino Rossi : "This bike is nicer to ride than the 800, even if we're only just starting our work. You can say that it's improved in some respects, while in others, it's very similar to the other bike, but that's exactly what we expected. We know we're doing preparatory work for the bike that we'll use in the 2012 winter tests, which are very important. The engine seems to be pretty good already. It's fast, although I never really found myself with the others to do a direct comparison. On the other hand, I'm a little slower in mid-corner, and we also have to try to improve rear grip because for now, we're not able to get the power to the ground and take full advantage of it. But it's not bad for a first taste, and the really important thing is that we can work more freely, changing the bike's balance, the weight distribution, the measurements, and whatever we need as we prepare for the important next three months of work."
Nicky Hayden : "This morning I put my leathers on to go out, but I was still pretty uncomfortable. I went to the mobile clinic for a painkiller, and when I got there, the doctor said it would be better to get a proper scan. They set me up for an MRI at a local clinic, and the fractures were pretty clear. After talking to the doctor and my physiotherapist, we decided not to ride, even though we do have some stuff we'd like to test for Ducati. The scaphoid is a unique bone, and if you mess with it, it can take a long time to heal because it gets limited blood supply. I just have to be smart and watch the test. We'll get some more opinions and decide whether to get surgery."
Dani Pedrosa : "It's been a good day for testing after so much rain! The track conditions were good which allowed us to work well on the bike and get the first feeling with the new RCV. We made a step forward from August, when I first tried the bike in Brno which is a good thing: we modified the front end a little and I felt the corner entry is better, also under braking. I'm quite satisfied, not because of the lap times but more for the feeling I had. It was a bike test but also a rider test, I feel it's like a schooling for me also and I enjoyed it. Not only the bike is new, also the tyres are different for these bikes, the engine is new, you have more power and more torque. We've been riding 800cc quite a long time and I feel that I need to adapt my riding style a little and it's interesting. It's more fun, in general".
Casey Stoner : "Everything has gone pretty well for us we're struggling a little bit with the new tyres, we're finding they are giving us a little bit of chatter on the bike. We compared the bike that we tested in Jerez and Brno to the newer version we have here and we found quite a lot of improvements in some small ways with chattering but we still need to work on this some more. In general it was good to be out there on the 1000 and feel the horsepower, it's a lot of fun and I'm looking forward to feeling it on a lot of different tracks!".
Ben Spies : "We weren't too worried about lap times today, we made a lot of small changes to the bike including geometry changes, electronics etc to make the bike as comfortable as possible. Tomorrow we'll try a different chassis spec so we can choose which one to go forward in. We confirmed which direction to go with in power delivery today which is good. This is testing so we never got close to the limit with the bike; it's about riding at 90% consistently to test the motorcycle. When we get the full package next year in Sepang we'll go closer to the limit. I can't complain about the engine power though, we don't need any more. It's a shame my team mate Jorge is not here today, I know that whatever you give him he can go fast on it! I'm looking forward to getting his feedback as well when we test together in Sepang."
Results from test day 1
| | | |
| --- | --- | --- |
| 1. | Dani Pedrosa (Repsol Honda Team) | 1:32.186 |
| 2. | Casey Stoner (Repsol Honda Team) | 1:32.322 |
| 3. | Ben Spies (Yamaha) | 1:33.226 |
| 4. | Randy De Puniet (Suzuki) | 1:33.544 |
| 5. | Cal Crutchlow (Yamaha) | 1:33.652 |