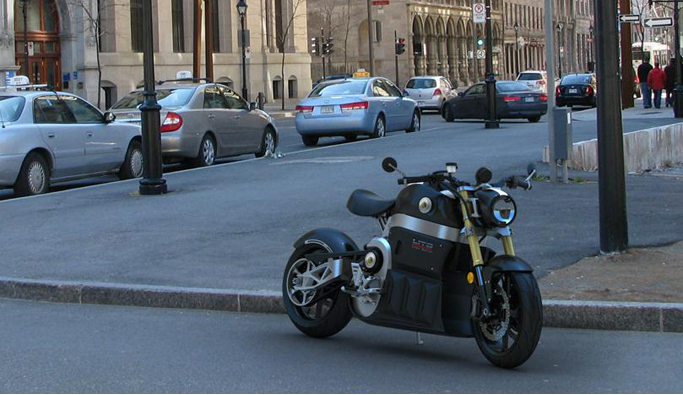 Montreal's Lito has thrown its hat into the ring with a new electric motorcycle that makes some pretty outrageous claims. A full 12 kilowatt-hours' worth of onboard lithium polymer batteries gives the Sora a massive 300 km range — that's 185 miles between charges. Or you can choose to wrap the throttle on and scream up to a top speed of 200 km/h (125 mph). With chopper/fighter bad boy looks and some interesting and innovative features like in-dash touch screen GPS and electronically adjustable ergonomics, the Sora looks like an absolute animal of a machine. You can't help but think that if it had an accessible price tag, it would look very tempting to the average biker.
The Sora uses regenerative braking, for example, which is inefficient on lightweight machines but a handy tool on heavier bikes like this 240 kg (530 lb) beast. It also packs a CV transmission, in a segment where most bikes avoid transmissions altogether — which keeps the engine output efficient at a broader range of speeds and enables the Sora's 125 mph top speed.
A higher weight ceiling also opens the door for more battery cells — in this case, nearly three times the power capacity of the Zero S at 12 kWh. That means there's more power to spend, whether you choose to spend it conservatively on longer range, or more gregariously on massive acceleration and high speeds.
The downsides to such a huge battery pack are equally compelling; the Sora takes a whopping 8 hours to charge from empty (although it does have the nifty feature of sending you an email when it's ready to go). Also, battery packs are still stupendously expensive. So 12 kilowatt hours' worth of lithium polymer will cost around as much as a new Japanese superbike, or maybe more.
One interesting innovation on the Sora is the way the tank-mounted GPS system is integrated with the battery management system. Punch in your destination, and the Sora will calculate how much power it needs to get you there — and it will adjust your available power along the journey to make sure you get there with charge to spare. It's a very smart feature designed to eliminate the range anxiety you tend to feel on an electric knowing that your battery is dwindling and it'll take anywhere up to several hours to get it charged back up.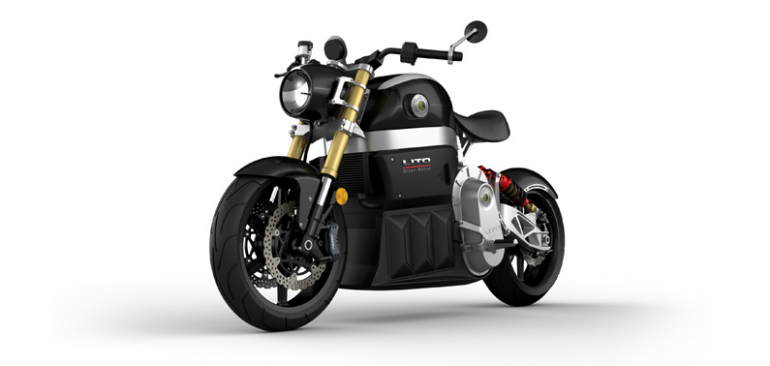 Another new touch is the idea of on-the-go adjustable ergonomics — the Sora's stubby seat unit can move as much as 10 cm (4-inches) up and down to completely change the feel and handling of the bike. Drop it down for a relaxed, cruisy highway position, crank it up for extra agility and a more aggressive sporting stance. It'll be fascinating to see what sort of difference that system makes to the feel of the bike.There's no price listed for this beauty, but it's going to be expensive. The batteries alone will propel it pretty high up the list of motorcycle prices — and then there's the lightweight aircraft-grade chassis, the carbon fiber fairings, the CVT, the GPS, the proprietary software, the Elka suspension … we shudder to think what the final price tag will be.
Source: Gizmag