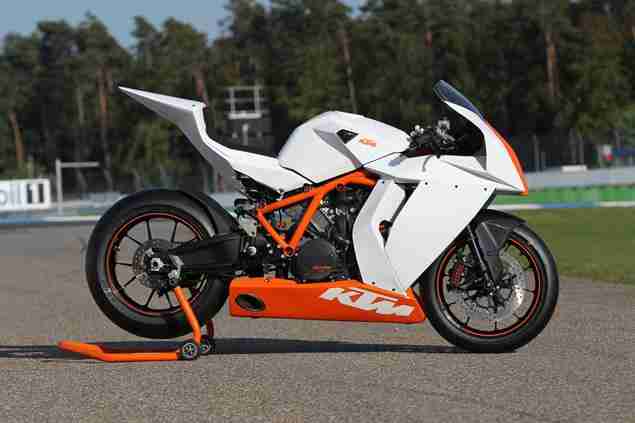 The Austrian manufacturer, KTM, will be teaming up with HMC racing in its first official appearance in AMA Pro Superbike Road Racing Championship. The HMC/KTM team will be competing in three rounds of the championship with Chris Fillmore all set to wring the throttle on the 1190 RC8 R race spec bike.
The race spec 1190 RC8 R has been specially re-tuned for the track and boasts of several upgrades over the street bike version. The bike has been stripped of any extra weight and only race oriented parts have been added. KTM claim that the bike is considerably lighter than the stock RC8 R, supposedly a whole 29 pounds lighter. The bike has added features like an Akrapovic EVO 4 exhaust system, adjustable footpegs, a quick shifter and also an anti-hopping clutch to aid Fillmore during the race.
Mitch Hansen, owner of HMC racing and rider Chris Fillmore have had a long relationship with KTM.  Hansen led the HMC/KTM Supermoto Team to 10 National Championships from 2003-2009 and was also the face behind the U.S. Red Bull Rookies Cup effort from 2008-2009. Fillmore raced for the HMC/KTM Supermoto Team at the young age of sixteen in 2003 and again in 2008 where he finished 2nd overall in the AMA Pro Supermoto Championship.
Brad Hagi, Vice President of Sales, KTM North America, said that the company was excited to see that their efforts had escalated to this level of competition. He said, "Together, Mitch and Chris formulate the perfect team to launch the development of our Superbike racing effort in the United States. With the national success KTM has had in the German Superbike Championship (IDM) and with a brand nucleus of "Ready to Race" it is the obvious move to take our motorcycle to the next logical step: U.S. AMA Superbike Racing."
The three rounds that KTM will be competing in, are scheduled to be: Mid-Ohio Sports Car Course (July 8-10), Virginia International Raceway (August 12-14) and New Jersey Motorsports Park (September 2-4).