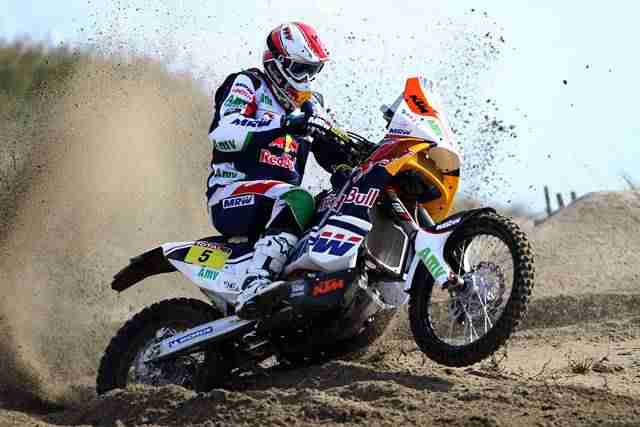 The official KTM Factory Rally Team, under the leadership of manager Alex Doringer and technical manager Stefan Huber was announced last week at EICMA, the world's biggest motorcycle fair. Cyril Despres renewed his contract with KTM at EICMA and Marc Coma renewed his commitment to the Austrian manufacturer in September, once again securing the world's two leading rally riders for the company's attempt at its eleventh consecutive Dakar victory.
Coma of Spain and French-born Despres have each won the Dakar Rally three times and together represent one of the most exciting rivalries in modern motorsports. In 2011 their two support riders or 'water carriers' will continue to be Juan Pedrero of Spain for Coma and Ruben Faria of Portugal for Despres.  While all four riders belong to the KTM Factory Rally Team, they will ride in the respective liveries of their individual sponsors: Coma and Pedrero for MRW KTM and Despres and Faria for Red Bull KTM.
All four will compete on the latest KTM 450 Rally bike, which has undergone overall updates and improvements to the 2011 model on which Coma and Despres successfully absolved the bike's maiden Dakar ride, finishing 1-2 after 17 days grueling competition.
Also at the final tests in the south of France was KTM Enduro Factory Team rider Johnny Aubert, who is to also get his first taste of the thrill of the Dakar in 2012. Johnny, who will continue to contest the E2 World Championships in 2012, will be riding a standard KTM Rally bike and will be taken care of by the KTM Customer Service, which supports the many KTM privateers who contest the rally. Around 50% of competitors put their trust in KTM for this, the toughest of all rallies. Alex Doringer: "What we want to do is to give Johnny a taste of what its like in the Dakar. His object not be to get a top result on his first time out, but to finish the rally and to learn as much as possible in the process."
The KTM Factory Team's vast amount of equipment for the Dakar Rally is scheduled to leave for Argentina from the French port of Le Havre on Monday November 21.