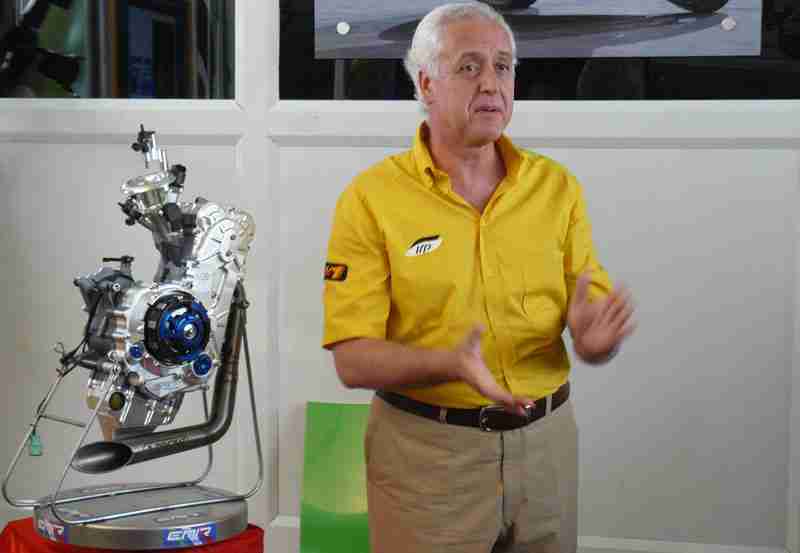 As preparations were underway in the Mugello paddock for the Italian Grand Prix, Giampiero Sacchi, owner of the Ioda Racing Project in Moto2 presented his new Moto3 project. He has decided to reveal the pieces one by one, and the first to be stripped was the engine.  The chassis will likely be revealed in September, although you can already get a look at it in the Italian national championship, where it is being raced with a 125cc engine.
The engine is claimed to produce more than 50 horsepower. "Not much more, but more." Sacchi affirmed and was tested on the dyno with the rev ceiling raised to 15,500rpm for reliability.  A test which Giampiero assured us went well.
"Moto3 is a category where the necessary technology isn't only available to the big manufacturers, but also to small engineering firms. What these small firms lack in production capacity then can make up for with close client relationships.  This class is very interesting and inviting."
For construction of the engines Ioda Racing worked closely with Robby Motor Technology, creating a new firm called Emir (the official name of the engine is the EMIR GP 3) based in Casal Maggiore, Italy.
Technical Data:
Weight – 20.6 kg
250cc four-stroke
Twin overhead cam
4-valves in titanium
Extractable gearbox
Dry, slipper clutch
Titanium con rod
Dry sump
Price: 12,000 euro plus IVA. (Approx. Rs.7.8 lakhs)
Source: gpone.com
Image via gpone.com