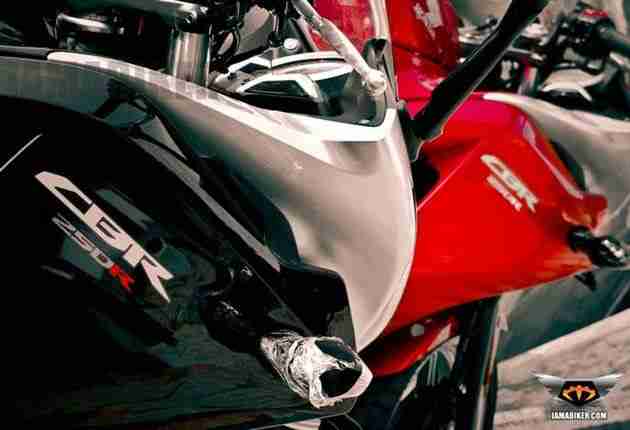 The Honda CBR250R has been generating a lot of attention ever since its launch. The 250cc single pot has been receiving a lot good reviews and also been at the receiving end.
Having already spent enough time 'looking' at the CBR in various showrooms, one must agree its design clearly shows what it's made for, Sports-touring.
Now we are not getting into technical or specific accessory details, that's already out there in plenty!Just going to tell you what we felt of both the ABS and the Non-ABS versions of the bike after spending a good few hours with them.
You see the bike in flesh and all your assumptions that it might be a small compact parcel like the R15 just rushes away. The bike is big! You sit on it and it feels bigger! You feel the tank separating you from the speedo console/handle by a huge margin due to its arc shape. Thumb the starter & if you are quite familiar with how bikes here in India sound, you would be welcomed a rather new sound. We kind of expected it to have more of a Unicorn feel to it, but no, it is different.
Take it for a spin and immediately you will realise this bike has all its power in the mid-range RPM's. Pulls away beautifully in pretty much any gear. Even though the bike is big we experienced it to be quite comfortable in weaving through traffic. One whack of the throttle and you are saying see ya to that auto rickshaw guy who is burning heavy amounts of kerosene and leaving you in a cloud. Yes then, we loved it in the city. U-turns need a bit getting used to though. The clutch, how can we forget the clutch! Its butter smooth, a typical Honda, maybe a bit too smooth if you are coming after riding a pulsar or an RTR. Gear shifts are good with good feedback.
Now coming to the power, if you are someone used to riding a Pulsar 220/200 or something in similar power range, this bike might not give you the rush that you are looking for. It smooth, its powerful but when it comes to giving you goose bumps when you wring that throttle its Honda traits slightly lets it down, we are not saying its bad but just not enough drama to keep the Rossi in you happy(Rossi in CBR turf, did we start a war?), that's the only place that we thought there was something missing.
We tried the Non-ABS first and then hopped onto the ABS one and quite immediately on your first dab of the breaks you would realise how much better the ABS is. Tried bit a bit of hard breaking on gravel layered road and absolutely no drama whatsoever. We will need some more time with the bike to do a more comprehensive test to figure out accurate statistics, and will bring it to you in our complete road test.
We quite liked the fit and finish of the bike and after a thorough inspection of the bike found nothing that is a decision changer in terms of parts quality.
Now for the million dollar question what's its street presence like? Very good again. Its new, its big which makes it the Dhoombike for the masses :D
We will bring you a complete road test soon with our test riders pushing the bike to its limits just to get you good data ;)
In the mean while here is a short video of the time we spent with the CBR 250R.
Some close up snaps of the ABS unit front and rear.