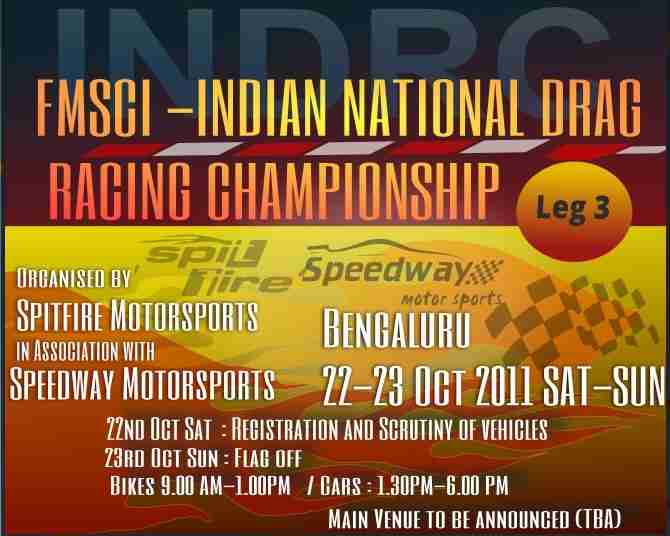 The FMSCI approved Indian National Drag Racing championship has now arrived at Bangalore for leg 3 of its championship. The event will be held on 22-23rd of October 2011. Day one, 22nd October would be for the registration and scrutiny of the vehicles by the judges and approved vehicles would fight for victory the next day, ie. the 23rd October a Sunday.
The location has not yet been fixed but in all probability would be at the Jakkur air strip, close to Hebbal, Bangalore. Its indeed a beautiful chance for all the enthusiasts at Bangalore and close by city's who were deprived of a chance to show case their tuning skills. The drags have always brought out the best from hiding and we are sure to see some exotic machines along with many custom machines battle it out for top time.
The different classes for two-wheeler's are:
Class M-1 Up to 130 cc – 2 Stroke
Class M-2 Above 130 cc up to 165 cc – 2 Stroke
350 CC and Above – 2 Stroke
Class MF-2 — above 130 upto 165 cc -4 stroke
Class MF-3 — above 165cc upto 210 cc  -4 stroke
Foreign Bikes 501CC to 750 CC
Foreign Bikes 750 CC and Above
Foreign Bikes Open
Indian Bikes Open
Wheelie Class -— Indian Bikes
To register yourself for the drag event, head on to the Speedway Motorsports website.