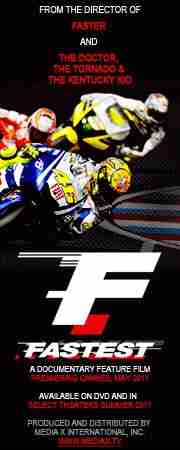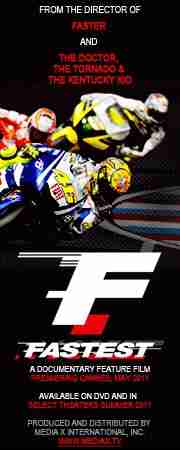 MotoGP fans can look forward to the forthcoming release of the latest full-length documentary feature film from director Mark Neale.
Following the success of 'Faster' and 'The Doctor, the Tornado and the Kentucky Kid', director Mark Neale is now preparing to release his latest MotoGP themed full-length documentary feature film, 'Fastest'.
Shot around the world in 2010 and 2011 and narrated by Ewan McGregor, 'Fastest' captures the intense and thrilling reality of the MotoGP World Championship, documenting a pivotal moment in the sport.  With Valentino Rossi chasing his tenth World Championship title the Italian ran into one of the toughest challenges of his career: a crop of exceptionally fast young competitors, a horrific leg break at his home  race, and an amazing comeback little over 40 days later.
Confronting such a monumental task and with rival Jorge Lorenzo taking the 2010 title, Rossi faced up to one of the most testing year's in his illustrious career and along with his fellow competitors was left  asking: Who is the fastest rider now?
Produced by Paul Taublieb for Media X International, Fastest will get a theatrical release in summer 2011 in worldwide markets on a select basis including UK, Japan, Australia and New Zealand. For more  information visit production company Media X International.
"'Fastest' is the greatest feeling. 'Fastest' is the greatest risk," said director Mark Neale. "This is the essence of MotoGP and of the movie. The ecstasy and the terror of life at the very highest level of motorcycle racing."
For more info, images, videos head to their Facebook page.