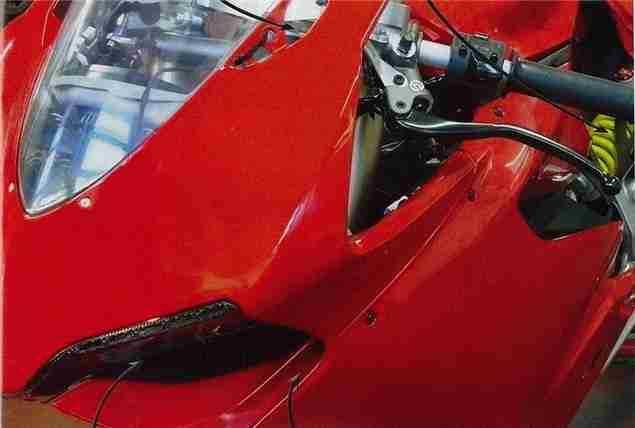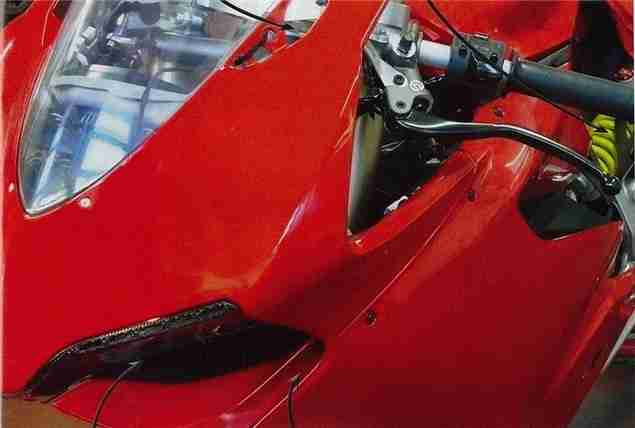 What you are looking at are the first photographs of the first Ducati 1199 published in this months edition of the Motociclismo magazine. They are the same magazine that brought in the spy shots about a week ago. How Motociclismo got hold of the official photos of the new Ducati Superbike motorcycle we probably will never know. The design of motorcycle remains very close to that of  the existing models. The reason is obvious though – The new Ducati should appeal to the loyal Ducati fan. You probably already know that the new Ducati 1199 does not come with a tubular frame which is a Ducati trademark, and then there is also a brand new engine.
The new photos confirm the data has been collected by sources close to the brand . The Ducati 1199 has LED lights that are now being pushed forward in order to ensure a greater supply of air through the ram-air system. If you look at the set of photographs taken by Motociclismo, you can see that they have decided to take advantage of the of the exclusivity and do not reveal the rear end of the bike the swingarm and the new exhaust system, which is rumored to be like the MotoGP bike, located under the seat.
The photographs reveal a new monocoque faring, a tilt steering wheel, and unidentified switches that could be for the traction control, engine and suspension adjustments. These photographs reveal another important detail –  the superquadrata motor. Judging from the photos available now know this is definitely a "V" type engine, which would be due to a short stroke,  and couple that with the Desmo system the valve's plus the cam shaft, this is one engine that's going to scream a lot.