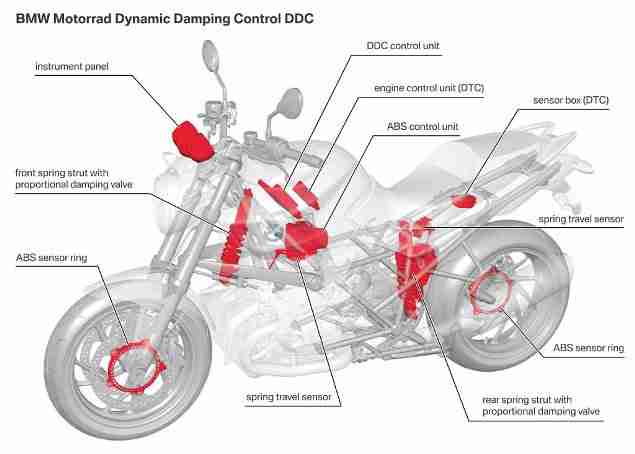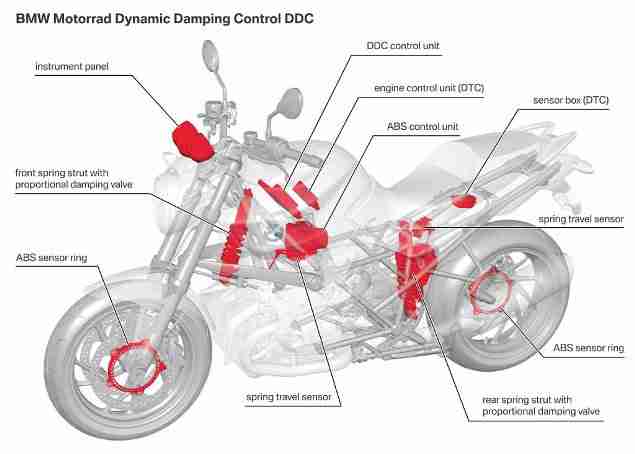 BMW has developed a new technology in motorcycles which automatically adjusts the suspension system to different road conditions. This new system called the Dynamic Damping Control (DDC), has already been seen in BMW cars and has been designed for the bike so as to provide optimal stability in all road conditions.
BMW have been constantly improving the suspension systems on their bikes. The DDC's predecessor, Electronic Suspension Adjustment systems (ESA and ESA II), allowed the rider to adjust the suspension settings to either Comfort, Normal or Sport with just a push of a button. DDC will make this button obsolete by automatically adjusting the suspension settings of the bike. BMW claims that the DDC is a semiactive suspension system which reacts automatically to braking, accelerating, and cornering on various road surfaces and analyzes the parameters provided by sensors to set the correct level of damping at electrically-actuated proportional damping valves.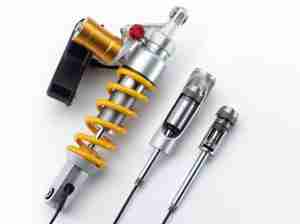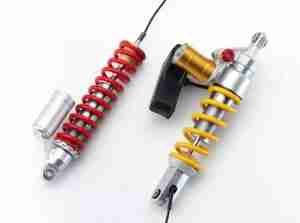 The DDC system will work in unison with the traction control system and the Anti-lock Braking System and makes different adjustments to the damping valves depending on whether the bike is braking, leaning into a corner or accelerating. While cornering, both the rear and front damping valves are actuated as the bike enters the corner and this in turn provides optimal stability around the bend. Once the bike is in upright position the damping valves go back to the initial state. The same goes for acceleration and braking. As the DDC is linked with other systems it can detect when a bike is slowing down and the DDC actuates the front damping valve proportionately to the deceleration.
BMW claim that the suspension system will enhance the riding experience greatly. BMW's statement on the new DDC system, said, "Within the shortest of times the system evaluates a huge amount of information and selects the high precision suspension configuration best suited to the situation. This provides a considerable boost to active riding safety, operating comfort and — not least of all — riding fun. The suspension damping system DDC will be introduced to the first BMW Motorrad series motorcycles in the near future."