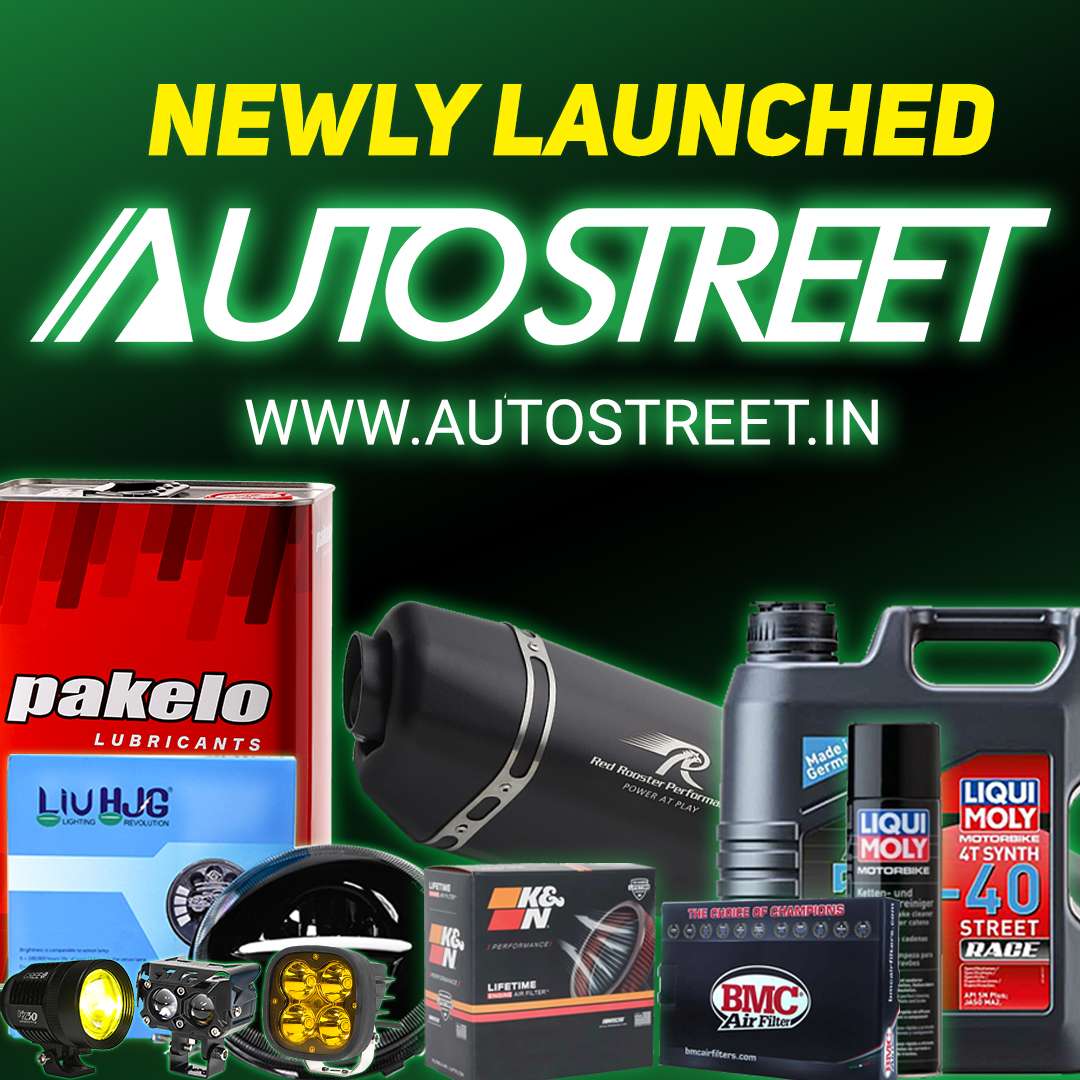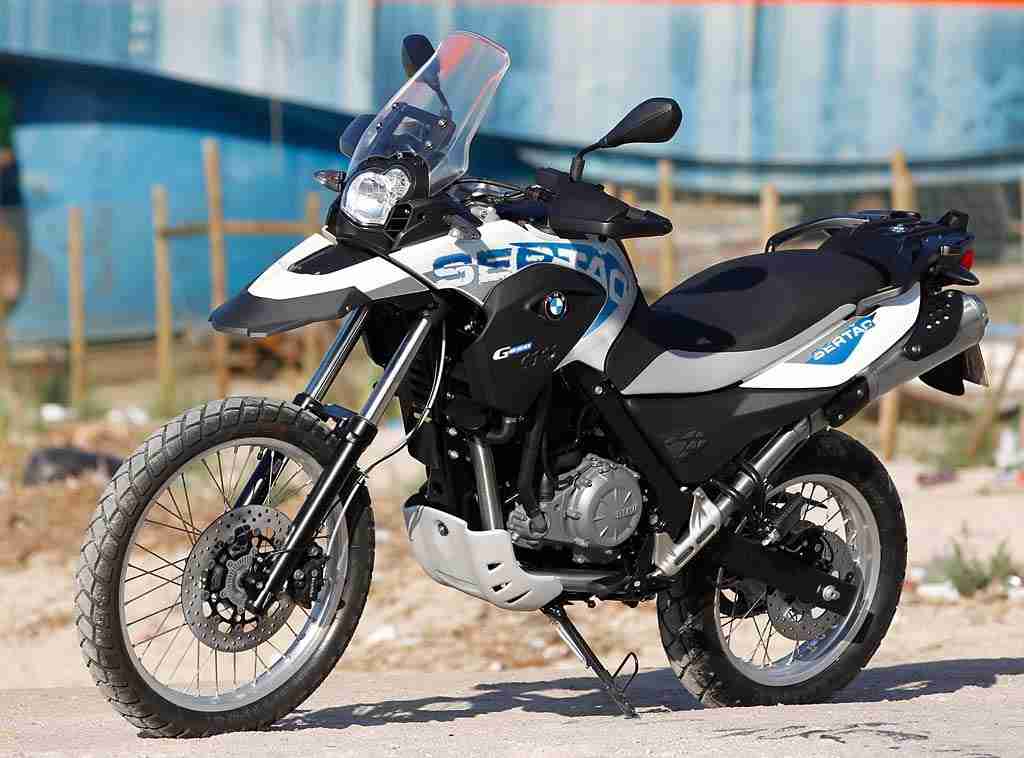 BMW is adding a more off-road oriented sister to their single-cylinder G650GS, named the G650GS Sertão. Portuguese for "wilderness," the Sertão uses the same 652 cc liquid-cooled and counter-balanced single cylinder engine as the standard G650GS – producing 48 hp at 6500 rpm and 44 ft-lb of torque at 5000 rpm – but the chassis and accessories have been updated to provide more off-road ability without sacrificing on-road comfort.
The differences include longer travel springs and wire spoke wheels. Up front, the 41mm diameter forks now travel up to 8.3″ (up from 6.7″) with the rear swingarm capable of the same (8.3″ up from 6.5″). The 19″ cast alloy front rim has been replaced with a larger 21″ wire spoke rim with a narrower rear wire rim, 3.00 x 17″, than the 3.50 x 17″ alloy on the standard G650GS. The tubed tires are 90/90 R21 54S in front and 130/80 R17 65S in back.
The longer travel suspension gives the Sertão more ground clearance but also higher seat heights. The standard seat is now up 2.4″ to 33.9″ with a 35.4″ bench as an option.
The Sertão comes in Aura white/Arroyo blue color scheme with prominent "Sertão" lettering. Most of the engine and other components are painted black with a few Nürburg silver elements such as the alternator and clutch covers. Several off-road ready accessories are standard on the Sertão including: aluminum engine guard, high windscreen, hand protectors, and extended front wheel mud guard. Dealer options include BMW Motorrad ABS which can be turned off (likely standard in the U.S.), heated grips, Vario saddlebags, topcase, tinted high windscreen, crash bars and the taller seat mentioned previously.
Here is a look at the press release from BMW:
BMW G650GS Sertão — the sporty BMW single cylinder enduro for offroad and everyday.
With its new BMW G650GS Sertão, BMW Motorrad has added a new, sporting chapter to the history of single cylinders in the BMW GS family. Whereas the G650GS thrilled riders with its lean, wiry offroad stature, the G650GS Sertão promises even more sporting characteristics, even greater offroad capabilities, and an even stronger desire for adventure. And all of this without any sacrifice to the established virtues of a BMW single cylinder endure such as everyday practicality, appealing price-performance ratio, and playful riding properties.
Chassis for greater offroad practicality, optimized touring properties, and dynamic design.
On the technical side, the new G650GS Sertão uses the established liquid cooled, high-torque single cylinder engine of the G650GS with two overhead camshafts, fuel injection, and double ignition. Its 652 cc displacement delivers (48 hp) at 6500 rpm and a max torque of 60 Nm [44 ft-lb] at 5000 rpm. Options include output reduction to 25 kW (34 hp) at 6500 rpm and 47 Nm [35 ft-lb] torque at 4500 rpm.
Whereas the G650GS chassis was developed primarily for country roads and light offroad use, the Sertão presents far greater offroad practicality in the form of longer spring travels and tighter tuning. In addition, it is fitted with wire spoke wheels.
Also the new color concept underscores the dynamic character of the single cylinder enduro.
The essential features of the new BMW G650GS Sertão at a glance:
High-torque and low-consumption single cylinder engine with 652 cc displacement. Max torque of 60 Nm [44 ft-lb] at 5000 rpm and max output of 35 kW (48 hp) at 6500 rpm. Output reduction to 25 kW (34 hp) available.
Offroad chassis concept with long spring travels (front/rear 210 mm).
Wire spoke wheels with light alloy rims. Wheel sizes 21″ front and 17″ rear.
Dynamic colour concept in Aura White / Arroyo Blue with Sertão lettering and seat in black/grey.
Luggage carrier in black.
Extended top front wheel cover.
Two seat heights: 860 mm [33.9″] (standard) and 900 mm [35.4″] (special accessory).
High windscreen.
Hand protectors.
Engine guard of aluminium.
Disengageable BMW Motorrad ABS (option ex works).
Extensive range of special accessories.