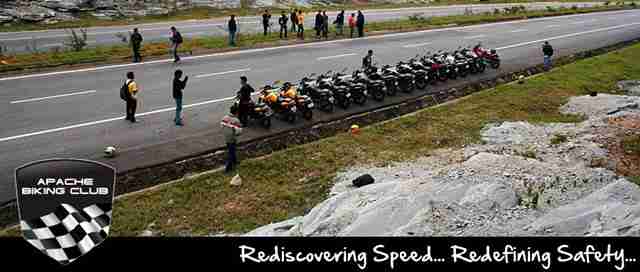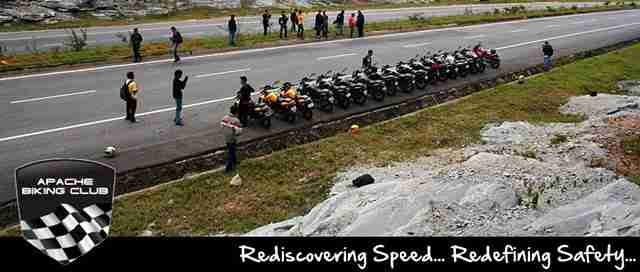 August 7, popularly known as friendship day also saw one of the exclusive biker clubs for TVS Apache motorcycles celebrate its first year celebrations. The club known as the Apache biking Club completed a year into its existence and had a turn up of over 18 TVS Apache bikes to celebrate the anniversary. This was a Anniversary meet only for the Bangalore region. The group met at Jayanagar, Bangalore and rode towards NICE road to catch some fresh open breeze away from the city's polluted environment to start out the new year of biking with a cause.
The club has more than 150 active members who are all owners and ardent fans of the TVS Apache bike of any variant. The club started in the year 2010, formed by a group of young and enthusiastic friends who got together with the sole aim to bring a change in the way bikes are ridden and to promote safety. Though the team is just a year old they are trying to capture young motivated bikers to bring about a change in the riding style and improve safety in society and simultaneously promoting environmental friendly practices and events . As the club's main moderator Srikanth Akkiraju puts it, "We just dont ride from point 'A' to point 'B'… We take it forward to point 'C' to bring about a change and awareness among people right from the young to the grownups." Motorcycling is not about age or what you ride, its about the heart and ABC (Apache Biking club) sure has a lot of it.
ABC is not only about rides but also about rides to do research on places and how they can improve the living conditions of people that live here. They also make people aware of things that need urgent attention, right from self health to society's health.
ABC has set sights not just on Bangalore and want to be a all India club of TVS Apache owners and fans, who can join in to bring about a change. ABC's admin Narayanan Sivaram says "We are trying to target mainly the owners and fans of the TVS Apache in the whole of India so as to instill the change in them, if not all, atleast a few, who can prove role models for others to start taking initiatives on their own to follow safety and how safe we ride. Though we sound too big on achieving, we know that in the near future, we will be able to instill this in all the riders."
The group plans many city meets, short rides, and long rides to make fellow membners aware of safe riding, and each time they ride, they have atleast one new member in the group. They also have a racing team and a stunting team, who practice and perform under controlled and professional supervised locations, the club discourages racing and stunting on the public roads. A core team has also been formed to do R&D on the TVS Bikes to provide better mileage and better performance, they are also working on some green projects so as to reduce or stop fuel consumption and safeguard the environment, they also have a plans to come up with "Apache Biking – ProBiker Studio" for the highend servicing and performance tune up for all the Bikes, mainly concentrating on the TVS Bikes and to provide small DIY(Do It Yourselves) programmes and a how to ride program.
It is to be noted that the club group is in no way attached to the TVS company, it is a solely operated club group by a group of friends who are either studying or working and are doing this this purely as they are passionate and want to make a difference.
ABC's Admin and Moderators say that they would require more support from the people of India and other companies, so as to bring about a change in the way people ride and how safe they ride for themselves, others and the environment. Their slogan reads "Rediscovering Speed… Redefining Safety…"
We at IAMABIKER would like to wish Apache Biking club a very happy anniversary and best of luck for the future.