Motorcycle helmet owners are increasingly likely to purchase their helmet online, according to the J.D. Power and Associates 2011 U.S. Motorcycle Helmet Satisfaction Study.
The study finds that nearly one-fourth (23%) of motorcycle helmet owners purchase their helmet on the Internet, compared with 20 percent in 2010. In 2002, less than 10 years ago, this proportion was just 4 percent.
"While the dealership is still the main source for a majority of helmets purchased, it's clear that customers are continuing to shift to the online channel to purchase their motorcycle helmets," said Brent Gruber, senior manager of the powersports practice at J.D. Power and Associates. "The percentage of helmets purchased online has increased steadily during the past 10 years. As a result, it's crucial to ensure that dealers have an e-commerce website available for customer use as their preferences change."
The study measures overall satisfaction of motorcyclists with their new helmet across 11 attributes: quietness; ventilation/air flow; de-fogging performance; face shield effectiveness of keeping wind out; face shield resistance to scratching; ease of replacing face shield; scratch resistance of shell; color/graphic design; weight; ease of fastening the strap; and fit and comfort.
For a 13th consecutive year, Arai ranks highest in customer satisfaction, and ties with Icon with a score of 852 on a 1,000-point scale. Arai performs well across all 11 attributes, particularly in fit and comfort and face shield effectiveness of keeping wind out. Icon performs particularly well in color/graphic design. Shoei follows in the rankings with a score of 831 and performs well in ease of replacing the face shield.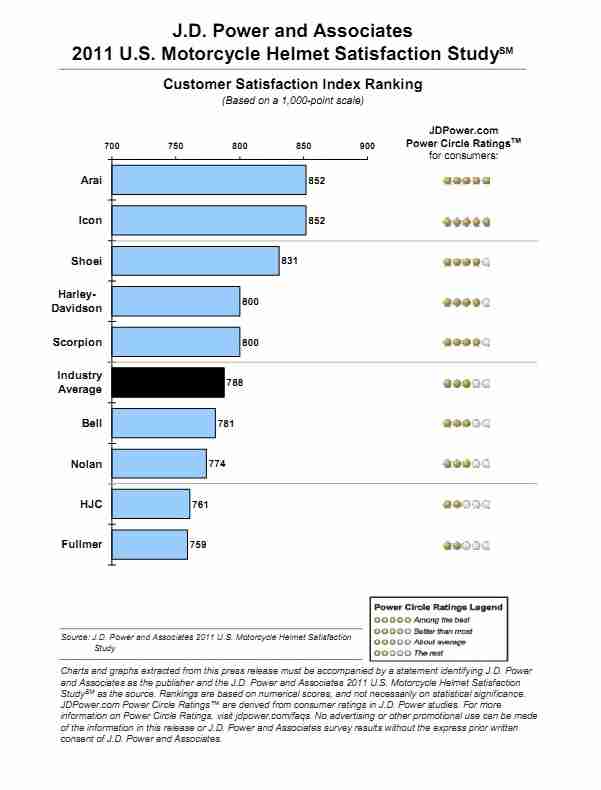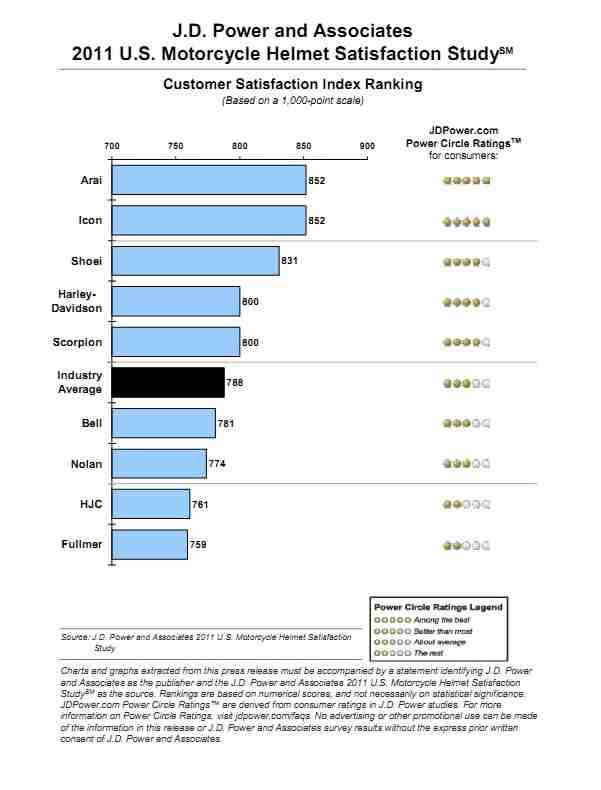 The study also finds the following key trends:
Overall satisfaction across the industry continues to improve to an average of 788 in 2011, reaching its highest level since the study's inception in 1999.
The average helmet purchase price this year remains consistent with 2010–$209 in 2011, compared with $206 last year. In fact, the average price paid for a new helmet has remained relatively constant since 2007, when the average price was $203.
With a consistent increase in the median age of new helmet owners since 2000, this year's study shows the highest median age to date–48 years.
The 2011 U.S. Motorcycle Helmet Satisfaction Study is based on responses from 4,820 purchasers of new 2009 and 2010 model-year motorcycles who provided information about their most recent helmet purchase experience and helmet use. The study was fielded between August and October 2010.
Although the study was carried out in the US, with growing awareness among bikers in the country regarding helmet quality and the influx of more powerful motorcycles, we thought the results of this study might bear upon your next lid purchase. Happy shopping!