Riding a bike is an excellent way to stay active while discovering the beauty of the world around you. As e-cycling gains popularity and electric bikes become more affordable and accessible, more people are taking up this eco-friendly mode of transportation.
Whether you're seeking the thrill of high-performance electric mountain bikes or need a reliable commuter, equipping yourself with the right accessories is essential for a safe, convenient and comfortable ride.
From cycling helmets to protect your head to headlights to guide your way, discover the must-have accessories that will elevate your cycling journey, allowing you to fully enjoy your time on two wheels.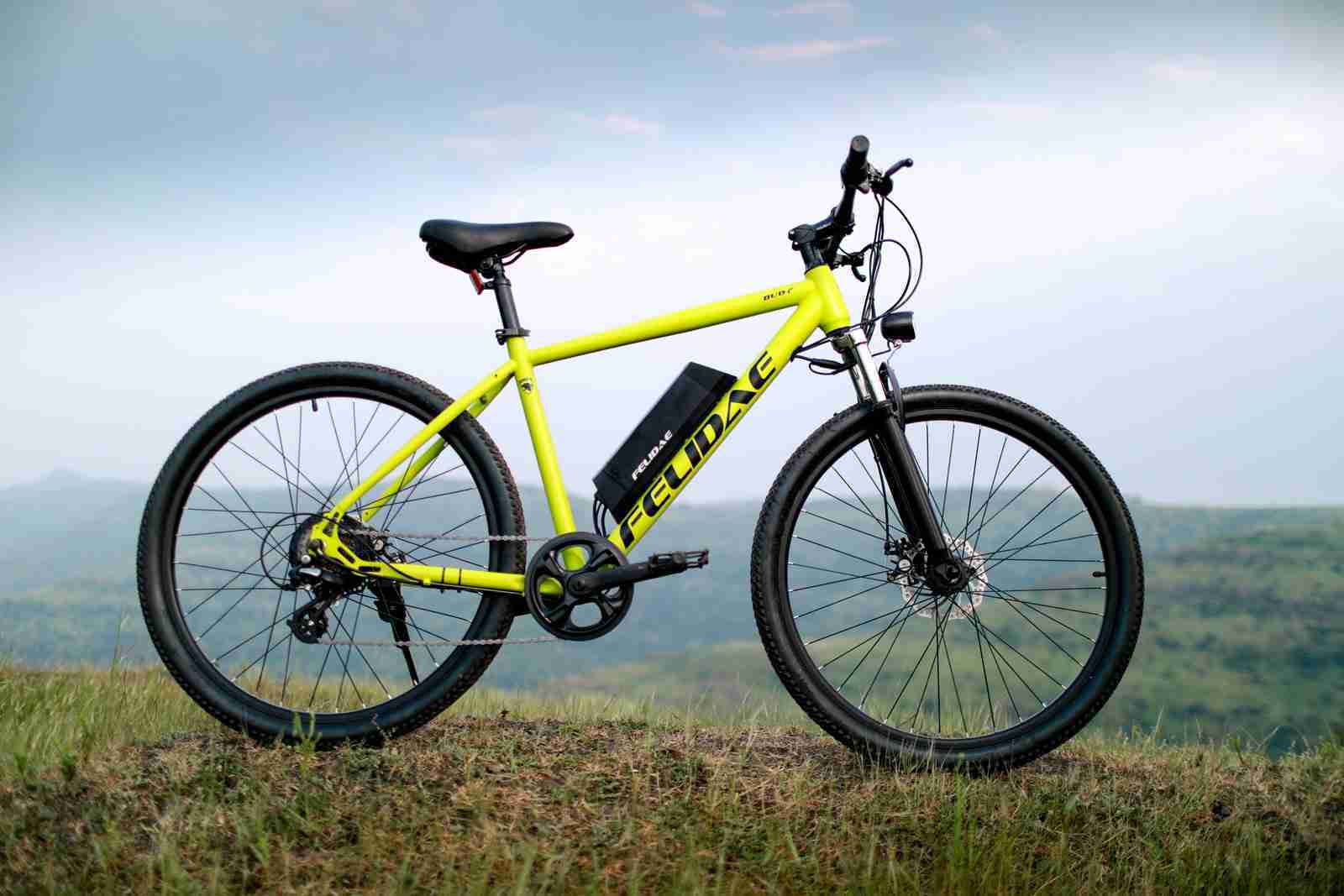 Safety Accessories: Protecting Your Head and Increasing Visibility
Ensuring your safety while cycling should be your priority. The right electric bike accessories can reduce the risk of injuries and improve your visibility on the road. Some essential safety accessories that every cyclist should consider include:
●       Helmet
Bike helmets are an indispensable accessory for any cyclist. They provide crucial protection for your head in the event of accidents or falls, reducing the risk of severe head injuries.
When choosing a helmet, consider investing in a properly fitted one, such as the Hudson MIPS Matte Turquoise, which offers NTA a 5 STAR Virginia Tech rating. This helmet is purpose-built for e-bike speeds up to 28 mph and features an integrated 6.6 Lumen Click-Mount LED light for safety and security in urban environments.
●       Lights
Front and rear lights are crucial for visibility, particularly when riding at night or in low-light conditions. They help you see the road ahead and make you more visible to other vehicles. Look for lights that offer between 100 and 600 lumens (depending on the location and time of day), have durable construction and offer various lighting modes, such as flashing and high beams, for different situations.
The Lezyne Femto Drive Headlight and Taillight Set, which provides an ultra-compact safety light with an integrated lens on/off switch, is a great option. With their aluminum construction and 180 degrees of side visibility, these lights ensure you stay safe and visible during your rides.
●       Lock
Investing in a reliable lock helps prevent theft and ensure the security of your electric bikes when left unattended. A strong lock is a deterrent, making it more difficult for thieves to steal your bike.
Look for locks made of high-quality materials, such as hardened steel, which provide resistance against cutting or breaking attempts, like the Kryptonite New York Fahgettaboudit Chain and Disc Lock.
The lock features 6-sided 3t hardened manganese steel links and an oval crossbar disc lock, providing maximum security against theft attempts. With three stainless steel keys, including one with LED lights, you can ensure the safety of your electric bike.
Convenience and Storage Accessories: Carrying Essentials and Improving Riding Experience
Accessories that improve your storage ensure you can carry your essentials easily while keeping them easily accessible and visible for a simpler riding experience. Some must-have items to consider when outfitting your bike include:
●       Panniers or Bike Bags
Panniers and bike bags are essential for conveniently carrying your belongings during your rides. Panniers attach to the sides of your e-bike over the seat stays, while bike bags can be mounted on the handlebars or frame. These accessories offer ample storage space for groceries, gym clothes, textbooks and other essentials, keeping them secure and easily accessible during your journey.
The Ortlieb Vario Convertible Pannier/Backpack is a versatile option that can quickly transform from a backpack with ergonomic shoulder straps to a convenient pannier, providing flexibility and waterproof protection for your items.
●       Phone Mount
A phone mount is a practical accessory that securely attaches your smartphone to your handlebars. With a phone mount, you can easily access navigation, ride tracking and cycling apps without compromising safety.
Look for a sturdy, adjustable mount that can accommodate different phone sizes. The Delta XL Smartphone Phone Holder is a reliable choice that provides a secure attachment and easy in/out access to your phone, keeping you connected on your rides.
●       Child Seat
For cyclists with young children, a child seat is an essential accessory that ensures their safety and allows for enjoyable family rides. Purchase a child seat with sturdy construction, comfortable padding, a secure harness and a reliable attachment system.
The Burley Dash Rack Mount Child Seat offers a solid build, plush washable padding and an adjustable 5-point harness system, allowing you to transport your child safely and comfortably on your e-bike.
Maintenance and Comfort Accessories: Ensuring Smooth Rides and Personal Comfort
While cycling is a fun and sustainable way to get around, prolonged rides or daily commutes can quickly become uncomfortable. To improve your riding experience and prioritize your personal comfort, consider incorporating these maintenance and comfort accessories into your cycling gear:
●       Bike Multi-Tool
A compact bike multi-tool is invaluable for on-the-go adjustments and repairs in any new or used electric bike. With various wrenches, screwdrivers and chain tools at your disposal, you can tackle common maintenance tasks while cycling, like fixing a flat or tightening bike bolts, ensuring that your bike is in top condition and minimizing any disruptions during your rides.
●       Water Bottle Cage and Water Bottle
Staying hydrated is crucial for your comfort and performance. By attaching a water bottle cage to your e-bike frame and carrying a reusable water bottle, you have easy access to refreshments. This ensures you can stay hydrated and maintain your energy levels throughout your cycling adventures.
●       Bike Bell
A bike bell is an effective communication tool, alerting pedestrians and other cyclists to your presence. This promotes safety, particularly when riding on shared paths or trails, as it helps prevent collisions and ensures that others are aware of your approach.
●       Bike Mirror
A bike mirror increases situational awareness by allowing you to see behind you without turning your head. Mounting a bike mirror on your handlebars or helmet enables you to monitor traffic and potential hazards, increasing your safety.
●       Rear Rack
A rear rack expands your e-bike's carrying capacity, making it easier to transport large items during your rides. Whether it's attaching panniers, baskets or a trunk bag, a rear rack provides convenient storage options, allowing you to bring along your essentials and belongings without compromising your comfort or balance.
●       Cycling Clothing
Investing in appropriate cycling clothing dramatically increases your comfort and performance. Moisture-wicking jerseys keep you dry by efficiently managing sweat, while cycling gloves offer grip and cushioning, reducing hand fatigue.
Padded shorts or tights minimize friction between your buttocks, thighs and the saddle for better comfort during long rides and breathable socks help regulate temperature and keep your feet dry, ensuring that you can focus on your ride without any distractions.
Elevate Your Cycling Experience
Electric bikes offer a range of benefits, from effortless pedaling to extended range and eco-friendly transportation. Whether your ride is a brand-new or refurbished electric bike, you can maximize your cycling experience and ensure safety, convenience and comfort by equipping yourself with the right accessories.