It was an exciting time for motorsport enthusiasts at the final round of Suzuki Gixxer Cup Championship and round 3 of Asia Cup of Road Racing (ACRR) held at Buddh International Circuit (BIC), Greater Noida. Suzuki Gixxer Cup in association with JK Tyre Motorsport under the aegis of FMSCI, concluded with Syed Muzammil Ali of Bangalore making his way to the podium and lifting the championship trophy. The circuit was packed to corroborate the culmination of the exhilarating season of the motorsport event.
This weekend defined fun and thrill every second as the spectator witnessed Syed Muzammil Ali winning the championship by achieving a total of 64 points. The second podium spot was taken by Pune's Tanay Gaikwad with 60 points. Giving a hard fight for third spot was Sidharth Sajan (Coimbatore) with 36 points in the championship. Each rider has shown an impeccable grit throughout the races during the season to end up at the podium.
With his best performance, Syed Muzammil Ali (Bangalore) emerged as the winner for Race 1 and Sanjeev Mhatre (Mumbai) was the winner of Race 2 of the final round of Suzuki Gixxer Cup 2019. Both Syed and Sanjeev clocked race time of 23:30.905 and 23:28.022 minutes, respectively. In Race 1, Mumbai's Sanjeev Mhatre (23:37.455) stood second and Amul Angadi of Vijayapur stood third with 23:40.296 minutes. For Race 2 Syed Muzammil Ali with 23:29.287 minutes and Tanay Gaikwad of Pune with race time of 23:35.746 minutes fought for second and third position, respectively. The fastest lap of the weekend was recorded by Syed Muzammil Ali at 02:53.532 minutes during Race 2.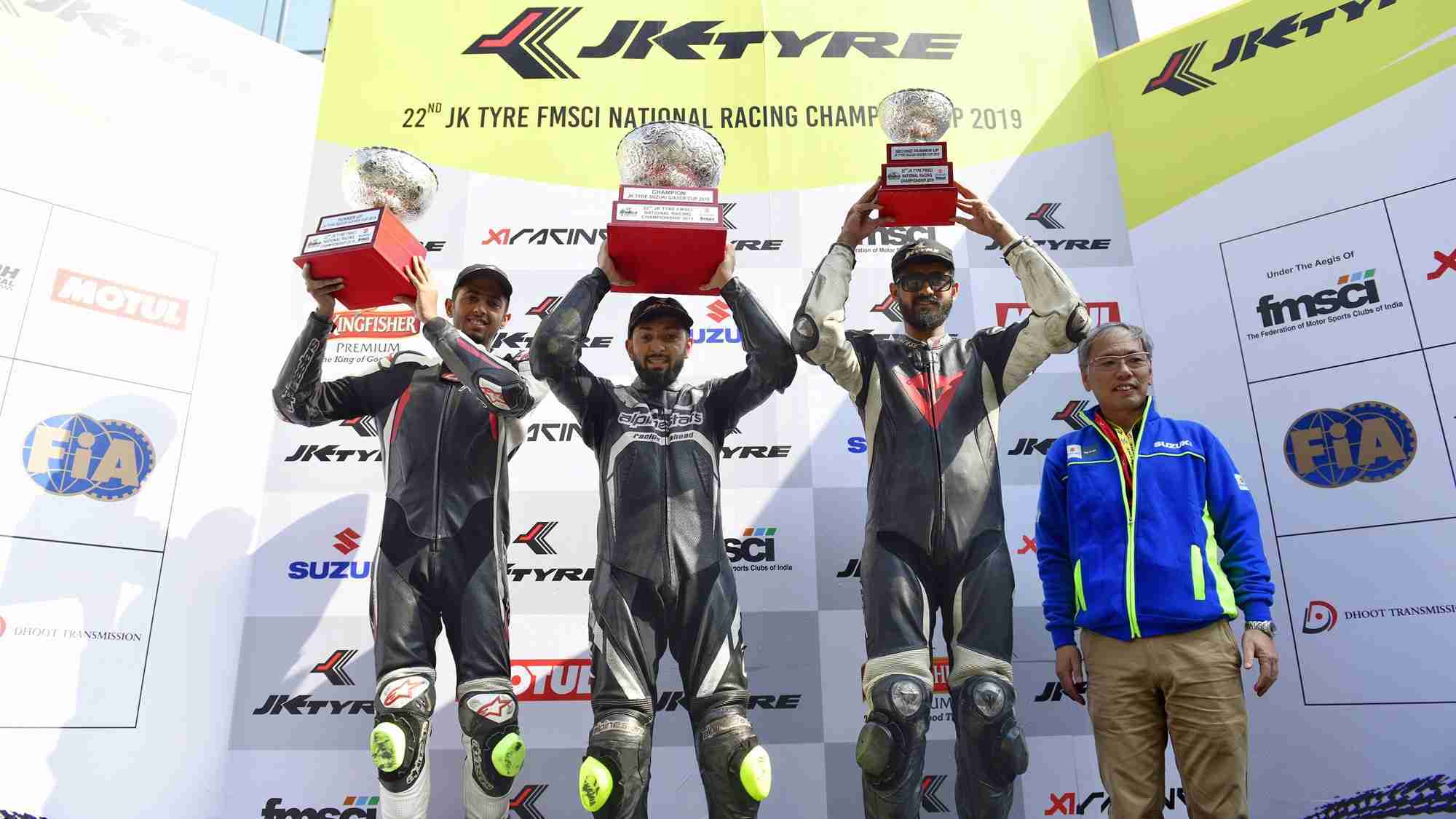 This year again, the Suzuki Gixxer Cup riders were put on the same platform with ACRR's international riders to follow the same format to prove their mettle on the track. The participants of Suzuki Gixxer Cup rode MotoGP edition of Suzuki Gixxer SF and ACRR championship rode MotoGP edition of Suzuki Gixxer SF 250, which was unveiled at Suzuki Gixxer Cup Round 3 in Coimbatore for the media endurance race.
Riders from India, Japan, Thailand, Sri Lanka, Philippines, Nepal, and Taiwan will be pitting against each other for the finals to get the podium finish. The ACRR championship is focused on offering an equal ground besides the Asia's leading riders to test their potential and emerge as a stronger contestant. It is a perfect grooming ground for racers to prepare for their future international careers as they have to adapt to varied challenges starting from food, climate, language and different racing tracks.
The detailed race result is as follows:
Suzuki Gixxer Cup 2019 Championship
| | |
| --- | --- |
| Name | Points |
| Syed Muzammil Ali | 64 |
| Tanay Gaikwad | 60 |
| Sidharth Sajan | 36 |
Race 1: (08 Laps)
| | | | |
| --- | --- | --- | --- |
| Position | Name | Total Time | Fastest Lap Time |
| First | Syed Muzammil Ali (Bangalore) | 23:30.905 | 2:54.990 |
| Second | Sanjeev Mhatre (Mumbai) | 23:37.455 | 2:53.792 |
| Third | Amul Angadi (Vijayapur) | 23:40.296 | 2:56.301 |
Race 2: (08 Laps)
| | | | |
| --- | --- | --- | --- |
| Position | Name | Total Time | Fastest Lap Time |
| First | Sanjeev Mhatre (Mumbai) | 23:28.022 | 2:53.634 |
| Second | Syed Muzammil Ali (Bangalore) | 23:29.287 | 2:53.532 |
| Third | Tanay Gaikwad (Pune) | 23:35.746 | 2:56.333 |