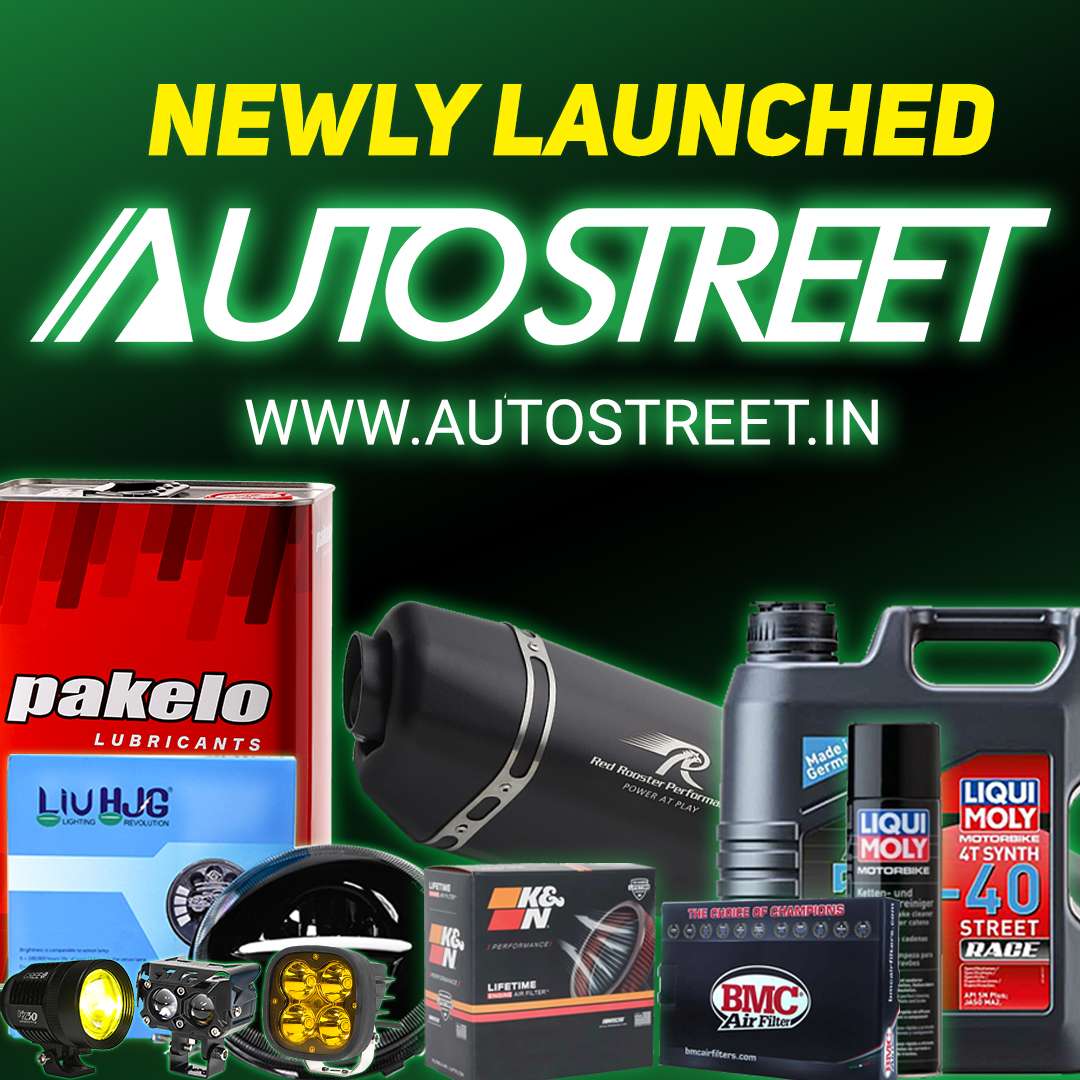 Ten10 racing along Sarath are creating history in everything they do. Be it partnering with WTR or being the first India rider in the MotoGP arena, they are there at the worlds biggest stage for motorcycle racing and making us Indians proud all the way.
We got them to answer some of our questions during their busy schedule and we thank them for sparing their valuable time for this interview.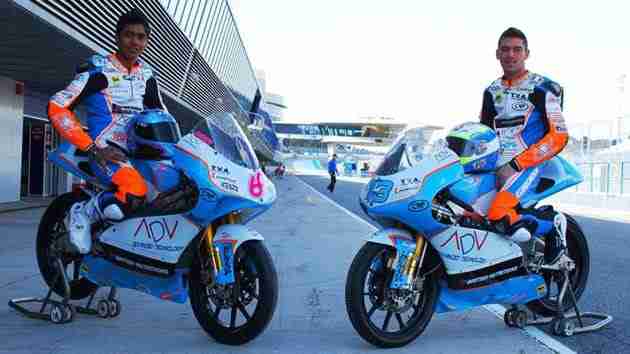 Q. How did Sarath come across into motorcycle racing, how was life back at home?
A. Sarath comes from a humble background and took up racing when he visited the racetrack with his friends in Chennai Sarath started racing as a privateer for the first time on a TVS Apache 150 — 4 stroke in the "TVS Race a bike scheme class" during the JK Junior Championship — summer cup 2008 and finished second in both races. He then joined TVS Racing (TVS factory team) in its debut year and bagged the National Champion title for the year 2008 in the "upto 130cc 4-stroke" novice class. Back home Sarath is a mom's boy who is very close to his family and misses his family every day during his tours.
Q. When/how/where did Ten10 discover Sharath?
A. We discovered Sarath through common racing friends at the racetrack in 2009, we got Sarath on board to compete in the Group B National Championships in the "Upto 165cc 4-stroke Open class". He finished fourth overall and since then we never had to look back. He currently leads the championship in the "Indian experts — 130 to 165cc 4-stroke — fully modified Group B class". Sarath set the fastest laptime to have been clocked by any Indian motorcycle during all rounds – his inclination to set records once again brought to the forefront. He was adjudged as the fastest rider in the Indian class and also the first rider to break the 2-minute barrier on an Indian bike at the circuit.

Q. Sarath just finished his first race at Estoril, It must have meant the world to the team, how has it helped Sarath's confidence?
A. Sarath managed to start his first World Championship race after a long wait, it was a great moment for the team and fans back in India when history was made in the world of two wheeler racing. The dream of having the first Indian racer on the grid came true at Estoril GP and it was party time even though Sarath finished 24th.
It was indeed a great boost of confidence for Sarath to start his first GP. It really is frustrating for any racer not to start a race and missing it by very little margin. But he managed to qualify with 107% in FP3 which gave him this opportunity. He had a mandate to finish the race and so he did.
Q. Did Sarath sleep before the race :) ? What were his thoughts, maybe something that he kept repeating to himself?
A. It was a sleepless night for him after he had qualified, He had to plan his start and also compose himself so that he could finish the race without crashing. As this was his first start in MotoGP it was of great importance and he had to prepare himself a lot before the race. The race was very intense and he had to concentrate hard to complete the race especially while being lapped by faster riders like Nico. In the end he managed to finish the race in 24th position which was a great feeling for him and the team.
Q. What was the preseason preparation like, what key factors were you on the lookout for and training for, any concerns?
A. The pre-season preparation was making him strong both physically and mentally with a lots of cardio and muscle endurance work out and a lot of yoga and meditation to have a relaxed mind in a competitive arena such as MotoGP.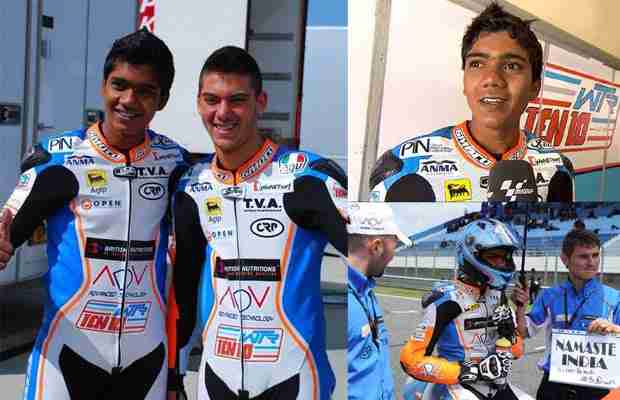 Q. How has Sarath jelled along with his new -competitive surroundings/the strong media attention/with the WTR team/with his WTR team mate?
A. It is actually quite surprising how Sarath has managed to scale up to manage the media attention and the competition in MotoGP. He was actually quite comfortable from the right from pre-season testing with interviews and interaction with his competitors.
With the team he is very comfortable, they make him feel at home. His race Engineer Tiziano Altabella has been very supportive and encouraged him during his hard times. Other team members are also really friendly with him. Sarath also works very well with his race engineers and mechanics and gives them the right feedback to build the right package for each race.
His team mate and he are very friendly but have limited communication, as the former doesn't speak English but overall a healthy competitive relationship in the box.
Q. Could you share with our readers some details about his current bike? Power/weight/top speed/ other unclassified information about it.
A. The bike is a lot of different from what we ride back home. It is very light & powerful. The power delivery if very different and we have to be technically precise to ride these bikes. The power bands of these bikes are very short and hence one has to carry a lot of corner speed in-order to have a good exit. He is learning the techniques of riding these bikes every time he participates in a race and it is already showing his timings. The bike is 125CC, 52BHP and just 72 kgs and they are nicknamed as "pocket rockets"!
Q. MotoGP jumps to 250cc next year teams/Saraths expectations and thoughts about the same?
A. We are confident about Sarath's performance next season as our main goal for this year for him is to learn the tracks and his competition so when he gets to a class which he is used to (4 stroke) he will have better chances than this year. We expect him to be very competitive next year, however we have to wait and watch how things shape up.
Q. Will Moto2 be a better/easier playing ground for Sarath?
A. Moto2 will surely is the way forward for any rider from 125 class but not immediately as the competition is very intense and Sarath has many years ahead of him to gain experience at this level of racing.
Q. What's the experience like of sharing space with MotoGP stars in the paddock?
A. Of course it is a great experience to share the paddock with some of the best motorcycles/motorcycle racers in the world. Sarath gets to learn many things from them and they are very courteous to help him whenever he seeks help. But on track they are very competitive and very difficult to race with but I will surely get there one day.
Q. Message from Sarath to all his Indian and international fans who are keenly following him?
A. I would like to thank all my fans and supports who believed in me till date and encouraged me even though I didn't qualify for 2 races. They have inspired me after every session and that's what keeps me going. And I assure them to give a better performance in the future races.
We at IAMABIKER would like to wish WTR-TEN10 racing all the very best for the future and hope to see Sarath go from strength to strength and make India proud!